Home / News / Health Care and Medicine
U.S. experts hunt for extent of Ebola exposure
By Lisa Maria Garza and Marice Richter, Reuters
Oct. 1, 2014 11:26 am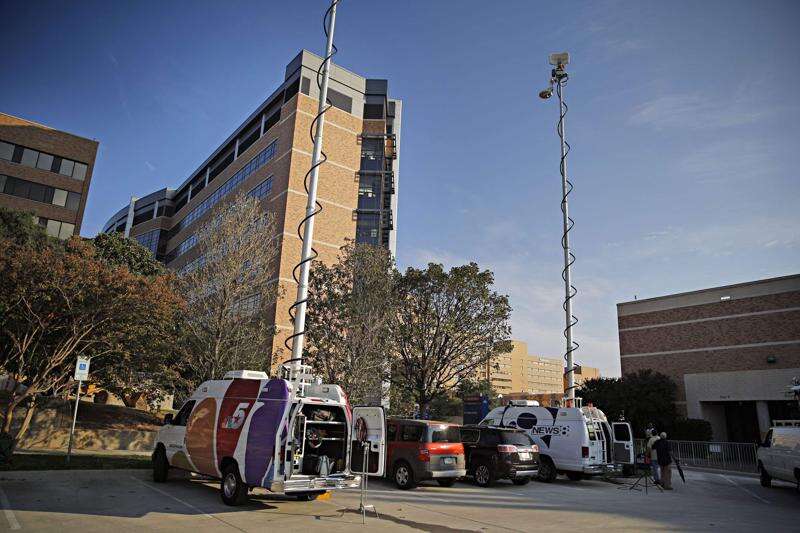 DALLAS -- Health experts were observing 12 to 18 people who were in contact with the first person to be diagnosed with the deadly Ebola virus in the United States and who was in serious condition in a Texas hospital, officials said on Wednesday.
The confirmation that a man who flew to Texas from Liberia later fell ill with the hemorrhagic fever put U.S. health officials and the public on alert to take steps to contain the virus, which has killed at least 3,300 people in three impoverished West African countries.
The patient was evaluated initially last Friday and sent home from Texas Health Presbyterian Hospital with antibiotics, a critical missed opportunity that could result in others being exposed to the virus, infectious disease experts said. The man was then admitted to the same hospital on Sunday.
A hospital spokeswoman said on Wednesday that his condition was serious. The man was not identified by the hospital for privacy reasons, but the Associated Press gave his name as Thomas Eric Duncan.
U.S. stocks fell sharply. Airline and hotel company shares dropped over concerns that the spread of Ebola outside of Africa might curtail travel. Drugmakers with experimental Ebola treatments in the pipeline saw their shares rise.
U.S. health officials have said they are confident that the virus can be contained in the United States.
"People can be confident here in this country that we have the medical infrastructure in place to prevent the broad spread of Ebola," White House spokesman Josh Earnest said on CNN.
Texas health officials said 12 to 18 people who had been in contact with the patient were being monitored.
They also said health workers who took care of the patient have so far tested negative for the virus and there are no other suspected cases in the state. Texas Governor Rick Perry told a news conference that school-age children have had contact with the Ebola patient but he was confident the virus would be contained.
Anyone who might have had contact with the patient will be closely monitored for the next 21 days, the time it can take for symptoms to appear.
"We have a seven-person team in Dallas today helping to review that with the family and make sure we identify everyone that could have had contact with him," Dr. Thomas Frieden, director of the U.S. Centers for Disease Control and Prevention (CDC), said in an interview with NBC TV's "Today" show.
Ebola spreads through contact with bodily fluids like blood or saliva, which health experts say limits its potential to infect others, unlike airborne diseases. Still, the long window of time before patients exhibit signs of infection, such as fever, vomiting and diarrhea, means an infected person can travel without detection.
While past outbreaks killed as many as 90 percent of victims, the current epidemic's fatality rate has averaged about 50 percent.
FLIGHT PATH
The patient in the United States arrived in Texas on Sept. 20, and first sought treatment six days later, according to the CDC.
The Liberian government said that the man showed no signs of fever or other symptoms of Ebola when he left Liberia on Sept. 19. A Liberian official said the man traveled through Brussels to the United States.
Several leading U.S. airlines said they were in close contact with federal health officials about Ebola-related travel concerns.
On Wednesday, officials repeated a call to healthcare workers to be vigilant in screening patients in the United States for possible signs of the virus.
"If you have someone who's been in West Africa in the past 21 days and they've got a fever or other symptoms that might be consistent with Ebola, immediately isolate them, get them tested," Frieden told NBC.
Meanwhile, World Bank President Jim Yong Kim, the first public health expert to lead the institution, said fighting Ebola means confronting inequality, as people in poor countries have less access to knowledge and infrastructure for treating the sick and containing it.
Along with Liberia, Sierra Leone and Guinea have been hit by the outbreak.