Home / News / Health Care and Medicine
Should unvaccinated people be denied health care? Iowa medical ethicist weighs in
University of Iowa's Dr. Lauris Kaldjian discusses ethics behind basing care on COVID vaccine status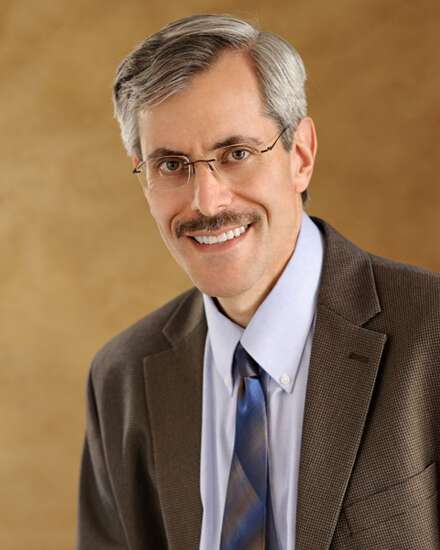 Should COVID-19 vaccine status determine health care?
Ethics in medicine tell us providers should never limit or deny care to someone based on vaccine status, a University of Iowa expert says.
The pandemic's latest surge, driven by the highly transmissible omicron variant of the coronavirus, resulted in a major uptick in COVID-19 cases that threatened to overwhelm hospitals in Iowa and across the nation. Health care system leaders warned they may not have capacity for all patients in need if they ever reached their breaking point.
The situation has changed, and hospitalizations statewide have been dropping in recent weeks. Case counts and positivity rates are also on the decline, according to the latest coronavirus data.
Even at the height of the surge, vaccination rates did not dramatically change. As of this week, about 65 percent of all eligible Iowans 5 and older are fully vaccinated. In most cases, the most severely ill patients in hospitals were those not fully vaccinated.
Some have argued unvaccinated patients should be prioritized last for care, or even be turned away all together. Many people have expressed these opinions on social media. Some public figures — such as Howard Stern — used their platforms to voice these thoughts publicly.
But according to the Hippocratic oath and other principles followed by medical professionals, a patient's choice to not be vaccinated should not be a basis to deny them care.
"It would be unethical to refuse to treat a patient who is in need of medical care," said Dr. Lauris Kaldjian.
"When we treat people according to their needs, we don't withhold treatment when someone has not done what we think they could have done to avoid getting sick." — Dr. Lauris Kaldjian, University of Iowa ethicist
Kaldjian is the Richard M. Caplan Chair in biomedical ethics and medical humanities at the University of Iowa Carver College of Medicine, where he teaches ethical decision-making in the clinical setting and other topics to medical students.
He's also on the ethics committee at the University of Iowa Hospitals and Clinics and serves as a consultant on the hospital's ethics consult service, helping other providers navigate the moral and ethical issues that may arise in patient care.
Health care providers must treat all patients equally based on their needs, and not their merit or on what someone else thinks they deserve, Kaldjian said.
"And when we treat people according to their needs, we don't withhold treatment when someone has not done what we think they could have done to avoid getting sick," he said.
In a hypothetical situation where COVID-19 overwhelms hospital resources and limits capacity, that duty remains the same, Kaldjian said.
That's also true whether patients have followed other healthy behaviors recommended by providers. A smoking habit, for example, wouldn't stop them from receiving treatment, he said.
Access to care traditionally not based on patient behavior
Ethics must be consistent, Kaldjian said. Because access to health care has not been based on patients' behavior before, it should not apply to this modern question around COVID-19 vaccinations.
"Generally, we can't just apply it to the thing we care about right now in the moment," he said. "We need to ask, what are the implications for this reason? If we don't like the broader implications of that reason, then you have to retract and realize the reason wasn't as compelling as it felt like it was."
It is a care provider's job is to recommend treatments to improve patients' health, and education about the importance of healthy habits, including vaccinations, is part of that role.
But at the same time, they should never force patients to accept treatments they don't want. Kaldjian said medical professionals should respect patients' dignity and freedom to make decisions — "even if we think a patient is making a decision that will bring them harm."
"This is a basic liberty we should all respect, and it gets at another fundamental part of medical ethics, which is the need to respect patients as persons, rather than treating them as mere bodies," Kaldjian said.
The American Medical Association, the largest association of physicians in the country, continually emphasized this commitment as calls to deny care to unvaccinated people have persisted throughout the pandemic.
Comparison to AIDS epidemic in 1990s
Kaldjian said he saw a similar scenario in the 1990s during the AIDS epidemic. There was a belief among some that patients with HIV infections should not be cared for because they were responsible for their infection. However, Kaldjian said the broader medical community spoke out against this belief and reaffirmed the duty to care for all patients, regardless of the choices that may have led to their infection.
It's also important to consider why people may choose not to be vaccinated against COVID-19. Kaldjian said it's safe to assume everyone wants to do what is healthy for them, and that they may have a good reason for believing the vaccine is not the best way to be healthy.
"What is most likely happening in such cases, I think, is that people who decline vaccination have simply reached a different conclusion about the benefits and risks of vaccination," he said.
Comments: (319) 398-8469; michaela.ramm@thegazette.com