Home / News / Health Care and Medicine
More than 1.3 million Iowans are fully vaccinated against COVID-19
State reports hospitalizations below 100 for first time since April 2020, no new deaths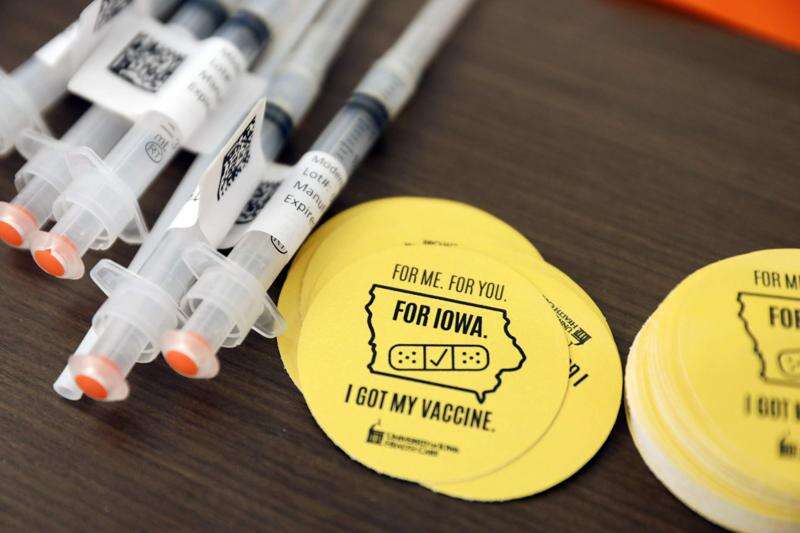 More than 1.3 million Iowans are fully vaccinated against COVID-19, according to data from the Iowa Department of Public Health.
As of 1:30 p.m. Monday, 1,308,226 Iowans — or 41.46 percent of the state's population — had received full dosages of a COVID-19 vaccine, an increase of 2,004 from Sunday.
The number of people fully vaccinated within the state, non-Iowans included, was 1,360,500.
The state reported 1,249,152 individuals have completed the Moderna or Pfizer two-shot regimen while 111,348 people have received the single-shot Johnson and Johnson vaccine.
The number of total doses administered in the state as of Monday afternoon was 2,772,516.
As of Monday afternoon, 105,387 people in Linn County had been fully vaccinated. That's 46.49 percent of the county's total population.
In Johnson County, 79,430 people — or 52.55 percent of the county's population — have been fully vaccinated.
Hospitalizations
Across the state, the number of individuals hospitalized for COVID-19 dipped below 100 Monday for the first time since April 6, 2020.
According to the data, 95 were hospitalized as of 11:30 a.m. Monday, with 22 patients in intensive care — down three from Sunday — and 10 patients on ventilators.
Long-term care facilities
Three long-term care facilities continue to experience COVID-19 outbreaks with 24 individuals sick with the virus.
An outbreak is considered three or more cases among a facility's residents and staff.
To date, 2,365 individuals in these facilities have died as the result of COVID-19, accounting for roughly 39 percent of the state's death toll.
New cases
Data showing the number of COVID-19 cases by county and the total for the entire state was not available Monday afternoon.
Seven new cases, however, were reported among young people age 17 or younger. To date, a total of 44,533 minors have tested positive for COVID-19.
As of Sunday, 371,377 individuals in Iowa had tested positive for COVID-19 since the start of the pandemic more than a year ago.
In Linn County, a total of 21,047 individuals have tested positive for the virus, and in Johnson County that number is 14,569.
Confirmed deaths
No new deaths were reported Monday, marking the third consecutive day the state has reported no confirmed deaths because of the virus.
To date, 6,055 people in Iowa have died from COVID-19.
Comments: (319) 398-8238; kat.russell@thegazette.com.