Home / News / Health Care and Medicine
Mercy's new senior living community aims to innovate dementia care
237-unit complex in NE Cedar Rapids to be complete in 2023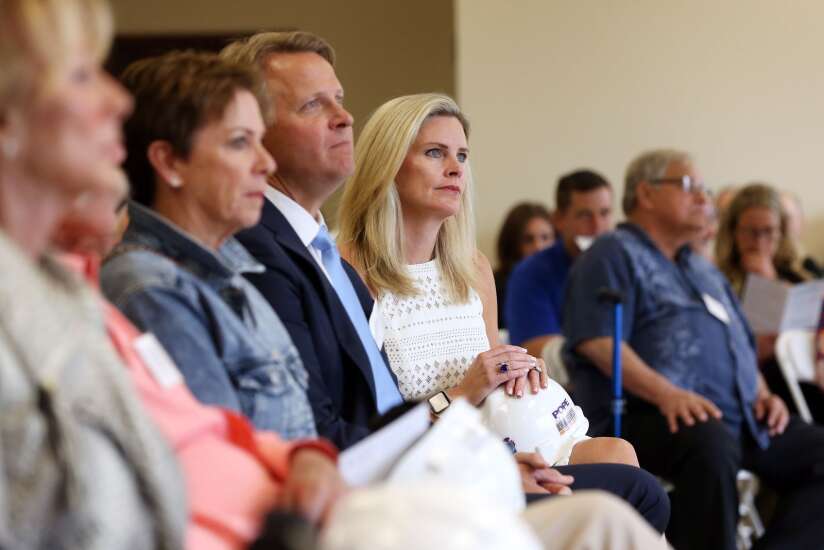 CEDAR RAPIDS — Mercy Medical Center broke ground Thursday on HallMar Village, a new senior living facility in northeast Cedar Rapids that has garnered millions of dollars in donations for what hospital officials hope will be a comprehensive center for the growing needs of older Eastern Iowans.
Construction on the 237-unit complex, located on 42 acres at 9000 C Ave. NE, is set to be complete in spring 2023.
HallMar Village is a joint venture between Mercy and Presbyterian Homes & Services, Minnesota-based housing and service provider for older adults. The developer is Senior Housing Partners, a subsidiary of Presbyterian Homes & Services.
This will be the sixth senior living community built by Presbyterian Homes & Services in Iowa, according to the organization's president and chief executive officer, Dan Lindh.
The senior living community will house a long-term care facility, independent and assisted living apartments as well as a full range for services "for the rapidly growing population of older adults in the region," Mercy officials say. That includes a facility design and new services tailored for individuals living with dementia.
"We're living longer," said Mercy Medical Center President and CEO Tim Charles during Thursday's ceremony. "We want to discover what's possible."
" … It's also understanding what is possible for individuals living with dementia and literally rethinking how one can living one's life when dealing with that condition," Charles said.
The project will replace HallMar Nursing Home, the 55-bed residential care facility on Mercy's campus in Cedar Rapids' MedQuarter that had opened in 1960. The senior living facility had been established by Cedar Rapids residents Margaret and Howard Hall, the last residents of Brucemore Mansion.
The needs of local seniors have outgrown HallMar, Charles said, and renovation of the existing space was not feasible.
In recent years, other large senior living complexes have been built in the area as the state's aging population continues to grow. The U.S. Census Bureau estimates 27 percent of Iowa's population will be aged 60 and older by 2030.
Despite other projects coming online, Charles said he's confident there's still high demand locally after Mercy conducted three market studies over the past few years to assess the need for senior housing and dementia-related care, which did account for existing facilities.
It's estimated about one ion 10 people aged 65 and older have Alzheimer's, totaling up to 63,000 in Iowa or about 16,000 in Eastern Iowa. For those aged 85 and older, as many as a third are living with Alzheimer's. In Iowa, that number is projected to reach about 73,000 by 2025 and roughly 189,000 by 2050.
"This is just growing," Charles said.
New treatments, such as the Alzheimer's drug that recently earned U.S. Food and Drug Administration approval, could present a solution in the future. But until those kinds of interventions become mainstream, Charles said officials have worked to come up with a facilitates model that incorporates best practices for those who have dementia.
That includes rethinking locked wards and including signage to help residents from becoming lost within the facility. In addition, Charles said they are incorporating other new best practices, including not mandating specific meal times.
"Our research has helped us understand that with the right approach and the right facility design, there are ways you can create a quality of life these individuals deserve," Charles said.
The new HallMar Village also will incorporate the former Echo Hill Presbyterian Church, which has been renamed to the Chris & Suzy DeWolf Family Innovation Center for Aging and Dementia.
The 23,000-square foot building will be renovated as a hub "where best practices in aging and dementia are discovered, tested and evaluated to help those living with chronic conditions, including dementia, live their lives with purpose," Mercy officials say.
Specifically, the center will serve as the new location for Mercy's Memory Clinic, now located at the hospital. The Family Caregivers Center of Mercy also will offer an outreach team through the new space.
The innovation center also will house a day center for individuals with early-stage dementia and a classroom for staff and other caregivers to learn how to better assist residents they care for, according to Mercy officials.
"When I think of this project, one of the things that occurs to me is that it's a demonstration of how vision drives generosity, but sometimes its generosity that drives vision," Charles said.
The DeWolf family donated $2 million this past year for the innovation center, one of the largest gifts the project has received since it was first announced.
The project has also received $1.5 million from Wayne and Nan Kocourek, of Chicago, for the establishment of the Wayne and Nan Kocourek Neighborhood in HallMar's independent living apartments.
Bruce and Judy McGrath of Cedar Rapids also donated $1 million to the project to create the Dorothy McGrath Neighborhood, a skilled nursing unit within HallMar Village.
The unit is named in honor of Bruce McGrath's mother, who lived in HallMar Nursing Home for a year before her death. He told The Gazette this past week he was pleased to be involved with the expansion of HallMar, which provided his mother with good care.
McGrath, 83, said they were also inspired to help support this facility after watching loved ones experience dementia.
"We have lost so many friends to dementia, it's just a scary thing," McGrath said. "It's a wonderful opportunity for hospital to make a contribution to counteract that in our community."
Comments: (319) 398-8469; michaela.ramm@thegazette.com