Home / News / Health Care and Medicine
Medicaid provider payments again the focus of legislative committee meeting
Aug. 29, 2016 1:18 pm, Updated: Aug. 29, 2016 7:06 pm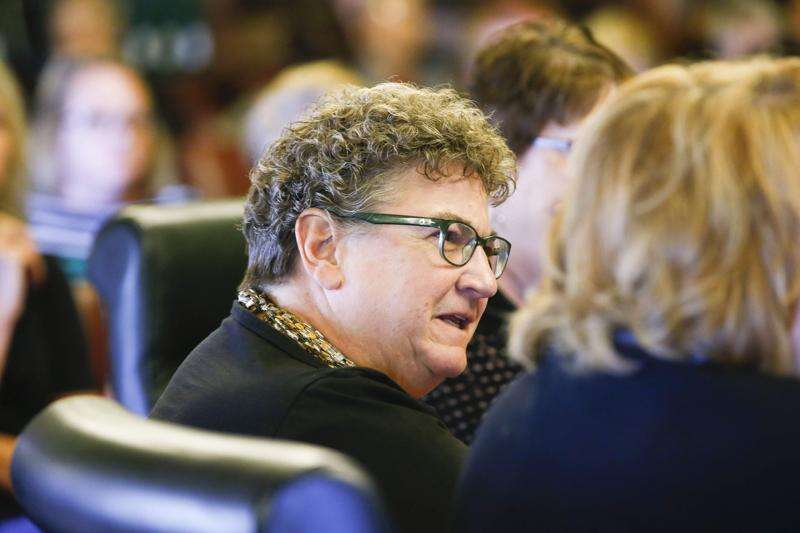 DES MOINES - Michele Meadors wants everyone to remember her face.
'This face could be your body from automobile accident in a heartbeat," she told legislators on Monday morning at the State Capitol.
She was one of more than a dozen health care providers and Medicaid beneficiaries who came to Des Moines to speak about the challenges and frustrations of the Iowa's managed care transition.
Meadors, who must use a wheelchair, relies on a home health care worker, or a C-DAC provider, for help with things such as bathing, eating and grocery shopping. But since the state handed over its $5 billion Medicaid program with 560,000 beneficiaries on April 1 to three private insurers, her C-DAC provider has not received any payments, she said.
'My provider needs that extra income, being a single parent," she said. 'You would think that eating would be fairly important. You would think that the supplies you need to shower and shave, that's essential.
'I couldn't get supplies. It took six weeks to get catheters ...
. That directly affects someone like me."
The public listening post took place before a four-hour long Legislative Health Policy Oversight Committee meeting - the first of two Medicaid managed-care oversight meetings held by a joint, bicameral committee.
And similar to the out-of-session Senate Human Resources committee meeting held in July, discussion of provider payments and lengthy pre-authorization requirements took center stage. Providers across the state have told legislators and media outlets that they have received late and inaccurate payments, some totaling hundreds of thousands of dollars. But data released by the state on Friday and discussed during the oversight committee shows that all three MCOs met the requirement of paying or denying 90 percent of 'clean" claims - properly completed claims forms - within 14 days.
'I have trouble reconciling what we hear and what this data tells me," said Rep. Cindy Winckler, D-Davenport.
That's because if a provider is receiving payment, even for the wrong amount, it is considered a 'clean" claim, said Derek Laney, program director of Iowa Focus during the listening post.
The social service agency in Council Bluffs provides home and community based services. His organization is owed about $78,000, he said, and all that money either is from the managed-care organization paying the agency incorrectly or denying the claim.
The clean claims 'metric is what's being used as primary defense against any problems or complaints. That is phony. …
One hundred percent of the claims denied are what (Iowa Medicaid Enterprise) would call clean claims," he said.
'It's what we've known for 22 years as clean claims. Claims are being sent back because of an error on their end, well, I question the definition of clean claims because we have the dates right, codes right, addresses right."
That question came up repeatedly during the Monday meeting, in which DHS officials presented quarterly data and legislators questioned the heads of the three managed-care organizations - AmeriHealth Caritas Iowa, Amerigroup Iowa and UnitedHealthcare of the River Valley.
Rep. Lisa Heddens, D-Ames, said she hasn't talked to a provider yet who has been paid 100 percent of what they are owed.
'A clean claim that isn't 100 percent paid - so it could be 20 percent paid or 40 percent paid. What category is that in?" she asked.
That's more difficult to see in the data, the MCOs and the state conceded.
'The percentage of clean claims paid within certain time periods, that data is just reflective that they're paid, not if accurate payments are made or fees are loaded appropriately," said Liz Matney, DHS managed care bureau chief. 'We're making sure those are reprocessed and monitoring closely as we become aware of them."
The MCOs told legislators they are working to fix systematic provider-payment problems as well as work with providers individually to resolve issues.
In addition, Iowa Medicaid Director Mikki Stier told legislators the state is hosting provider trainings in 11 communities across the state to help those providers fill out forms more effectively.
Gov. Terry Branstad on Monday continued to tout the effectiveness and transparency of the Medicaid managed-care system, telling reporter during his weekly news conference that the quarterly report released Friday is 'the most transparent and comprehensive report that any state has done on Medicaid."
He added that Iowa, under managed care, will be able to dramatically reduce payment error rates. Under the state-run system, Iowa had an error rate of more than nine percent, Branstad said, referring to a U.S. Department of Health and Human Services fiscal year 2014 report.
'We want to make sure that not only do we need to improve the health of people under the Medicaid system but we also protect the taxpayers. And I believe that this system is doing that as it has in many other states," he said.
Gazette-Lee Des Moines Bureau reporter Erin Murphy contributed to this story.