Home / News / Health Care and Medicine
In baby formula shortage, families turn to each other
Breast milk sharing sees boost during ongoing shortage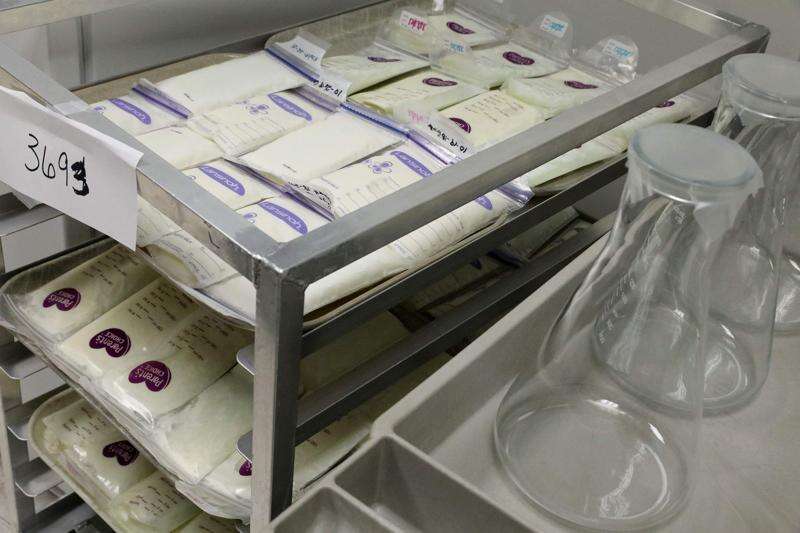 CEDAR RAIDS — Last month, Shannon Jacobs, a mother of three, spent a day driving to five stores and calling every grocery store chain and pharmacy chain in the Cedar Rapids area.
Not a single one had a can of the sensitive baby formula she needed for her now-8-month-old son, Knox. At home, she was down to a single half can.
"I was in tears," said the 36-year-old Cedar Rapids resident.
Jacobs has always struggled to produce enough breast milk for her children, but with the nationwide shortage of baby formula, her family's situation was increasing becoming more precarious
Jacobs received bags of frozen breast milk from a friend to help stretch out her son's food supply. When that began to run out, she turned to a Facebook group that connects area residents who are willing to donate their leftover supply of breast milk to others.
"I never used donated breast milk before," she said. "It was kind of a big leap of faith, but it comes down to trusting a stranger who is trying to help other moms, or letting your baby starve. What are you going to do?"
Jacobs is among an increasing number of parents who have turned to peer-to-peer breast milk sharing groups on social media for support during the ongoing baby formula shortage.
A massive recall of formula from an Abbott Nutrition plant in Michigan on top of the already pandemic-challenged supply chain has led to empty shelves at stores across the nation. The Biden administration has taken steps to help the manufacturer restart production and has flown in additional supplies from Europe.
But in the meantime, some parents are still facing the harsh reality of a low food supply for their hungry babies.
In recent weeks, Facebook groups like Eats on Feets or Human Milk 4 Human Babies have seen an influx of members seeking donated milk for their children — often for the first time.
The page for the Eats on Feets breast milk sharing network in Iowa has seen "huge growth" in new membership over the past month, said Brandi Kennedy-Evans, who monitors the page. The page saw a 99 percent increase in views and spiked 211 percent in new likes from April to May, she said.
In addition to those looking for breast milk, the page has also seen an increase in parents offering donations. In some cases, Kennedy-Evans said that includes mothers pumping more often just so they had extra supply to donate to others in need.
"It just goes to show parents all understand the need to help the babies. It's all about getting babies fed," Kennedy-Evans said.
There are official milk banks that collect and distribute breast milk to newborns and babies, including the Mother's Milk Bank of Iowa at the University of Iowa Health Care. However, milk banks prioritize children who are medically-fragile babies, and often requires a prescription from a doctor.
Mother's Milk Bank of Iowa has seen a 25 percent increase in pasteurized donor human milk in the first quarter of this year compared with the first quarter of last year, said Director Jean Drulis. However, she said the supply increase does not appear to be related to the ongoing formula shortage.
The milk bank has seen an influx in individuals interested in donating because of the shortage, however.
"We are experiencing an increase in milk donors who mention the formula shortage and their desire to help," Drulis said in an email to The Gazette.
Because milk banks prioritize the most vulnerable children, most families find easier access through social media pages offering breast milk for free.
Officials at milk banks have raised concerns about the safety of using donated breast milk, but supporters of the practice say peer-to-peer sharing is a safe option if parents follow their recommendations. That includes asking about the donor's medical history and diet, as well as "flash heating" the milk to kill any bacteria that can be introduced into the milk through pumping, Kennedy-Evans said.
After her request for donations in March, Jacobs said she had women from all over Iowa reach out to offer their supply. She connected with a few women in the Cedar Rapids area, including one woman who gave her at least 6-gallon-sized bags full of 4-6 oz frozen breast milk bags.
These donations were a huge relief, she said. This month, Jacobs said her son's supply of food is much stronger than it was when she asked the social media community for help, thanks to donated breast milk and help from friends and family in finding formula.
"We're hopefully going to be OK. With his increase in solid food intake, I'm hoping to make to the one-year mark," she said.
Comments: (319) 398-8469; michaela.ramm@thegazette.com