Home / News / Health Care and Medicine
How many COVID-19 vaccines have been discarded in Iowa?
As interest lags, vaccines expire nationwide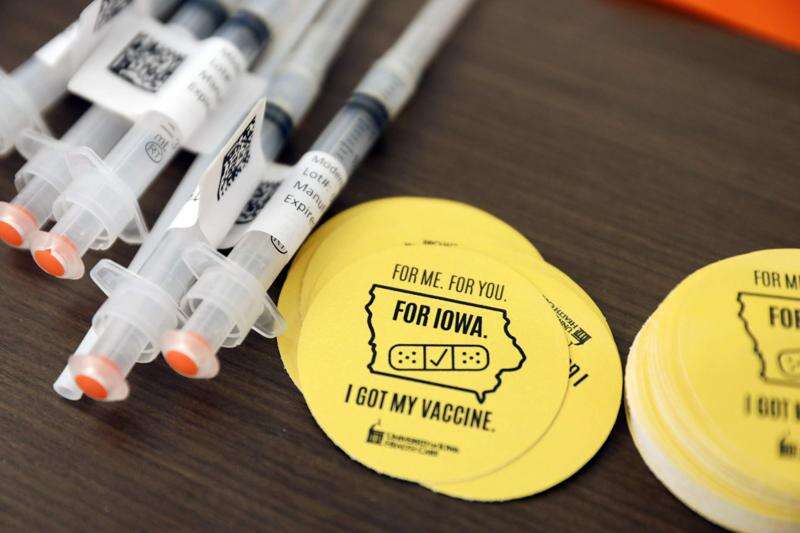 We asked readers what questions they have about the latest surge of COVID-19 cases in Iowa. One reader responded:
How many doses of COVID-19 immunization did Iowa throw away at the end of August? Why didn't we use those to give the third dose to those who wanted it?
Gazette health care reporter Michaela Ramm looked into the answer. Here's what we learned:
The state has discarded 127,333 doses of COVID-19 vaccines so far, the Iowa Department of Public Health reported.
The doses were tossed because they expired or there were accidents when being administered, such as a broken needle or the vial was dropped, IDPH spokeswoman Sarah Ekstrand said in an email to The Gazette.
In August 2021 alone, 44,356 doses discarded.
» Have a question? Ask us, and we'll look into it.
The state has confirmed with the U.S. Centers for Disease Control and Prevention that unused doses cannot be donated or returned to the CDC, Ekstrand said. Federal health officials have also told Iowa officials that states are not allowed to return unused, unexpired vaccines to the manufacturer or donate them to other states or countries in need.
"Our local partners have been diligent in their administration methods, ensuring they use on-hand supply before placing additional orders," Ekstrand said in an email. "Counties have also worked collaboratively to redistribute doses within the state to meet the needs of Iowa communities."
COVID-19 vaccine distribution among Iowans has lagged in recent months. About 49 percent of Iowans are fully vaccinated as of this past week, according to a Gazette analysis of state coronavirus data.
State coronavirus data shows nearly 67 percent of Iowans 12 and older have at least one dose of a COVID-19 vaccine.
In some rural Iowa counties, the vaccination rate for the eligible county population hovers around 40 percent, state data shows.
Vaccination rates have also declined nationwide, meaning millions of unused COVID-19 doses across the United States are at risk of going to waste.
Fifty-three percent of the total U.S. population is fully vaccinated, according to the CDC. Among those 12 and older, the vaccination rate is 62 percent.
Earlier this month, the U.S. Food and Drug Administration extended the expiration dates of the Johnson & Johnson vaccine by six weeks in an effort to increase the shelf life of that vaccine and give states more time to use them.
However, other vaccine brands do not have the same option to push back expiration dates. And it also doesn't change that vaccine distribution has slowed down nationwide in recent weeks.
State public health officials continue to encourage Iowans to get vaccinated if they haven't been fully immunized against COVID-19 yet.
"We urge anyone who hasn't been vaccinated to take advantage of these safe and effective vaccines," Ekstrand said. "As cases increase across the country and in Iowa, it's important that even more Iowans get vaccinated."
Comments: (319) 398-8469; michaela.ramm@thegazette.com
Do you have questions about COVID in Iowa?
Let us know your questions and we'll work to answer them. Submit them in this form: