Home / News / Health Care and Medicine
Herd immunity may be out of reach for Iowa, public health officials say
Vaccination rates below 30 percent in some Iowa counties, and they don't appear to be growing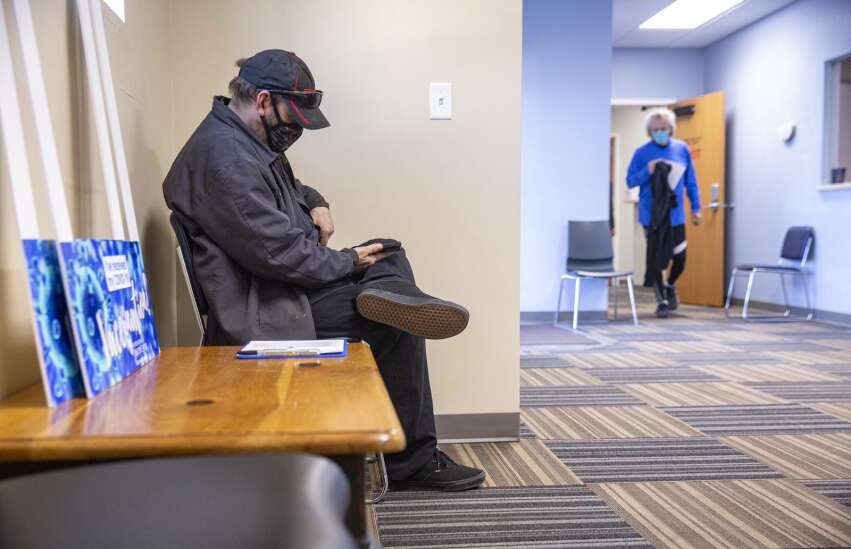 Since vaccines have become more widely available earlier this year, the state has experienced a sharp drop in hospitalizations and deaths as a result of COVID-19.
The demand for COVID-19 vaccines has declined sharply in recent weeks, stalling statewide momentum for protection against the virus. Public health officials' efforts to get more shots in arms still is ongoing, but some local public health officials in rural Iowa counties say their jurisdiction likely will never reach that threshold needed to achieve herd immunity against the coronavirus.
"It's fair to say we will reach (herd immunity) in some communities and won't reach it in others," said Lina Tucker Reinders, executive director of the Iowa Public Health Association.
Without that full protection against the virus, local public health officials are preparing to deal with outbreaks for the foreseeable future.
"We just make sure we have enough (personal protective gear) and we're ready for it," said Lindee Thomas, administrator for Van Buren County Public Health in southeast Iowa. "That's the main thing. Besides the vaccine, there's not much we can do."
Herd immunity is achieved when a certain percentage of a population are immune against a virus, either through infection or vaccination, and the virus is unable to spread. Experts have placed estimates for the threshold needed to reach herd immunity somewhere between 70 percent and 90 percent of the population.
Approximately 52 percent of Iowans eligible for the COVID-19 vaccine, of those aged 12 and older, were fully vaccinated as of Friday, according to the state's coronavirus data. When accounting for the entire state's population, Iowa's vaccination rate is 44 percent.
But in zeroing in further, the rate of fully vaccinated residents is much lower in some counties — even dipping below 30 percent in some cases.
As of this past week, the county with the lowest rate is Davis County, in the southeastern part of the state, with 27 percent of its population fully vaccinated. Other counties follow closely behind, including Lyon County in the northwest corner of the state, which has a 28 percent vaccination rate.
Johnson County currently has the highest vaccination rate statewide, with nearly 56 percent of its population fully vaccinated as of this past week. Close behind are Dubuque, Linn and Winneshiek counties, respectively, with roughly 50 percent of those residents inoculated.
Why has Iowa not reached herd immunity yet?
Rural public health departments say misinformation about the COVID-19 shot as well as a lack of understanding about the importance of vaccines may be contributors to the slow acceptance among residents in those areas.
"It's not that we don't have the vaccine, but its people in the county who don't want anything to do with the vaccine," said Thomas of Van Buren County.
This past week, Van Buren County had reached full vaccination of 31 percent of its residents. Based on the current demand for the vaccine in her county, Thomas isn't confident it will reach the threshold needed to prevent outbreaks.
Misinformation is a major driving force in her county, Thomas said, despite the department's best effort to correct false information. However, her county is not equipped to deal with the widespread misinformation readily available on social media.
Thomas also said Van Buren Public Health typically has faced very low immunization rates among certain groups, including its Amish and Mennonite residents.
In addition to those that are opposed to receiving the vaccine, Tucker Reinders said there's also a subset of the population that simply hasn't made obtaining the shot a priority. They may have lingering questions about the vaccine for themselves or their children, and need a trusted source to address their concerns.
Because COVID-19 vaccines are being administered in doctor's offices and clinics — and not just pharmacies or vaccine sites — Iowa may be able to reach this population. Individuals can get the vaccination when they go for a doctor's visit, and because the shot is being offered by someone they trust, those Iowans most likely will be more willing to accept it, Tucker Reinders said.
And as time passes, the overall comfort level with the vaccine will grow, she said.
"What we're emphasizing is every shot matters, every shot adds to the goal," Tucker Reinders said.
Lyon County reported about 28 percent of its population was fully vaccinated as of this past week. But the county public health administrator noted Iowa's vaccine data does not reflect Iowans who have received vaccinations in other states.
Lyon County Public Health Administrator Melissa Stillson said residents may have obtained their vaccines just across the state line in, Minnesota or South Dakota. She also said residents who live in southern states during the wintertime likely received their shot there.
"Overall, I feel the state of Iowa is doing a great job at making vaccine accessible to people," Stillson said. "We have multiple partners able to dispense vaccines and meet people where they're at."
Nationwide, about 62 percent of the population aged 12 and older has received at least one dose of the vaccine, according to the U.S. Centers for Disease Control and Prevention.
Some states are beginning to reach the milestone. Vermont, for example, announced this past week that 80 percent of its eligible population had at least one dose of the vaccine, Axios reported.
Seattle and San Francisco became the first major U.S. cities to achieve COVID-19 herd immunity levels, Healthline reported. This past week, officials in both cities announced at least 70 percent of residents ages 12 and older were fully vaccinated.
What happens if Iowa doesn't reach that threshold?
National experts say instead of being fully eradicated, the novel coronavirus will continue to circulate in the United States for years to come — but as a manageable threat, with the vaccine keeping hospitalizations and death rates to smaller numbers.
Other communicable diseases that are vaccine preventable — such as measles and whooping cough — still cause outbreaks in small pockets of a community in the same manner, public health officials point out. And when those outbreaks occur, local health departments are able to respond through contact tracing and isolating individuals until they no longer are infectious.
Anti-immunization sentiment has prompted the Iowa Public Health Association and other organizations to increase efforts to educate and lobby lawmakers at the State Legislature around immunization policies in recent years.
"Misinformation about vaccines and mistrust in science and public health are threats we're concerned about moving forward," Tucker Reinders said.
Local public health officials are continuing their effort to reach unvaccinated individuals who may face barriers to getting the shot. For example, public health workers in Lyon County are reaching out to dairy and hog farms that serve as the biggest employers in the area, providing bilingual education for the seasonal workers and going on-site to offer the vaccine, as well.
Beyond that, public health workers in communities with low vaccine rates say the best they can do is continue providing accurate information to its residents and answer their questions as they come.
"I don't want to make someone take it," Van Buren County's Thomas said. "I would rather they look into it and see if it's right for them.
"I just educate and hope for the best."
Comments: (319) 398-8469; michaela.ramm@thegazette.com