Home / News / Health Care and Medicine
Governor ousts Iowa Department of Human Services director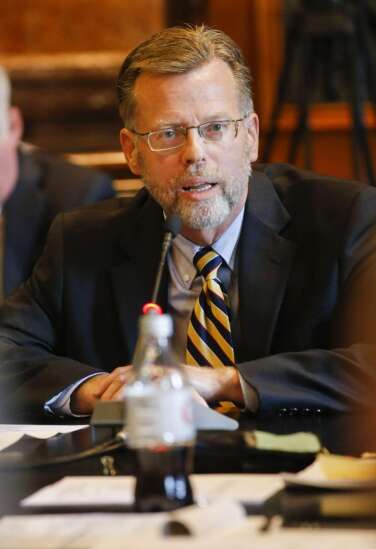 At the request of Gov. Kim Reynolds, the director of the Department of Human Services - which has been criticized for its role in foster care, Medicaid and state-run institutions - resigned Monday.
As director, Jerry Foxhoven oversaw a department with a federally-supported annual budget of $6.5 billion and a workforce of about 4,600 - one of the state's largest.
'It was an honor to serve Iowans at the Department of Human Services during an important time of transition," Foxhoven said in a statement Monday. 'I wish the many hardworking employees at the department the very best and know that they will continue to serve the people of Iowa well."
Gerd W. Clabaugh, director of the Iowa Department of Public Health, will serve as the interim director of Human Services, according to a statement from the Governor's Office.
In its announcement, Reynold's office did not specify why Reynolds requested the resignation. A spokesman with the Governor's Office did not respond to requests for comment.
This month marks two years since Foxhoven, now 66, was appointed by the governor to replace Chuck Palmer as DHS director. He was confirmed by state lawmakers to a four-year term in March 2018.
Foxhoven was paid $154,300 in fiscal 2018, state records show.
DHS annually serves more than 1 million Iowans, many of the state's most vulnerable children, elderly and disabled. It administers services that include food assistance, Medicaid, child welfare, mental health and disability services.
At the time of his appointment, Foxhoven called the job 'a dream opportunity."
Foxhoven joined the department after Iowa's $5 billion Medicaid program shifted from a state-run system to a managed-care program handled by private insurance companies - managed-care organizations, or MCOs. He publicly supported the switch.
As director, Foxhoven oversaw the program as it grappled has with the withdrawal of two of the MCOs. UnitedHealthcare is set to leave at the end of this month, withdrawing from the program after three years of what company officials called underfunding and the loss of millions of dollars.
Iowa Total Care, a Centene subsidiary, will join the program on July 1.
DHS also oversees Iowa's foster care system and manages the state's six institutions.
A federal trial over alleged abuse and inhuman treatment at the State Training School for Boys, a state institution in Eldora, began in Des Moines last week. According to court records, Foxhoven - who is named in the suit - testified in court Thursday.
Foxhoven began practicing law in 1977, and had been the executive director of clinical programs and law professor at Drake University's School of Law before his appointment to the state department.
Reynolds said in a statement that Clabaugh 'has done an incredible job at the Department of Public Health and is well positioned to lead the Department of Human Services. He will play a very important role in implementing my vision for an integrated, compassionate and coordinated health care system."
Clabaugh has served as director of the Department of Public Health since 2014. He has Bachelor of Arts in political science and economics from Drake University, a Master of Public Administration from Iowa State University, and Doctoral Studies in health management and policy from the University of Iowa.
Iowa Senate Democratic Leader Janet Petersen, of Des Moines, called for an immediate nationwide search for a permanent replacement, particularly for someone who is 'truly committed to watching out for the most vulnerable children and adults in Iowa."
'After years of mismanagement and neglect by Gov. Reynolds and legislative Republicans, Iowans deserve a new director with the backbone necessary to put quality care and proper oversight ahead of special interests," Petersen said in a statement.
Todd Prichard, Iowa House Democratic Leader, said this latest 'turmoil" in the administration is 'bad news for Iowans who need access to affordable health care."
'It means more health care uncertainties for vulnerable Iowans and is just the latest sign that Medicaid privatization is failing miserably," Prichard said in a statement. I hope the governor will use this as an opportunity to find a new leader for DHS who will tell her the truth about the failure of Medicaid privatization and finally fix it."
Rep. Bobby Kaufmann, R-Wilton, expressed disappointment in the decision.
'I think the governor made a terrible decision. Jerry Foxhoven is the best thing to happen to DHS in a generation."
Rick Shults, longtime division administrator for mental health and disability services at DHS, is retiring later this summer. Liz Matney, the Iowa Medicaid bureau chief of managed-care oversight and support, has accepted a position with the Governor's Office.
' Comments: (319) 368-8536; michaela.ramm@thegazette.com