Home / News / Health Care and Medicine
Federal program brings four times as many one-dose COVID-19 vaccines to Cedar Rapids clinic
Eastern Iowa Health Center targeting distribution to vulnerable patients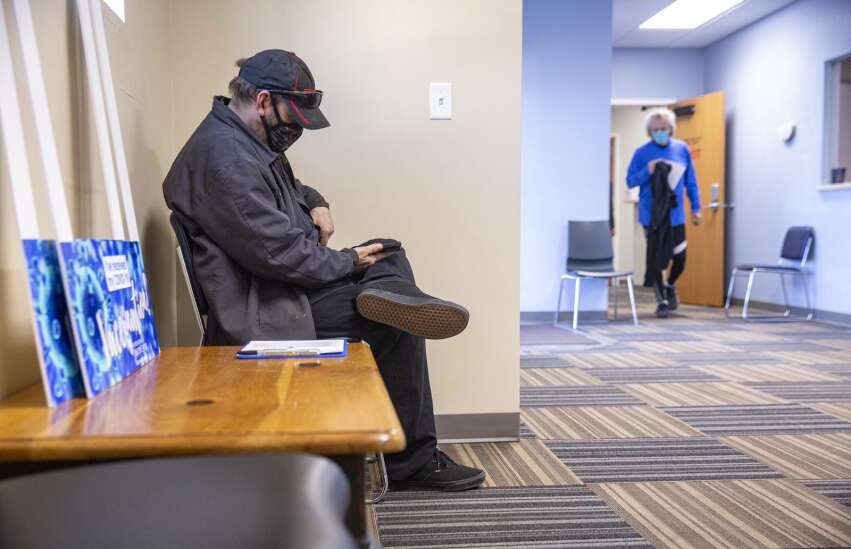 CEDAR RAPIDS — The Eastern Iowa Health Center is receiving hundreds of doses of the one-shot Johnson & Johnson COVID-19 vaccine starting this week as part of a federal allocation program to reach underserved populations.
Officials will begin distributing the doses later this week, further expanding efforts to reach vulnerable populations that often face barriers in accessing health care.
As its supply increases in the coming weeks, the health center will target those who don't have the resources or know-how to access health care systems the way other patient populations can, said Eastern Iowa Health Center Chief Operating Officer Elly Steffen.
In addition, offering the shot at a site they know and from people they trust will be key to reaching some groups who still are somewhat hesitant to accept the vaccine.
"Our population of patients doesn't have the access, the ability or the education to know how to get signed up and get to where they need to be to get a vaccine at other sites," Steffen said. "So being able to have our vaccines targeted to our populations and to those that are vulnerable allows them a different way to sign up."
The federally-qualified health center based in Cedar Rapids is among a handful of community health centers across the state receiving direct vaccine allocations through the national Community Health Center Vaccine Program. The federal initiative was expanded last month to include roughly 1,500 health centers nationwide, according to the U.S. Health Resources and Services Administration.
The Cedar Rapids clinic received its first shipment this week of 400 doses of the one-shot vaccine, four times as much as the health center was receiving each week from the state allocation. Eastern Iowa Health Center officials anticipate they will continue to receive 300 to 400 doses per week from the federal program.
Currently, officials are prioritizing vaccine administration for eligible adults among the more than 8,000 patients the clinic serves throughout Eastern Iowa, who often fall into economically or medically vulnerable populations.
It's estimated more than 90 percent of patients served by federally qualified health centers nationwide are living at or below 200 percent of the federal poverty level. In 2019, the Eastern Iowa Health Center reported more than 13,500 individual patients served across its primary care, dental, maternal and pediatric care.
The Johnson & Johnson vaccine is ideal for this vulnerable population, Steffen said. By reducing immunization to just one shot instead of two, it helps these individuals alleviate the pressure of finding child care, transportation or leaving their job in order to get vaccinated.
The Eastern Iowa Health Center is conducting targeted outreach about vaccine eligibility by texting, calling or messaging patients through the electronic medical records system.
It was through this outreach that Rosemary James was able to find a COVID-19 vaccine appointment. The 26-year-old Cedar Rapids resident, a longtime patient who has asthma, had been unsuccessful at getting a vaccine appointment through another provider.
"I was excited," James said after receiving her shot, adding she "woke up way earlier than I usually do" to get to her Monday morning appointment.
Monday's vaccine clinic offered patients the first of the two-shot Moderna vaccine. Officials said they will begin offering the one-shot Johnson & Johnson shot Tuesday.
James said she was eager to get the vaccine, not just to protect herself because of her health condition, but to protect her three young children from getting sick.
"I work at a gas station, so I'm dealing with people all day," she said. "People from all over, too, because we have truckers and we have all kinds of people coming in and out of the store. And our company isn't big on people wearing masks."
Eastern Iowa Health Center providers are working to educate individuals on the importance of getting the vaccine and breaking down language barriers to families that don't speak English. Steffen said the health center's interpreters have been asked to reach out to patients they work with to answer questions they have and encourage them to sign up for an appointment.
In this outreach effort, providers are also working to address any concerns they may have about the COVID-19 shot, Steffen said.
James' family members are among those hesitant to take the vaccine, worried about the potential side effects that could result from the quick rollout of the shots, she said.
"Everyone in my family is scared," James said. "I'm the first one in my family to get vaccinated, so I'm kind of the guinea pig."
The new federal allocation will enable health center officials to increase access to appointment times, they say, including expanding clinic hours to include the occasional Saturday clinic. Currently, the Eastern Iowa Health Center offers the vaccine Monday through Friday, but officials plan to host the first weekend clinic this upcoming Saturday.
"We are currently trying to fill the clinic with as many Eastern Iowa Health Center patients as possible due to our patients typically lacking access or experiencing increased barriers to health care," said Erin Langdon, chief development officer at the health center.
The health center will continue to prioritize its patients before opening vaccine availability to other populations. As it continues to receive an increased number of doses, Steffen said it may look to form partnerships with other community partners working with vulnerable groups to support vaccine equity locally.
"As the volumes of Eastern Iowa Health Center patients seeking vaccines decrease, we will be able to open allocations up to other populations or the general public," Langdon said. "At that point, we will utilize the Eastern Iowa Health Center website and social media to inform others seeking vaccines."
Comments: 319-398-8469; michaela.ramm@thegazette.com