Home / News / Health Care and Medicine
Bans on mask mandates results in preventable COVID-19 cases, public health expert warns
Bans on mask mandates detrimental to overall mask wearing, may lead to preventable infections, UI professor says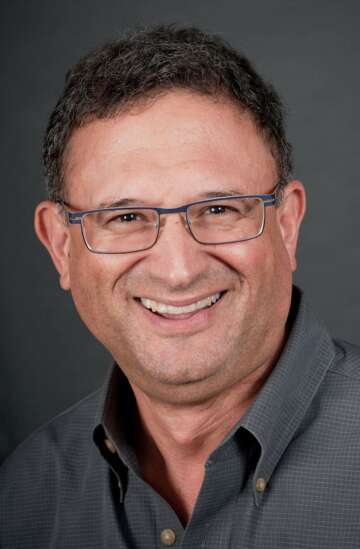 Research continues to show masks are a highly effective tool against the novel coronavirus.
Federal health officials have urged Americans to wear masks, even if they're fully vaccinated, and practice other mitigation strategies as new infections are expected to continue rising in the coming weeks.
However, public health would be better served if local entities had the ability to issue mandates when they think its appropriate, one public health expert said.
Bans on universal requirements for face coverings could be detrimental to overall compliance with mask wearing, said Fred Gerr, professor emeritus of occupational and environmental health at the University of Iowa College of Public Health. Not only does it send a message that diminishes the benefit of masks to the community, but also can lead to an actual reduction in mask use.
"I think that results in an occurrence of COVID-19 cases that were preventable and should have been prevented," Gerr said. "I view that kind of thing is detrimental."
Gov. Kim Reynolds signed legislation, passed in the final hours of the 2021 session, into law that bans local school districts, cities and counties from implementing masks mandates within their jurisdictions.
Iowa is among eight states that have enacted laws or issued executive orders that prohibit school districts from issuing requirements for students to wear masks, according to Pew.
Gerr pointed to a number of studies that show mask mandates are effective in preventing new cases in states that implement those requirements.
One study published in June 2020 in the journal "Health Affairs" found states with policies mandating community use of face masks avoided an estimated hundreds of thousands of COVID-19 cases between March and May 2020 compared to states that did not issue mandates.
Another, more recent study, published in February 2021 by the U.S. Centers for Disease Control and Prevention, found significant declines in weekly COVID-19 hospitalization growth after a statewide mask mandate was put in place.
New coronavirus infections and hospitalizations in Iowa have reached nearly explosive daily growth over the past couple weeks, reaching totals not seen since January, before COVID-19 vaccines were widely available.
Experts nationwide say this latest surge is largely driven by the more contagious delta variant. Delta was first detected in Iowa in May.
"I think we would all benefit by doing the more difficult task now of controlling spread, despite how frustrating and unpleasant it feels, in order to maximize our future health and welfare," Gerr said.
Iowa City Mayor Bruce Teague issued a citywide mask mandate on Aug. 19, requiring all individuals to wear face coverings in indoor public settings and in outdoor settings where social distancing is not maintained. The Iowa Attorney General said on Aug. 29 his office is looking into whether this mandate violates state law.
After roughly 18 months, Gerr said scientists and public health officials are confident wearing masks and other face coverings has major benefits with virtually no risk for the vast majority of Americans.
The novel coronavirus spreads from person to person through droplets put into the air through coughing or sneezing. Masks, if worn over the mouth and nose, prevent the wearer from spreading those air droplets to another person.
"A 10 percent increase in reported mask wearing was associated with an increase of more than threefold in odds of transmission control," according to a January 2021 study published in "The Lancet," a medical journal.
"When I say masks are effective," Gerr said, "I mean when a community embraces wearing of masks, the transmission of virus goes down and both risk and the number of coronavirus infections also goes down. It goes down in comparison to what that community would experience if they hadn't worn masks."
Masks also still highly effective in preventing the spread of the highly transmittable delta variant because it is a SARS-CoV-2 virus. Gerr said the delta variant floats in the air the same way, meaning "there's absolutely no biological or physical basis to believe (masks) will have a different benefit in reducing transmission."
Though it may feel like backsliding, Gerr said it's important Iowans take all safety precautions to prevent the spread of the virus during this period of high community transmission. That includes wearing masks, social distancing, washing hands frequently and staying home when experiencing symptoms, even if fully vaccinated.
In addition, getting fully vaccinated against COVID-19 is an important step in preventing more serious illness, hospitalization and death in Iowa.
"All of it still matters," Gerr said.
Comments: (319) 398-8469; michaela.ramm@thegazette.com