Home / News / Health Care and Medicine
As vaccine demand slows in Iowa, public health pivots to outreach
County public health departments that declined vaccine allotments hope to address hesitancy among residents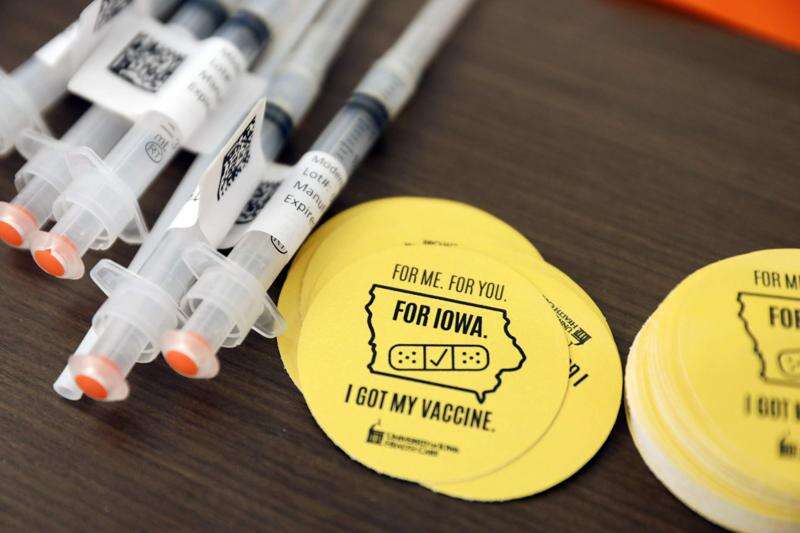 State and local public health entities are adjusting their approach to vaccine distribution, now focusing their efforts on encouraging Iowans to get the shot as the demand for COVID-19 immunizations seems to be diminishing.
Forty-three counties in Iowa — mostly in the northwest region — declined some of all new vaccine shipments from this state for this week because they haven't used up their previous allocations, Gov. Kim Reynolds said earlier this week. The week before, 20 counties had rejected new dose allocation for that week.
Many of these vaccines were instead directed to more populous counties for distribution.
That doesn't mean the majority of people in counties that declined the allocation already had been vaccinated. Hesitancy is likely at play, public health officials say.
Now that Iowa is in a space where there is plenty of supply, state officials are focusing reaching out to anyone who may be on the fence about receiving the vaccine, the head of the state's public health agency said this week. Though the number of fully vaccinated Iowans is increasing, there is a long ways to go -- as of Friday, only about 36 percent of Iowans age 16 and up have completed getting both shots.
"We're shifting our focus," Kelly Garcia, director of the Iowa Department of Human Services and the Iowa Department of Public Health, said Thursday during an AARP Iowa tele- town hall. "We are also wanting to ensure that Iowans have information so they feel safe and confident in their decision to get vaccinated."
The issue has gained more attention statewide in light of the pause on Johnson & Johnson allocations as federal officials investigated rare side effects.
But vaccine hesitancy has been a growing issue in Iowa even before the pandemic, said Lina Tucker Reinders, executive director of the Iowa Public Health Association. She pointed to declining rates of childhood immunizations as well as the increasing number of anti-vaccine measures introduced in recent years in the Iowa Legislature.
"It's a concern, not just with COVID vaccines, but all vaccines," Tucker Reinders said.
She added, "I think it comes down to trust and there's a lot of nuance in that."
Meeting Iowans where they're at
For some local agencies that turned down allocations for this week, the targeted outreach has become their focus as they found they lacked capacity to host large vaccine clinics. For many, that effort entails public information campaigns about the importance of getting a shot.
But one public health administrator said it's less about education and more about meeting people where they are.
"My stance is that people have access to the vaccine and they have access to accurate, science-based information," said Chris Estle, administrator for Jefferson County Public Health in Southeast Iowa. "There are so many reputable resources available, but yet you still have individuals that chose not to follow science-based information."
The county had turned down its weekly allocation of 300 Moderna doses, Estle said. As of April 20, about 59 percent of Jefferson County residents aged 60 and above were vaccinated. Only about 20 percent of individuals between 50 and 64 and between 19 and 49 were fully vaccinated.
"It's unfortunate at the point vaccine is readily available and accessible in a number of venues, we're seeing vaccine hesitancy for various reasons," Estle said.
The slow acceptance of the vaccine from their residents is a major change from the early days of the vaccine rollout, when local public health officials scrambled to administer shots as quickly as possible. The demand far outpaced the supply at the time, leaving many Iowans frustrated when they were unable to schedule appointments before clinics were booked.
Individuals were driving from three counties away to attend vaccine clinics hosted in Davis County in Southeast Iowa, said Devyn Pitlick, public information officer for Davis County Public Health. But starting three weeks ago, county public health there began seeing a decline in residents signing up for its clinics. Typically, 120 people would be vaccinated per week, Pitlick said.
Only about 21 percent of Davis County's population was vaccinated as of April 20, according to the Centers for Disease Control and Prevention.
Because officials had vaccine supply left, Davis County opted to send its allocation to another entity.
"Because of the slowdown, we're starting to evaluate and look at additional outreach we're going to be doing," Pitlick said. "We'll be using this opportunity to educate people and hopefully boost the percentage" of people vaccinated.
'It's a group effort'
The slowdown in demand doesn't necessarily mean people in those counties have stopped seeking out the vaccine, Tucker Reinders said. Doses are making their way into the community through federal programs to other providers, including one that ships directly to retail pharmacies.
Tucker Reinders noted that barriers to access are likely a contributing factor. Some populations — including those without internet or transportation access, those who don't speak English or those who face barriers to health care — are still struggling to get vaccinated in some parts of Iowa.
Despite some hesitancy among Iowans, the head of the state's public health agency had also expressed optimism this week about the state's chances for reaching herd immunity against the novel coronavirus.
In fact, Iowa has had "phenomenal start" in vaccinating residents, Garcia said during the AARP Iowa tele-town hall.
To encourage people that getting the vaccine is for the greater good, Estle's focus is leaning on the trust residents have for local public health officials and providers.
Residents may not trust the word of federal or state officials. But because she has a relationship with many in her small, rural county, Estle said they may be more willing to get the shot if they see her receiving the vaccine.
"I think we have to understand and not harm the relationships we currently have by just having an adult conversation," Estle said. "Public health is just that -- the health of the public. That means I need the public to help me take care of the health of the public. It's a group effort."
Comments: (319) 398-8469; michaela.ramm@thegazette.com