Home / News / Health Care and Medicine
'A cruel time to lose someone:' A year of loss from COVID-19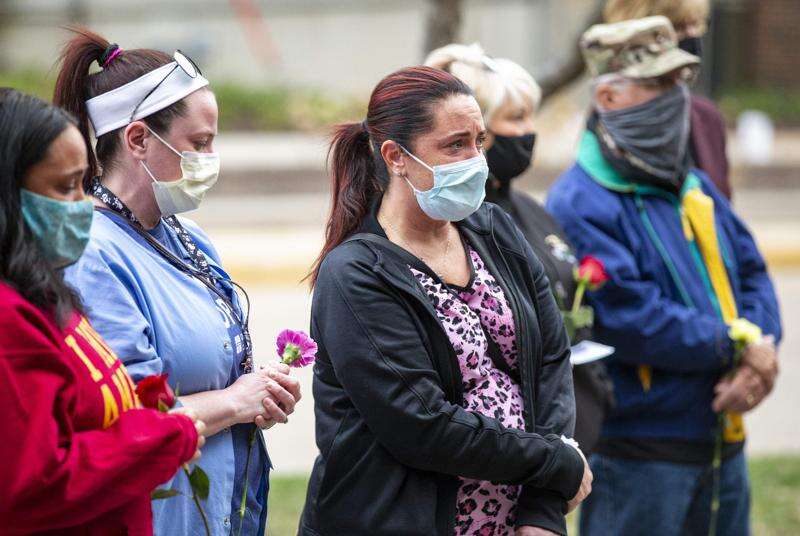 Tom Milligan counted the deaths.
As the pandemic swept through the country and new COVID-19 cases began to rise across the state last year, Milligan found himself tallying each death that resulted from the virus. He figured out his older brother, Lonny, who died this past spring, was the 297th death to occur in Iowa.
'I remember that number," said Milligan, a West Amana resident. 'It's burned into my head."
This week marks a year of loss in Iowa. A year ago on Wednesday, the Governor's Office announced the first death associated with COVID-19 in the state. The individual was a Dubuque County resident, somewhere between the ages of 61 and 80.
In one year, more than 5,000 Iowans would die as a result of the novel coronavirus. As of this past Tuesday afternoon, that total reached 5,683 individuals.
In many cases, Iowans view the rollout of the COVID-19 vaccine as the light at the end of the tunnel for the pandemic, offering more protection against the virus and allowing life to slowly return to normal.
But even in light of this hopeful moment after a long year, families who have lost loved ones during the pandemic are likely just beginning to process their grief.
Many have been unable to hold in-person funerals and ceremonies for their loved ones, instead choosing to delay memorials until lockdown restrictions ease later this year. As a result, their grieving process is on hold, they say.
After Mark Beiner died at the age of 65 from COVID-19 on Nov. 20, his wife, Nanette Beiner, said none of their four children have been able to gather to collect their dad's belongings and memorabilia. Instead, his things still are sitting in the house as if he could walk in the door any moment.
'I think the grieving process is going to drag out a long time," said Beiner, 45. 'There's a great book that Cedar Memorial gives you about a month after your loved one dies and it's about creating rituals around the death. The first ritual is a funeral, and we were robbed of that.
'It's a very cruel time to lose somebody," she said.
And at the same time, family members still were left to grapple with the upheaval caused by the pandemic. In the weeks and months after their loss, they continued to see the toll the virus was taking on others daily.
'That was the hard part about it," said Milligan, 70. 'If someone dies from a car crash, it's not expected. But the difference here is that when someone has a car crash, you don't put the car out in the front yard and walk by it and look at it every day."
Virtual funerals and interrupted rituals
Lonny Milligan, who lived in Washington, was 78 years old when he died, on May 11. He had diabetes and other underlying health conditions that 'put a target on his back," his brother said.
But when the brothers had dinner together in mid-March - the last time they would see each other - Tom Milligan said they were only just beginning to understand the pandemic's implications.
Lonny began to show symptoms, including a fever and lethargy, in the second week of April. His daughter eventually called an ambulance and he spent about five days at the hospital in Washington, where he tested positive for COVID-19.
His illness worsened, and he was transferred to the University of Iowa Hospitals and Clinics to be placed on a ventilator. He did improve enough to be taken off the ventilator and seemed to be recovering, but then his health took a sudden nose dive, Milligan recalled.
'I attended my brother's funeral service on my computer in my kitchen," he said. 'It was the most bizarre experience I've ever had."
Lonny's tight-knit family, which typically would gather and take over the waiting room when a member was hospitalized, was forced to watch from afar. Milligan and his siblings comforted each other over a Zoom call.
'It wasn't that you weren't allowed to mourn, but we were not allowed to mourn in the way our family is used to," he said.
Lonny eventually was interred next to his wife at Iowa Veterans Cemetery in Adel on Sept. 12.
A Vietnam veteran, he was active with local veterans affairs and often arranged for a color guard to attend funeral services in the area. Lonny's service this fall didn't have a color guard, but was instead a small, socially distanced affair.
On Monday, UnityPoint Health-St. Luke's Hospital hosted a 'choose hope" event to honor the anniversary since the first COVID-19 patient was admitted to the Cedar Rapids-based hospital.
In the lobby, 112 red roses were put on display to represent the St. Luke's patients who died over the course of the past year as a result of the virus. Family members of deceased patients who attended, including Beiner, were given a rose during the memorial event.
It's still a shock to those that knew him that Mark Beiner succumbed to the virus, his wife and friends say. He rode in RAGBRAI every year since 1993, competed in several rollerblade marathons and was otherwise an active, healthy individual.
Friends also described him as a social butterfly who never met a stranger.
Mark's family held a virtual funeral service a few days later after his death in November. However, because they were unable to gather to acknowledge and honor his death together, his friends say it hasn't quite sunk in for them.
'I keep expecting that phone call," admitted Kelly Varnum, a 57-year-old Cedar Rapids resident who biked often with Mark. 'I think that's what makes it so hard because you can't be together and have that finality."
Families frustrated by some minimizing pandemic's impact
Affected family members also are left grappling with the politicized nature of the pandemic, forced to watch as their loved one was reduced to a statistic that was argued about across the country. Around the time of her husband's death, Beiner said she was hearing of people who believed the pandemic would disappear after the election.
Deb Milligan, Tom's wife, recounted an interaction she had with a customer while working at a winery in Amana, who declined to wear a mask despite the store's policy requiring face coverings. As the customer was paying for her items, the customer said she believed masks didn't work.
Deb Milligan said she told the customer she had lost a family member to the virus. In response, the customer said 'he probably just died of pneumonia" and left the store.
'She in that one statement tried to minimize his death, and implied that his passing wasn't tragic or real. That our loss, pain, suffering, was not real," Deb Milligan said.
'No one has that right. I watched my husband grieve, and he still is grieving and mourning the loss of his brother. His loss is very real. This disease is very real."
To this day, Tom Milligan said he still wipes down all their groceries when he comes home from the store. He still watches the news and notes the deaths that are announced each day in Iowa.
When he did receive his vaccine through his employer, the Clear Creek Amana School District, Milligan said he was not anticipating the emotional impact the shot would have.
'We've been bottling up a lot of stuff for quite a while," he said. 'All of a sudden, I have a chance to take a breath."
'Choosing hope'
Milligan said his family plans to gather after everyone gets the vaccine, perhaps in the summer, to give Lonny a proper send off.
'We're a family of storytellers," he said. 'I'm looking forward to when we can sit down and talk about Lonny."
Monday's memorial service at St. Luke's was the first formal ceremony Beiner and friends have had in-person to acknowledge his death, say his friends who attended the event. In the future, they plan to organize an annual bike ride in his memory.
While it took a moment to remember the lives lost, the 'choose hope" event at St. Luke's this week also focused on moving on from loss and finding resilience as Iowa emerges from the pandemic. It's not too soon for hope, as Beiner said her husband would want her to live life to the fullest.
Mark Beiner's family and friends also have been raising funds to build a pavilion along the Cedar Rapids bicycle trail. It will be a spot his family and friends can gather and honor his life.
Comments: (319) 398-8469; michaela.ramm@thegazette.com