Home / Sports / Iowa Hawkeyes / Hawkeye Wrestling
Win-win: Women and wrestling score gains at Iowa
Women's wrestling program at UI will be Power 5's first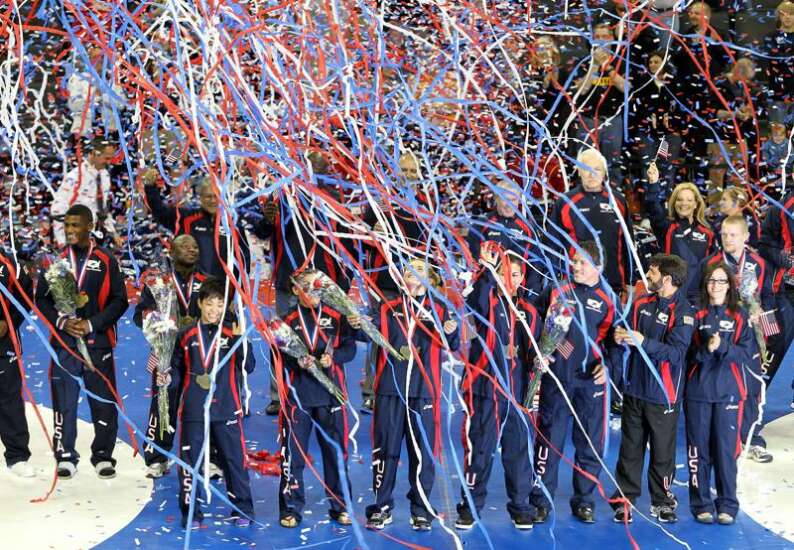 IOWA CITY — It didn't take a lawsuit filed against the University of Iowa by female student-athletes to make women's wrestling a scholarship sport at the school.
Plans to eventually add women's wrestling at the UI were being formulated before COVID-19 emerged last year. Then last summer, the university cut four sports: men's and women's swimming and diving, men's gymnastics and men's tennis.
The subsequent restoration of the women's swimming and diving program came last February after a federal judge granted an injunction to stop the program from being cut. Thursday brought the revelation the UI had reached an agreement on settlement terms with the female athletes who sued the school, alleging Title IX violations.
That made the timing of the women's wrestling announcement look less than coincidental.
From a UI athletic communications news release: "In an effort to successfully resolve the Title IX lawsuit, the athletics department made the decision to announce the sponsorship of women's wrestling now."
At a Thursday news conference, Iowa Athletics Director Gary Barta said the women's wrestling program would have been launched later than this year were it not for wanting to settle the lawsuit. Which included a demand for the addition of more women's sports teams, like wrestling.
There still has been no real explanation why so few Power Five conference schools cut sports in the last year but Iowa could find no way to keep all it had.
Wednesday, someone close to the Iowa swimming community recalled Rahm Emanuel's 2008 line. You never want a serious crisis to go to waste.
All that said, Thursday still was a red-letter day for women's sports, amateur wrestling, and the UI. This is a public relations move that is pure gold for the black-and-gold.
Women's wrestling is a rapidly growing entity, something that has already made inroads at smaller colleges, including some in Iowa. The UI is the first Power Five school to incorporate it, but others will follow. It's not a big-budget sport, and women are wrestling.
Last winter, over 600 Iowa high school girls competed in the sport. Rachel Watters has qualified for several age-level U.S. world teams, and was a silver medalist at the 2019 Pan-American Games. She is one of three women on the Hawkeye Wrestling Club, which trains potential world and Olympic competitors.
Thursday, Watters said she "knew eventually" wrestling would be a sanctioned sport at Iowa. "I just really did not think this was going to come this soon.
"This is what we've been waiting for, even when I was wrestling in high school (at Ballard). I was just waiting for the day Iowa was going to add women's wrestling. It's just a surreal feeling today."
Women's wrestling has been embraced by Hawkeye wrestling before this decision. Iowa head coach Tom Brands has long lobbied for a women's program at the school, as have other Hawkeye coaches and athletes, UI athletic administrators, and people in the community.
"Come on, Boss, let's go!"
Barta said those were words Brands repeatedly told him when the subject of women's wrestling was raised.
Several of Brands' wrestlers were at Thursdsay's news conference as their head coach passionately spoke about why adding women's wrestling was good for everyone.
"Just because we're doing it now doesn't mean that all of a sudden (women) are ready for it," Brands said. "They've been ready for it just like men have been ready for it."
The UI settled a pair of gender and sexual discrimination lawsuits in 2017 at the total cost of $6.5 million. The Title IX lawsuit was another black eye, despite Barta's insistence his department had meticulously followed Title IX regulations all along.
The school needed to start this new women's program as much as high school female wrestlers need schools of Iowa's size to add women's wrestling.
There's a future Olympic wrestler at an Iowa elementary school right now. Her path just got easier, thanks in part to women at the UI who weren't afraid to fight the power.
Comments: (319) 398-8440; mike.hlas@thegazette.com