Home / Sports / Iowa Hawkeyes / Hawkeye Wrestling
USC, UCLA and Big Ten wrestling
Ogden column: What will new members offer in a sport dominated by conference?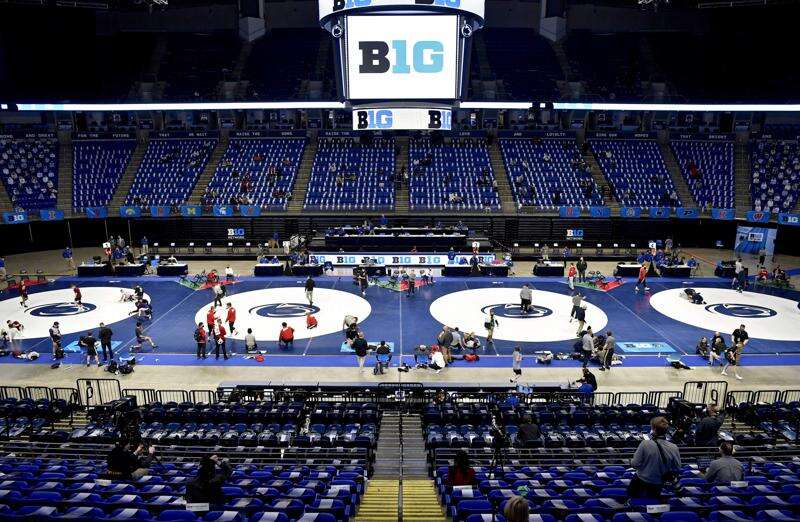 USC wrestling is "back," according to its website and apparently "we're bigger and better than ever."
That's more than can be said about UCLA wrestling.
The Bruins, in their latest web post, had an "amazing" season. But that was last updated in 2016.
A lot of words have been strung together since it was announced the Big Ten was expanding to the west coast and becoming a new home for UCLA and USC.
In the sports world, of course, that's huge news. UCLA and USC bring loads of tradition and success for sports like football and basketball.
But few words have been written on what this means for wrestling. The Big Ten, after all, is biggest thing in college wrestling. All 14 members have programs and most are among the best in the nation.
Penn State is the defending NCAA champion and has won nine national titles under Coach Cael Sanderson since 2011. Iowa won it all in 2021 and would have won it all in 2020 had that tournament not been canceled by COVID. The Hawkeyes' wrestling history is well documented — 24 NCAA titles, including 17 in 21 seasons under legendary coach Dan Gable.
Wrestling is important at Ohio State, Michigan and Minnesota, to name just a few.
Now comes USC and UCLA into the B1G. What do they offer the conference in terms of wrestling?
In a word, nothing.
To be fair, I'm sure when the Big Ten Conference officials, its presidents and athletics directors got together to figure out the future, nobody raised an issue with the fact these two programs offer nothing in terms of wrestling.
Iowa and Wisconsin don't offer beach volleyball or water polo, so fair is fair.
But the Big Ten is wrestling and it would be nice if one day these two newbies joined that club, so to speak. Wrestling could use a couple of new programs.
So what do the Trojans and Bruins have right now?
USC, it seems, has some interest in the sport.
"... We've made huge strides on our journey toward becoming an NCAA team," the club's website notes.
It lists accomplishments like growing from "a handful of wrestlers to more than 30 active members of the co-ed team" ... qualifying 10 wrestlers for the NCWA championship and had a three-time NCWA All-American and "purchased new mats for the team."
Having mats is a good first step.
UCLA, unfortunately, doesn't have that much detail. But, in a blog titled "Gone, Lost & Forgotten" from February 2020, there seems to be hope.
"There's not much wrestling in the second largest city in the United States of America these days," the post begins. "Yet believe it or not, most of the colleges in Los Angeles at one point or another fielded wrestling programs. One of the best was UCLA. A team that won the 1927 Pacific Coast Conference South Division title and the 1964 Pac-12 championship.
"The Bruins had a high eighth place finish at the NCAAs in 1969 (10 points behind Iowa in a year Iowa State was champion), but were consistently a Top 25 team."
UCLA had an NCAA champion in 1979 (heavyweight Fred Bohna) and two All-Americans in 1980, but "unfortunately athletic director Bob Fischer ... had a vision to help Terry Donahue turn the football program into a championship team ... (and) felt that wrestling got in the way." He eliminated the program.
"There just isn't enough room on campus for the wrestling team," he is quoted as saying.
"Today," the blog notes "UCLA has a phenomenal club program in the NCWA that has a heated yearly rivalry with the club program from USC."
Former Iowa wrestler Harlan Kistler, as a matter of fact, once wrestled for UCLA. He was a two-time Pac-10 champ there and an All-American in 1980 before winning another Pac-10 title at Arizona State. He won his fourth conference title, in the Big Ten, and placed third in the NCAAs after moving to Iowa.
USC and UCLA are listed among the "D2" programs on the National Collegiate Wrestling Association website. Apparently you need a decoder ring, however, to find results or decipher the rankings, but Gary Bairos is listed as the UCLA coach and USC has a roster and actual staff listed, headed by Evan Hess.
So there is a bit of history here and, maybe, a little hope. Let's hope there is hope.
Comments: (319) 398-8416; jr.ogden@thegazette.com