Home / Sports / Iowa Hawkeyes / Hawkeye Wrestling
Iowa Wrestling Weekend That Was: Spencer Lee updates Iowa fans on his surgery
Lee video states knee procedure went well; Multiple debuts in college wrestling; Grand View claims No. 10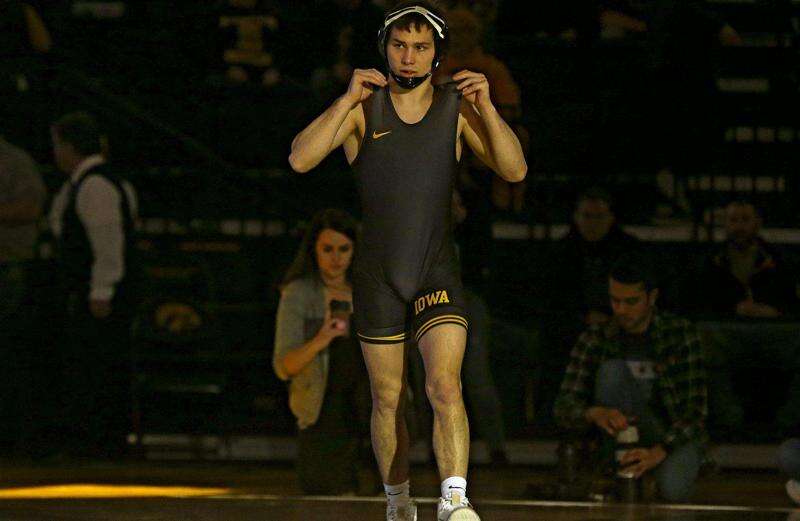 Wrestling has returned to full throttle. College teams are in the thick of conference duals. High schools are back to tournament weekends. Spencer Lee provided his own surgery update. Grand View extended its national dual streak. Lisbon and Linn-Mar dominated their way to tournament titles during the Wrestling Weekend That Was.
Spencer Lee update
University of Iowa three-time NCAA champion Spencer Lee took to Twitter Friday to update followers on his surgery on ACL tears in both knees. From what appears to be a hospital bed, he delivered a video message.
"Spencer here. I just want to let you guys know it went good," Lee said about the season-ending procedure. "The surgery went awesome, so I'll keep you all updated and don't worry about me. We're on the mend. We're getting better and go Hawks."
Lee announced he was going under the knife Jan. 1 after wrestling at the Collegiate Journeyman Duals. He went 3-0 there, but the knee he injured during last season's Big Ten Conference tournament title match did not respond to efforts to wrestle without surgery, unlike the other knee that was hurt during the NCAA finals his freshman season.
The two-time Hodge Trophy winner has a chance to claim another season with a medical hardship waiver. He could still become Iowa's first four-time NCAA champion and the fifth all-time at the Division-I level, if the waiver is granted and he chooses to do it.
Lee's tweet went was posted less than an hour before the Iowa-Minnesota dual that featured the debut of his replacement, Drake Ayala. The true freshman from Fort Dodge went 1-1 this weekend against two ranked opponents, beating Purdue's Devin Schroder Sunday. Lee beat Schroder in the Big Ten finals last year.
Twitter
Grand View claims No. 10
Grand View's dominance in college wrestling is one of the greatest in all divisions. The Vikings added a little more to their long list of achievements.
Grand View defeated Life University, 21-10, for its 10th straight National Wrestling Coaches Association duals title Friday in Louisville, Ky. The Vikings beat Reinhardt (Ga.) University, 34-12, in Friday's semifinals after a 2-0 start on Thursday..
"The weekend wasn't perfect but it doesn't need to be," Coach Nick Mitchell said in the program's online recap. "There's always adversity behind the scenes and this weekend was no different. Regardless these guys stepped up and got the job done. I'm looking forward and seeing how much better we can get between now and the end of the season."
Life snapped Grand View's NAIA tournament team title streak last season. One the Vikings will look to restart in March.
Big names debut in Big Ten
In addition to Ayala's official Hawkeye debut and Michael Kemerer's season debut for Iowa, a couple other big names made their first appearance with new programs.
NCAA champion and two-time national finalist Nick Suriano donned a Michigan singlet for the first time Sunday. He defeated Pittsburgh's 31st-ranked Gage Curry, 18-7. He also posted a 19-2 technical fall over Jake Staud in an extra match.
Suriano previously wrestled at Rutgers and Penn State, taking an Olympic redshirt here in 2020.
Also at 125, Drew Hildebrandt wrestled his first matches for Penn State. The former Central Michigan two-time All-American and three-time national qualifier pinned Maryland's Zach Spence in 1:38 Friday. He followed that with a 6-2 decision over Indiana's No. 25 Jacob Moran.
The weight class has become one of the most interesting in D-I wrestling.
Lisbon wins at Tripoli
Second-ranked Lisbon dominated its way to the team title at the 55th annual Tripoli Invitational on Saturday. The Lions crowned seven champions with eight finalists.
Quincy Happel (126), Cade Siebrecht (138), Indy Harbaugh (145), Lincoln Holub (152), Max Kohl (182), Indy Ferguson (220) and heavyweight Wyatt Smith all won titles. The Lions topped runner-up Nashua-Plainfield, 219.5-168.5.
Nashua-Plainfield's Garrett Rinken spoiled Lisbon's bid for a perfect championship match record. Second-ranked Rinken pinned top-ranked and state champion Brandon Paez in the 120 finals. Rinken (29-0) led 6-2 when he pinned Paez in 5:52, scoring takedowns in the first and third periods with two escapes in the second. It was the first loss for two-time state finalist Paez (20-1).
Home sweet home for Linn-Mar
Linn-Mar won its home dual tournament Saturday in convincing fashion. The Lions defeated Western Dubuque, 51-24, in the final and capped a 5-0 mark. Linn-Mar's average margin of victory was 44.6 points.
Linn-Mar's ranked wrestlers — Brayden Parke, Kane Naaktgeboren, Grant Kress, Tate Naaktgeboren and Luke Gaffney — combined to go 25-0 with 24 bonus-point victories, including 16 pins. The lone decision came from Class 3A third-ranked 132-pounder Kane Naaktgeboren, who bumped up and beat Mount Vernon's Jackson Jaspers, who is ranked seventh in 2A.
Aaron "Freaking" Boone
Yeah, that term was famously coined for the former Major League Baseball player turned manager Aaron Boone. It could be used for a standout Eastern Iowa athlete.
Aaron Boone, of Washington (Iowa) remained unbeaten Saturday, winning the 113-pound title at the Gary Curtis Invitational at Highland. Boone, a freshman, improved to 31-0, beating Wilton's 1A second-ranked Brody Brisker, 5-4, in the finals. Boone earned the tournament's Outstanding Wrestling award.
Alburnett won the team title, edging Wilton by 13 points. Brody Neighbor (132) and Carson Klostermann (145) won titles for the Pirates.