Home / Sports / Iowa Hawkeyes / Hawkeye Wrestling
Iowa, Oklahoma State wrestling set to collide in Bout at the Ballpark
February event at Globe Life Field in Arlington, Texas, will also include USA vs. Iran dual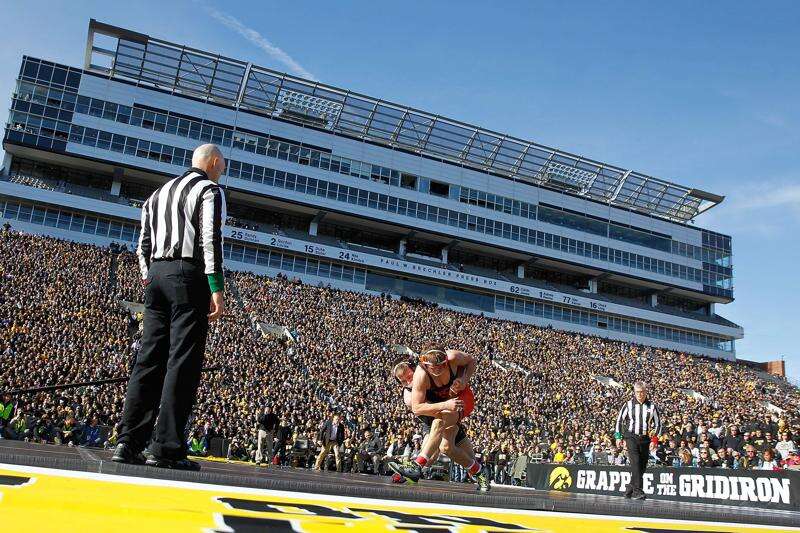 University of Iowa wrestling coaches had a primary target when they planned the epic Grapple on the Gridiron dual that smashed attendance records for an amateur wrestling event in 2015.
Hawkeyes Coach Tom Brands reached out to Oklahoma State Coach John Smith, who agreed to the dual between college wrestling's most-storied programs. Iowa won the event, 18-16, in front of 42,287 fans in Kinnick Stadium at Iowa City.
When Smith was approached by the idea of a major event in the heart of Texas in front of the state's growing participation and talent at the high school level, he knew exactly who to ask.
"For me, it was an easy choice," Smith said about the Bout at the Ballpark that will feature duals between defending NCAA champion Iowa and Oklahoma State and the USA against Iran on Feb. 12 at Globe Life Field in Arlington, Texas. "There was only one guy to ask that I considered somebody who would understand what we're trying to do. That was Tom Brands. I knew Tom would buy into it and we need to continue to do things like this to grow wrestling."
REV Entertainment will host and operate the event that will feature two raised mats on the field where the Texas Rangers plays their Major League Baseball home games. Flowrestling will stream the duals live, beginning at 6:30 p.m.
"When we called John Smith for something a little outside the box there was no hesitation," Brands said. "When John Smith called me, there was no hesitation."
Seating capacity is expected to be 27,000, which is much less than Iowa's record.
"This is a no-brainer for us," Brands said. "It's Oklahoma State. It's outside the box. It's international and I know it will be done right. We need to be ready to go."
Interestingly, both duals will be held simultaneously. Matches from each dual will alternate — two matches from one dual will be held on the two mats followed by two matches from the other meet. This will continue until all 10 weights from both duals are complete.
Smith said he was approached about the idea during the summer.
"It's something much more than just a dual meet," Smith said. "It was going to give us an opportunity to really showcase college wrestling, folkstyle wrestling, and expose Division I, as well as all of our divisions."
According to the news release, this is the first time an NCAA dual and senior-level international meet will be held in this format.
"I am very excited to announce Bout at the Ballpark," REV Entertainment President Sean Decker in a news release. "We are proud to have the opportunity to host a competition that celebrate four of the most iconic brands in the sport of wrestling, the Oklahoma State Cowboys against the Iowa Hawkeyes and USA Wrestling versus Iran. I want to thank these four great programs for their incredible cooperation in helping us put together this spectacular wrestling event."
Oklahoma State and Iowa have won more NCAA titles than any other program. The Cowboys have 34, while Iowa won its 24th in March in St. Louis, Mo. Both Brands and Smith are Olympic gold medalists with multiple world titles.
"I think it's been alluded to that there's great partnership with two titan historic programs and both are very relevant today, fighting for the same accolades," Brands said. "The truth of the matter is when you get invited to something like this you show up. It is about competing at the highest level.
"It really is a global event."
After Grapple on the Gridiron, wrestling programs have held events at different sites. They have been held in football stadiums, outdoors on campus, an auditorium and even a military ship (Illinois vs. Fresno State). It has helped with promotion of the sport and this could provide another huge boost.
"The biggest thing is you have college wrestling doing it on their own with great help from global partners," Brands said. "I'm talking about a world-class facility with Major League Baseball involved as well.
"I see that you're thanking ownership and the Texas Rangers. This has the Texas Rangers stamp on it. That's legitimate."
USA Wrestling's Rich Bender said the Grapple of the Gridiron gave a lift to the sport. He said he thought wrestling was on the precipice of a "golden age" prior to the pandemic. Bender said the Bout at the Ballpark" announcement signals that arrival.
"I think this event will mark a great opportunity for us to take the next step forward for our sport," Bender said. "Really grateful to partner with one of the most storied international programs in history — Wrestling Federation of the Islamic Republic of Iran — I'm really excited to partner with them.
"This a great example of wrestling transcending politics. You've had a long history with the Iranian Federation. They are without question one of the most successful wrestling programs on Earth. Really excited to showcase our sport at the highest level."