Home / Sports / Iowa Hawkeyes / Hawkeye Wrestling
Dylan Carew makes impact as coach through Big Game Wrestling Club
Former Iowa City West and Iowa Hawkeye wrestler named USA Wrestling's Youth Developmental Greco-Roman Coach of the Year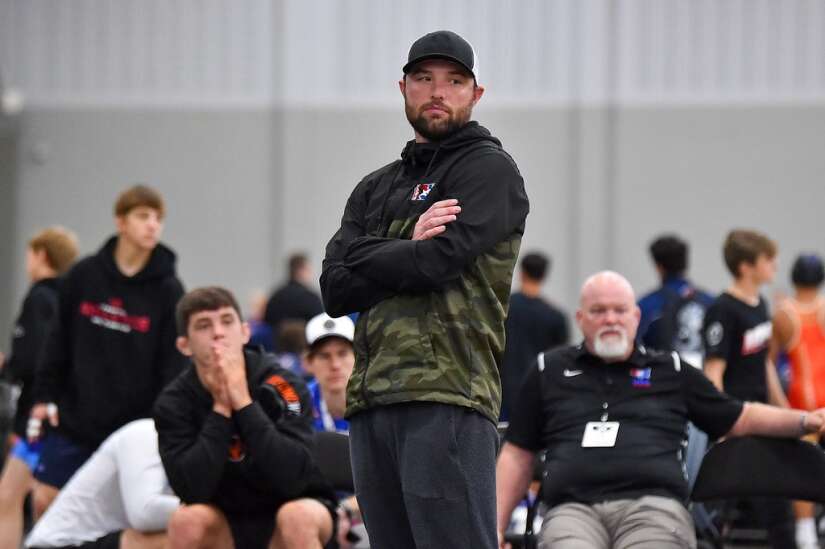 It had been more than 10 years since Dylan Carew received a wrestling award.
The two-time state champion at Iowa City West and former Iowa Hawkeye garnered plenty of honors in a career that ended prematurely due to injury. Carew answered the call to coaching, following in the footsteps of his mentor, the late Mark Reiland.
The founder and coach of Big Game Wrestling Club earned recognition again. This time for his work in the corner. Carew was named USA Wrestling's Youth Developmental Greco-Roman Coach of the Year during Junior Nationals last week in Fargo, N.D.
"This is my first coaching award, which feels good, especially coming on a year where I lost Mark Reiland," Carew said about the death of his former coach. "I know that he would be pretty darn proud of that. My dad (Jeff) and Mark have always believed in me as a coach, like some other people. Maybe that was the most important to me, not necessarily the award, but that I knew how proud my mentors would be."
Carew has an extensive resume in Greco-Roman. He was a two-time Cadet national champion and Junior All-American. In 2007, he won his second national crown and earned Outstanding Wrestler honors, adding a national runner-up finish in freestyle. Carew is transferring the lessons he learned to another generation of wrestlers, carrying on the legacy of his Hall of Fame coach and leader of Iowa's chapter of USA Wrestling.
"Mark always preached it to us, you couldn't be good at the next level if you can't wrestle in underhook, seatbelt, overhook and bodylock positions," Carew said. "His big philosophy was you didn't have to worry about being good at the next level if you couldn't wrestle all those positions.
"Flash forward 15 years later and one of his guys wins that award. I think that's a full-circle moment."
Carew led Iowa to its first Greco-Roman national title at the Junior National Duals in Tulsa, Okla., in June. He coached multiple Greco-Roman All-Americans last week, including finalist Wyatt Voelker, a two-time West Delaware state champion wrestling at the University of Northern Iowa next season, and Linn-Mar's brother duo of Kane and Tate Naaktgeboren. The state had eight All-Americans in the 16u division, including Southeast Polk's Ryker Graff, who trains with Carew.
Cedar Rapids Prairie state finalist Blake Gioimo wrestles at the Big Game facility in North Liberty. He went 4-2 in Greco-Roman at Junior Nationals.
"Before June I absolutely hated Greco and thought it was stupid and awful," Gioimo said in a text to The Gazette. "But, you could say Dylan nudged me to think otherwise and since I actually understand the sport he's helped me realize how much Greco has affected my other styles of wrestling and how it's truly made me a better wrestler."
The hardware is nice and titles still remain the goal, but Carew places the same emphasis on progress. He gauges success on the growth and development of each athlete, which is why he was honored.
"When I see our wrestlers becoming complete wrestlers, I think that's the most impressive stat," Carew said. "I think it's easy to get caught up in that it's win or nothing.
"I'd be a liar if I said the winning is not important, but making sure we have an upswing and we're consistently getting better is good."
Big Game has been a labor of love, starting the club during his time in Montana. Iowa State All-American Jarrett Degen was his biggest product in Bozeman. Carew returned to the Iowa City area and established the club in Iowa.
"He's helped me grow to love the sport of wrestling because the stuff he shows is just flat out amazing," Gioimo said of Carew. "Not only that but the atmosphere Dylan, the Big Game staff, and us wrestlers have built there truly makes it feel like a 'home away from home.' Those aspects are what I feel have helped me the most."
Many hands make for light work and Carew has relied on a strong staff. His brother, Tyler, has been instrumental in building the club. Former Iowa NCAA champion Jessie Whitmer and J.B. Barnhouse are coaches and have been key contributors.
About 150 wrestlers from all over train at the North Liberty building with 150 more at the club in Bettendorf that is run by former Iowa teammates and roommates Nick Trizzino, Brody Grothus and Tyler Clark. Degen and former Oklahoma State NCAA champion Alan Fried run the club of about 50 in Montana.
Alli Ragan is a club coach in North Liberty. She runs one of the boys' practices each week and serves as the women's coach. Ragan is a two-time silver Worlds medalist at the senior level and a Junior Worlds bronze winner. She was an alternate for the 2016 U.S. Olympic team and has won multiple international tournaments.
Carew said the club is just as devoted to girls' wrestling as it is to all three disciplines for boys. Ragan, who is also on the Grand View University women's wrestling staff, is a big reason.
"We're going to continue to grow," Carew said. "Alli is one of the best. She was voted one of the top 100 wrestlers that has ever lived — male or female — in the United States and we have her as our women's coach."
Carew's inspiration stemmed from opportunities he and his friends had as youths. The vision to run his own club came into focus when his dad placed a wrestling mat in the basement for Carew and his brothers and talked about building extravagant rooms for them to coach others. Some didn't believe in his idea to provide a high-level club affordable to all with scholarships, fundraising and family discounts.
The plan has come to fruition.
"Everyone that knows me knows I am a dreamer," Carew said. "If I set my mind on something I'm going to chase it down. I think a lot of people thought I was crazy.
"I've dreamed about this. Through a lot of hard work over the last 10 years that has come together. Every day I go to that wrestling room or in the morning when I go into the gym and see people in there it makes me very proud of all the things we've worked hard for since I was a kid."
Comments: kj.pilcher@thegazette.com