Home / Sports / Iowa Hawkeyes / Hawkeye Wrestling
Clarissa Chun hard at work to establish Iowa women's wrestling program
Chun attended the IWCOA girls' state wrestling tournament Friday and Saturday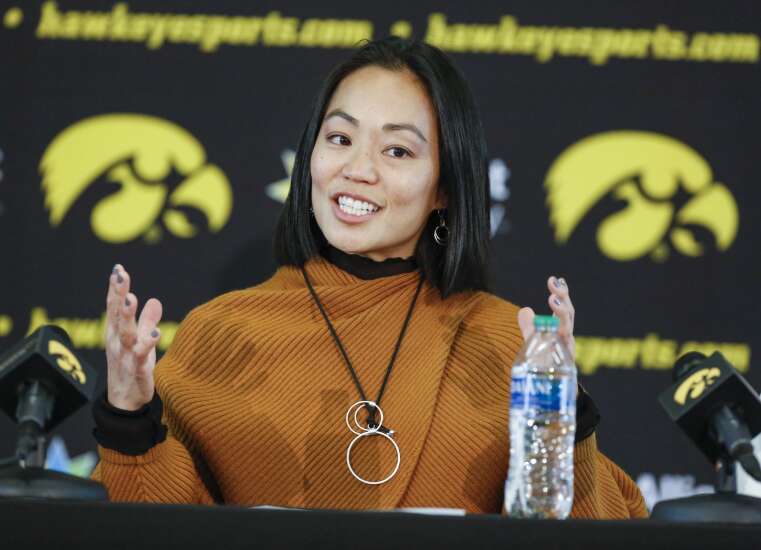 CORALVILLE — Clarissa Chun was originally slated to start her role as University of Iowa coach in February.
The first leader of a Power-5 NCAA Division I women's wrestling program couldn't wait that long to get to work in the Hawkeyes' wrestling room. The early days of her tenure has been focused on NCAA regulations and compliance rules, recruiting and identifying the needs for a staff.
"My second day on the job I had recruits come in, so it's just hit the ground running," Chun said. "The great thing about the University of Iowa is there are so many resources and people ready and willing to help. The administration and everyone that surround you really work together to make it happen."
Chun attended the Iowa Wrestling Coaches and Officials Association girls' state wrestling tournament Friday and Saturday at Xtream Arena. The two-time Olympian and five-time Worlds champion said she loved the event that sparked participation levels that helped lead to Iowa becoming the 34th state to sanction the sport for girls.
"We're putting them on a platform where they're visible to the state of Iowa, being able to compete in an arena," said Chun, who competed in high school when Hawaii sanctioned the sport. "This is a big deal.
"If you build it, they will come and they are here. They are able to showcase everything they've worked on, the hard work they've put in day in and day out."
The 2012 Olympic bronze medalist served as an assistant to USA Wrestling's women's national team and was Operations Assistant at West Virginia. Women's wrestling is now attached to one of the most storied and successful college programs and could help the sport grow.
"When I think about that as far as bringing about building that team, it comes with a high standard of expectation," Chun said. "Adding women's (team) to that only enhances it, as far as, wrestling is Iowa, whether it's men's or women's. That's how I feel. I love the culture in Iowa."
According to Chun, she's still trying to find the best way to pitch herself, but the school sells itself, including events and fan support at Carver-Hawkeye Arena. Chun, who is being inducted in the National Wrestling Hall of Fame as a Distinguished Member in June, has dedicated part of her time to making calls to many people about coming to Iowa.
"That was my strategy to bring them on (campus) to a home dual meet, because no better energy, fans and community in wrestling here in Iowa than going to a home dual meet," Chun said. "Obviously, it's a great institution. University of Iowa has great courses, classes and areas of focus for these young athletes to want to pursue an education."
Chun added, "They want World and Olympic aspirations and so do I for them. First and foremost, winning national titles for the University of Iowa is a big thing."