Home / Sports / Iowa Hawkeyes / Hawkeye Wrestling
Buzz for Iowa women's basketball, wrestling heard at box office
Season-ticket sales way up with spotlight-grabbers Caitlin Clark, Spencer Lee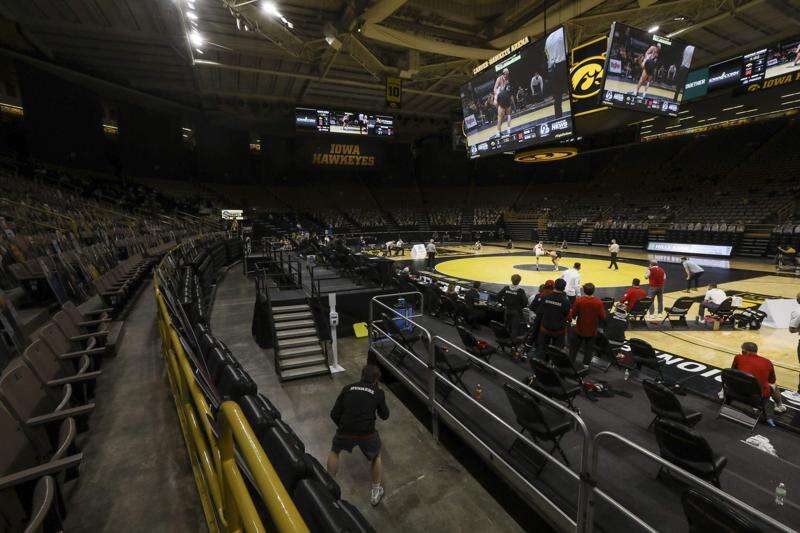 The weather is turning colder, we're in November, and recent unhappy developments in Iowa Hawkeyes football have turned my thoughts toward basketball and wrestling.
Maybe it's not a surprise given Iowa averaged 12,568 fans per home wrestling meet two seasons ago, the last one in which it could have fans in Carver-Hawkeye Arena. But being told that approximately 13,200 tickets per meet are already sold seems like a "Wow!" item.
Jess Rickertsen, Iowa's assistant athletic director for ticketing and premium seating, said Tuesday that about 12,000 season tickets have been distributed to the public at large. Another 1,200 tickets per dual are held for students, who get in free as students should.
Rivals Penn State and Minnesota are among the six visitors. The first is Princeton, on Nov. 19. Season tickets are $85. Many who bought them probably intend on attending all six meets, but some would probably fork over the $85 just to make sure they had a seat for the Penn State-Iowa dual on Jan. 28.
The season ticket number is an Iowa wrestling record. Iowa sold 7,715 in 2019-20, the last year the public could attend meets. It averaged an NCAA-record 12,568 fans per dual that year.
The season ticket jump is a reaction to the 2020-21 Hawkeyes winning their first NCAA championship since 2010 and being set up to repeat as champions. It also has to do with Spencer Lee starting a season with three NCAA titles in his possession.
There's more to the Hawkeyes than Lee, but he is the can't-miss performer. Although, you can miss many of his matches if you aren't paying attention.
Lee had five first-period pins among his 12 matches, all wins, last season. His first eight matches were terminated early because of pins or technical falls.
Wrestling fans in Iowa don't want to miss this guy as a fifth-year senior, especially watching him last season from afar.
The bulk of Hawkeye women's basketball season ticket sales typically comes from single-game sales. Two years ago, about 2,200 season tickets were sold when the team averaged 7,102 fans per home game, its highest mark in over a decade.
With a week until its Nov. 9 opener against New Hampshire, the Iowa women had sold about 3,600 season tickets, a considerable bump. Tickets for the 15-game home schedule are $100 to the general public.
Caitlin Clark, a once-in-a-generation all-around talent at Iowa to understate things, will perform in front of fans for the first time in her college career.
It may be tough to get a big crowd to Carver on a Tuesday night for a 6 p.m. game against New Hampshire, but big crowds may become the rule for Hawkeyes home games this season.
Iowa is No. 9 in the AP preseason Top 25, yet this season may transcend the Hawkeyes' places in the polls or standings.
People who haven't seen Clark play in person want to do just that, as well as the capable teammates accompanying her. Lisa Bluder's always-uptempo offensive style with a now-seasoned maestro in sophomore Clark make for the kind of team that is fan-friendly to say the least.
Not to neglect the Iowa men's basketball team, mind you. It got the rawest deal from the year in seclusion from the public.
The Hawkeyes were No. 5 in the preseason national rankings, and spent all but two weeks of the season inside the top 10. One can only imagine the thunder inside Carver had fans been present for Iowa's games against North Carolina, Iowa State, Ohio State, Wisconsin …
It would have been a huge box office season with the preseason (and postseason) National Player of the Year in Luka Garza on the billing.
This year, Iowa starts the season on the outside looking in on the Top 25. Despite that, they have about 8,100 season tickets sold as compared to 7,800 two years ago when we didn't know Garza was about to become a first-team All-American as a junior.
Basketball and wrestling were as interesting as could be at Iowa last winter, but were also weird with no fans. The noise will sound and feel especially good at Carver in the months ahead, and there could be a lot of it.
Comments: (319) 398-8440; mike.hlas@thegazette.com