Home / Sports / Hawkeye Sports / Iowa Football
Tyler Linderbaum racks up preseason honors and gives Iowa's inexperienced defensive tackles a challenge
Linderbaum was named to the preseason Big Ten honors and Rimington Award watch list during Big Ten Media Days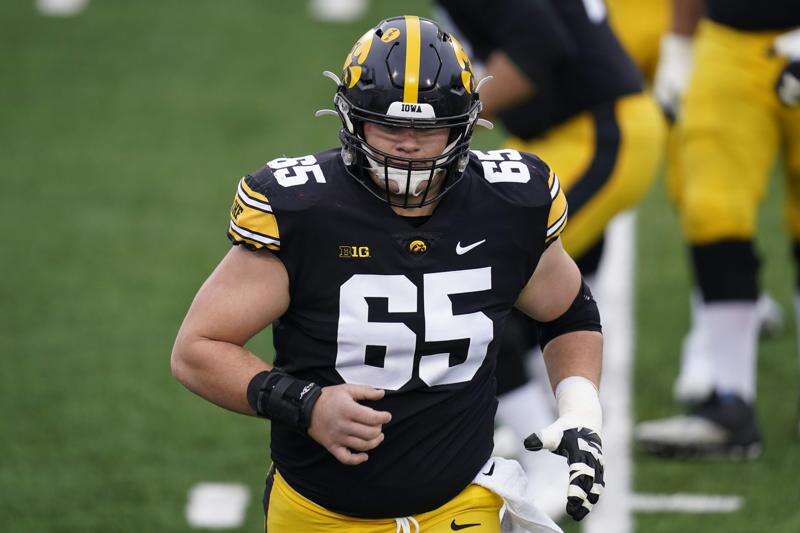 INDIANAPOLIS — Award announcements for Iowa junior center Tyler Linderbaum permeate reporters' email inboxes like spam.
Linderbaum was one of 10 Big Ten preseason "honorees" announced this week, and one of two offensive linemen named to the list, along with Ohio State left tackle Thayer Munford. The list, selected by Big Ten media, honors five players from both the West and East divisions.
Linderbaum was also named to the preseason watch list for the Rimington Trophy, awarded to the best center in college football. Linderbaum was a finalist for the trophy last year, earning first-team All-America honors from The Athletic and Pro Football Focus. He's a preseason first-team All-Big Ten and All-America selection by Athlon Sports.
Twitter
"Stuff like that, I don't let it distract me," Linderbaum said. "I keep reminding myself it's preseason. It's all about how you do it during the season and how you finish."
But given his status as an elite player on the offensive line, Linderbaum is used as a measuring stick in the competition at defensive tackle. The position lacks experience, with redshirt freshman Yahya Black and sophomore Logan Lee listed at right tackle and redshirt freshman Lukas Van Ness behind Noah Shannon at left tackle. Redshirt freshman Logan Jones is injured.
"Some of the freshmen that had to come in, it's a pretty steep learning curve," defensive end Zach VanValkenburg said. "He's just so quick, so especially with our zone-blocking scheme, he gets around people and before you know it, he reached and the ball is outside of you."
The lack of depth at defensive tackle was a point of concern noted by head coach Kirk Ferentz in his opening comments at Big Ten Media Days.
"Last year, we had two new starters in there, so here we go again," Ferentz said. "We do have a lot of young guys that were just basically in their first spring this past spring. Now the real challenge is where they're going to be from August 6 until September 1, how much ground have they gained?"
Linderbaum elected to stay another year at Iowa despite garnering NFL interest, saying he wanted to focus on harnessing his skills and staying close to home.
Iowa is known for its strong line on both sides, but as it looks to rebuild its defensive line, any interior defensive lineman has to know what they're up against. But it works both ways: Linderbaum believes his teammates and the competition in the Big Ten are what make him a dominant center. He looks forward to playing a team like Wisconsin, which he said mirrors Iowa's physicality.
"We pride ourselves on being good in the trenches and on the defensive line and offensive line, we set the standard of pace in how the game's going to go," Linderbaum said. "To be honest, I'll be confident with whomever is put in there. I know I got a question earlier about Noah Shannon and Yahya (Black), those guys are killing it. They're making me better."
Linderbaum also acknowledges that his ability doesn't come naturally. At 6-foot-3, 289 pounds, he's actually considered undersized at the position.
"I think I use that to my advantage," Linderbaum said. "My athletic ability has helped me a lot."
Comments: (319)-398-8387, leah.vann@thegazette.com