Home / Sports / Iowa Hawkeyes / Iowa Football
No. 10 Iowa turns over the score and the rankings in win over No. 9 Iowa State
Matt Hankins leads team with 2 interceptions out of Hawkeyes' 4 takeaways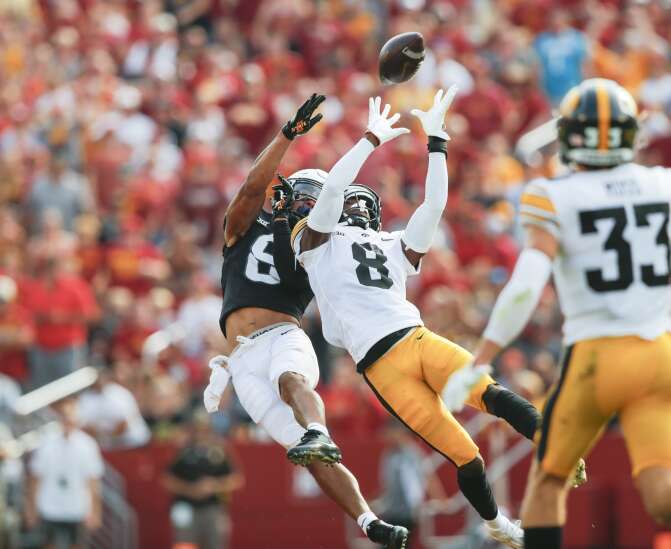 AMES — Death, taxes and Iowa defense.
This time, it was Iowa cornerback Matt Hankins who capitalized on Iowa State quarterback Brock Purdy's passes.
No. 10 Iowa not only proved that its defense is for real, but that its turnover game was not a fluke en route to its 27-17 victory over in-state rival No. 9 Iowa State.
"I mean, we just fly around... we're here to stop them, get the ball back, get points," Iowa junior linebacker Jack Campbell said. "You guys might call it a fluke, you guys might just say we're playing hard, but at the end of the day, it's just Hawkeye defensive mindset.
"We just got to keep it keep it rolling."
Iowa's scoring came off the momentum of its defensive turnovers. Hankins' first interception set up a touchdown drive in the second quarter while Caleb Shudak's two field goals in the third quarter came on drives following interceptions by Hankins and linebacker Seth Benson. Campbell added his own score to the tally with a recovered fumble for a touchdown early in the third when the Cyclones were pinned to their own 6-yard line.
"I'm teasing those guys because our linebackers a lot of times are working the jugs after practice," Iowa head coach Kirk Ferentz said. "I said: 'You guys never get your hands on balls, you're wasting your time. But they proved me wrong today, all three of them, and had some impact on turnovers"
Defense and special teams kept the Cyclones (1-1) behind an invisible wall on their own end of the field for much of the game. Iowa punter Tory Taylor averaged 51.1 yards per punt, including a long of 69 yards, while Shudak's kickoffs consistently flew as touchbacks. So even if Iowa's offense struggled, at least the Cyclones had to start almost every drive from behind the 25.
Four of the Cyclones' drives off of Iowa punts started within their own 10. Their best drives came when starting at their own 32 and 25.
Iowa State couldn't drive the ball until it felt a sense of urgency going into halftime, down 14-3. With 1:01 on the clock, Cyclones quarterback Brock Purdy went perfect on that drive, completing 3 of 3 pass attempts, including a 49-yarder to Darren Wilson Jr. up the right side in open space. Running back Breece Hall brought the drive home up the middle for a 4-yard touchdown run.
For much of the first half, both teams struggled to move the ball, but Iowa State was the first to put points on the board with 39 seconds left in the first quarter on a 23-yard field goal by Connor Assalley. That came on the heels of a 63-yard drive, ISU's best effort until the end of the half.
Hankins ignited the first spark in Iowa's offense after his interception on the 49-yard line.
"You can definitely feel it, that momentum shift," Hankins said. "Offense comes over and says, 'We going to put it in.'"
That led to the Hawkeyes' first touchdown drive in the second quarter. Iowa quarterback Spencer Petras found Jackson Ritter for a 9-yard gain, and two plays later, tight end Luke Lachey caught a 17-yard pass to put the Hawkeyes within field-goal range. A series of run plays followed, including a 5-yard carry by fullback Monte Pottebaum to put the Hawkeyes at the 4, and Tyler Goodson followed Pottebaum up the right center to give Iowa the lead, 7-3.
Iowa's second touchdown came off a 71-yard, 10-play drive with two key receptions by wide receiver Charlie Jones. Jones caught his first pass for 10 yards on second-and-2 on the 36-yard line, and followed that up with a 26-yard touchdown catch on second-and-10.
"You get great reps and practice all the time going up against and unbelievable defense," Jones said. "That definitely helps us prepare every week."
Campbell tallied the third touchdown by carrying in Hall's fumble at Iowa State's own 6-yard line, forced by Jestin Jacobs. Shudak connected on field-goal attempts from both 51 and 22 yards to put Iowa up 27-10.
Neither team put up impressive offensive numbers. Goodson averaged 2.6 yards per carry for 55 yards on the ground. Hall wasn't much better, averaging 4.3 yards per carry for 69 yards. Petras connected on 11 of 21 passes for 106 yards and one touchdown. Jones led the team with 36 receiving yards and tight end Sam LaPorta added one catch for 21 yards.
"In your guys' eyes, that might have been a tough day for Spencer," Campbell said. "He's a heck of a quarterback."
Campbell led the Iowa defense with eight tackles, sharing a sack with redshirt freshman defensive end Deontae Craig in addition to his fumble-recovery for a touchdown.
It's been seven years since Iowa State beat Iowa (Sept. 13, 2014) and the calendar days continue to pass. With just over six minutes left in the fourth quarter, fans started to clear the stands and Iowa State's band started playing the hit song, "Good 4 U," by Olivia Rodrigo.
Good 4 u, you're happy and healthy, not me, if you ever cared to ask... God I wish that I could do that.
Comments: (319)-398-8387, leah.vann@thegazette.com