Home / Sports / Iowa Hawkeyes / Iowa Football
NFL Combine notebook: Iowa's Tyler Goodson confident as he tries to stand out at combine
Iowa rival praises Kinnick environment, Cyclones clear air on '5-star culture'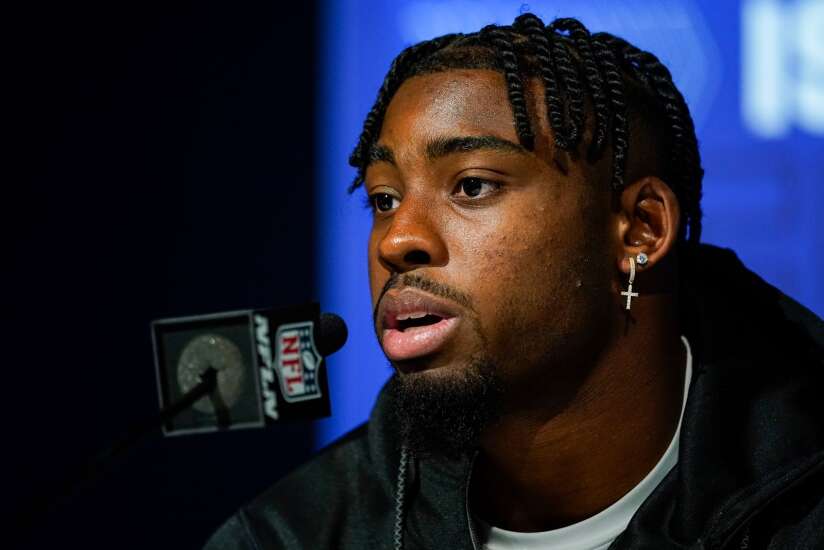 INDIANAPOLIS — Tyler Goodson has no shortage of confidence at this week's NFL Combine.
What will his 40-yard dash time be? "So fast, so fast. … I'm going to crush it."
His meetings with NFL teams are "going pretty well for me," Goodson said. "Pretty successful."
The confidence isn't by accident.
"I'm telling myself, 'Be confident,'" Goodson said of his meetings with NFL teams this week. "Just look like you know what you're talking about, and I know football."
Goodson said he has met informally with "quite a few" teams although he has not had any formal meetings.
His former teammate Tyler Linderbaum also is confident in Goodson's future as an NFL player.
"Tyler has a great future ahead of him," Linderbaum said. "How he operates, how he plays the game — I'm excited for Tyler to see what he can do and how he's going to perform."
Goodson, one of three Hawkeyes invited to the 2022 combine, recognizes how coveted his opportunity in Indianapolis is.
"When you first step on campus, everybody wants to be here and have this opportunity to go showcase and represent yourself, your family and your school," Goodson said. "It's a huge honor for me to come up here and represent Iowa."
As for wooing potential NFL suitors, Goodson said he's happy to do "whatever it takes for me to get in there and earn a spot."
That includes special teams, which he did not need to do much of in college. Goodson took nine snaps on special teams in his three years at Iowa, according to Pro Football Focus.
"I find special teams to be quite fun," Goodson said.
Praise for Kinnick environment from rival
Former Nebraska linebacker JoJo Domann included Iowa's Kinnick Stadium among the three best road environments he's seen in the Big Ten.
"Iowa's fans are on top of you," Domann said.
Minnesota's Huntington Bank Stadium and Ohio State's Ohio Stadium also got nods from Domann.
"Minnesota always talks about how cold it is. Those fans are showing up. They're showing out," Domann said. "The spectacle at the Horseshoe is obviously incredible."
'Five-star culture' at Iowa State
A few Iowa State prospects set the record straight this week on running back Breece Hall's comment in 2020 after beating Texas about it "being five-star culture vs. five-star players."
Hall wasn't the one to come up with it, as his former teammates enjoyed pointing out this week.
"That phrase is so funny because Breece gets all the credit for it," tight end Charlie Kolar said with a laugh. "He just copied (head coach Matt) Campbell."
Fellow tight end Chase Allen backed Kolar's side of the story.
"It was absolutely Coach Campbell who came up with that," Allen said, also with a laugh.
Regardless of who thought of it, the comment remains a point of pride for the Cyclones' program.
"We definitely don't have five-star players," Kolar said. "But it's just a testament to what we built over the years. We just try to do things other people don't do to be successful."
Comments: (319) 398-8394; john.steppe@thegazette.com