Home / Sports / Iowa Hawkeyes / Iowa Football
Mullet-bearing Monte Pottebaum finds expanded role as Iowa fullback
'Fun-loving' fullback impresses teammates, 'likes collisions'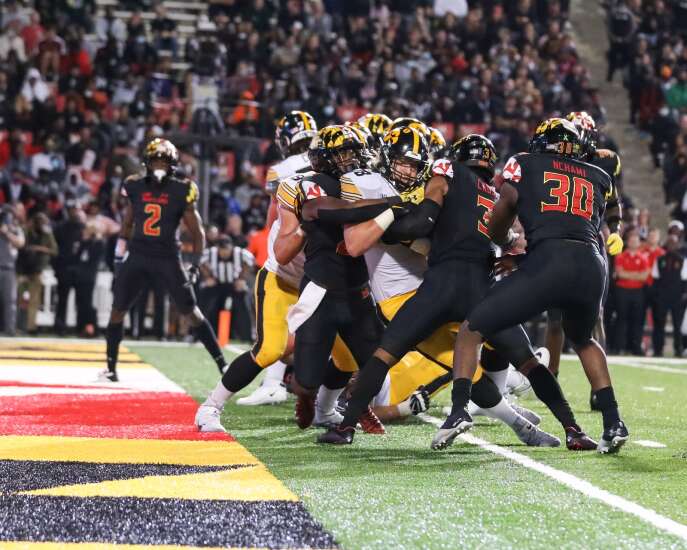 IOWA CITY — Iowa fullback Monte Pottebaum doesn't always want the ball in his hands.
Given the choice of either having a fullback run where he gets the ball or a quarterback sneak where his teammate Spencer Petras gets the ball, Pottebaum prefers the latter.
"Maybe I can push Spencer in," Pottebaum said.
That way, he gets to do more to help the team succeed.
"For the fullback dives and stuff like that, I feel like it's nothing that I do. I feel like it's the offensive line that helps me get yards," Pottebaum said. "When (Petras) gets, I don't know, a quarterback sneak for 5 yards, I feel like I was a part of that."
Whether he's carrying the ball or blocking, Pottebaum has been a bigger part of the Hawkeyes' offense in 2021.
"Monte is a really good fullback, as good as we've had," Iowa head coach Kirk Ferentz said. "It certainly helps when he's out there."
Through seven games, he already has 10 rushes and three receptions, compared to two rushes and three receptions in his first two years on campus. He picked up his first career touchdown on Oct. 1 against Maryland.
Brian Ferentz said Pottebaum is "fun to watch," noting his physical style of play that goes beyond just fullback dives and quarterback sneaks.
"He likes collisions," Brian Ferentz said. "He likes breaking equipment. I don't know if (equipment manager) Greg Morris likes him as much as I do."
Unsurprisingly, Pottebaum's many collisions left him a "little nicked up" going into last week's bye week, Kirk Ferentz said.
"Fullbacks tend to get that way," Kirk Ferentz said.
Pottebaum's contributions come from an old-school position that has seen its relevance fade at many programs.
Minnesota doesn't list any fullbacks on its roster. Neither does Purdue, Nebraska, Illinois or Northwestern. Wisconsin is the only other team in the Big Ten West to have designated fullbacks on its roster.
"We're trying to bring back the fullback," Pottebaum said.
The few fullbacks still around have some camaraderie.
"After games we'll talk to each other and be like, 'Hey, I respect the way you play,' and stuff like that," Pottebaum said. "But nothing too crazy."
While many football coaches may not have an appreciation for the fullback position, the man lining up behind Pottebaum is certainly appreciative.
"Pot is an extra guy that can take a run-hitter away and open up a hole," Iowa running back Tyler Goodson said. "It's very important for him to be in the game."
Pottebaum has impressed the guy who lines up between him and the offensive line, too.
"I've seen a lot of really good fullbacks in my time here, and he's pretty dang good," Petras said. "He's not a guy who can just block.
"He can do more than that. … He's a huge asset to our team."
Pottebaum recognizes he needs to improve, though, as the rushing game looks to improve upon its 3.1 yards per carry in the first seven games.
"I could do a better job finishing blocks, getting to my aiming point," Pottebaum said. "There's a lot of things I could get better at."
Off the field, Petras described the fullback as a "fun-loving guy."
"The mullet kind of tells the story there," Petras said. "You know how guys with mullets are. I think it's kind of fitting."
Pottebaum's mullet is a newer addition. He and teammate Mike Timm debuted the business-in-front, party-in-back look in March 2020 during the early stages of the COVID-19 pandemic.
"I just got bored," Pottebaum said. "Me and another teammate were like, 'Hey, you want to grow out a mullet?' And it's been this way ever since."
He hears no shortage of mullet-minded comments from people around Iowa City.
"Some people say I look like Joe Dirt," Pottebaum said. "Just all sorts of crazy stuff."
Petras and Goodson are fans of the mullet. Others were a little slower to embrace it.
"At first I was like, 'Really, Monty?'" Pottebaum's mother Kristy said.
The mullet is not even Monte Pottebaum's most unusual haircut.
"He's had a mohawk before, and he painted it blue," Kristy Pottebaum said.
It was part of his high school's football playoff tradition. The royal blue hair dye matched West Lyon's school color.
The mohawk didn't stay long. The mullet might, though, even for a wedding in the spring.
"Monte does Monte," Kristy Pottebaum said. "He doesn't worry too much about what other people think of him."
Haircuts aside, Pottebaum's role as an offensive contributor is clear as he continues to do "all the dirty work."
"If we're going to be a good football team, we need guys like Monte Pottebaum," Brian Ferentz said.
Comments: (319) 398-8394; john.steppe@thegazette.com