Home / Sports / Iowa Hawkeyes / Iowa Football
Kirk Ferentz alone at Iowa's top, but not alone in enjoying it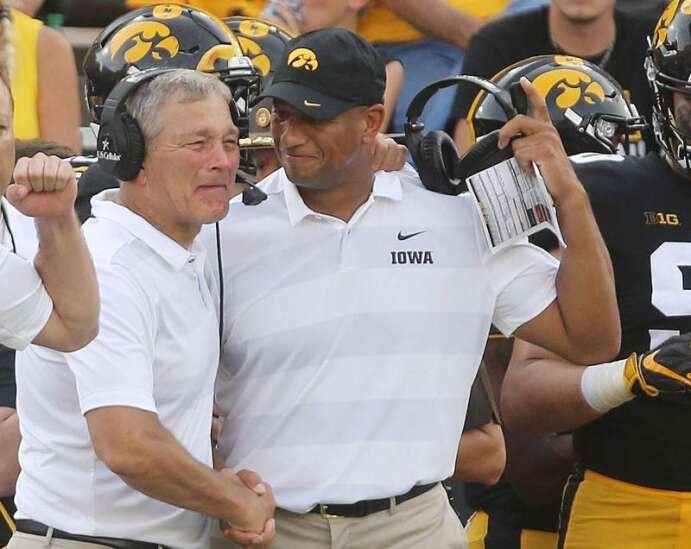 IOWA CITY — Some may wince when a university football coach is praised for being anything other than a successful football coach.
A state university has so many employees in so many areas doing important work, making differences for students, truly making the world better. Many get zero publicity. Or seven-figure salaries.
OK, that's said. But let's also note this: The most-recognizable UI employee is someone who got feted at Kinnick Stadium Saturday not only for becoming the winningest coach, but also for being a guy people like to see as its winningest coach. And they really liked the previous one, Hayden Fry.
Like any coach at any job at any level for 20 years, Kirk Ferentz has been on the receiving end of slings and arrows at various times in his tenure. But here we were at Win No. 144 Saturday, a 33-7 gradual pounding-down of Northern Illinois perhaps as symbolic of his program as a win could get.
More striking than the game itself was how many former Ferentz players were on hand, and the things the current ones said about him.
Desmond King and Josh Jackson, players of recent vintage who came to Iowa without blue-chip status and left as the Big Ten's Defensive Back of the Year, were here. Both are on NFL teams and could have taken it easy in Los Angeles and Green Bay, respectively, this weekend before practices resume as the regular season nears.
They were here instead. A lot of Ferentz's former players were here. A lot of Fry's former players were here, like the great running back Sedrick Shaw. They seemed more than cool with Ferentz being the guy that replaced Fry on that wins list as much as they loved Fry.
The current Hawkeyes, meanwhile, got to cheer and get a chill or two as UI President Bruce Harreld and Athletics Director Gary Barta officially presented Ferentz with the game ball in the team's Kinnick Stadium dressing room.
'Everybody was celebrating with him,' said Hawkeyes quarterback Nate Stanley. 'It was pretty emotional. It was awesome. It was just a special moment.'
Stanley was 2 when Ferentz got Win No. 1 here in 1999, the only bright spot in his 1-10 debut season. He was not the people's choice. He didn't have a path to 20 years and 144 wins.
But to steal a phrase from his predecessor, Fry, he's always been an old mule with blinders on. Meaning, he has never gotten distracted by what's down the road.
'My focus has been on the job that I've had,' Ferentz said.
You can't coach anywhere without winning players' hearts and minds. Otherwise, the act gets old and you get tuned out at some point.
That, more than any football wizardry, has been the thread of the Fry-Ferentz 40-year run. As with those who played for Fry, so many former Ferentz players swear by him as a person. The present Hawkeyes do, too.
'He really cares about his players and who we are as people,' said senior defensive end Parker Hesse, who was terrific Saturday.
'He loves us all to death,' said sophomore tight end T.J. Hockenson, who also was terrific Saturday.
Many fans — especially college fans — want to believe their team is noble. But they're just football teams, no more and no less. They're game-players, not game-changers.
But when a school has someone who has represented it for so long with humanity and humility, it is a little different. You probably can think of various prominent college football coaches and say 'Great coaches, not sure if I'd want them representing my alma mater or state.'
No one ever calls Ferentz a bum or a snake, least of all those who have played for him. It wasn't fake joy when his players whooped it up in that locker room Saturday when their coach was given a football and a salute.
'I know it's cliché — most clichés are true in football,' Ferentz said. 'It's all about a collective effort. Nothing good happens typically unless that's the case.'
Something else that was telling is that a half-dozen of the assistant coaches Ferentz worked with on Fry's staff here in the 1980s gathered here this weekend, and pulled for Ferentz to get that 144th triumph. Dan McCarney, who coached Iowa State teams against Ferentz from 1999 to 2006, said he was delighted someone in the renowned Fry coaching tree was the one to replace the old Texan at the top.
'I don't think any of us ever envisioned Coach Fry retiring,' Ferentz said.
'I'm pleased. I know he wanted it to stay in the family, so thrilled that we can keep it going.'
And now, like an old mule with blinders on, Ferentz readies his team to play Iowa State this Saturday. It's a what-have-you-done-for-us-lately business. Well, not entirely in Iowa's case.
l Comments: (319) 368-8840; mike.hlas@thegazette.com