Home / Sports / Iowa Hawkeyes / Iowa Football
Iowa football's corner-turning 2001 season had Hawkeyes 'excited to exhaustion'
After couple quiet seasons, Iowa's 2001 Alamo Bowl trip 'felt like the Super Bowl for us as Hawkeyes'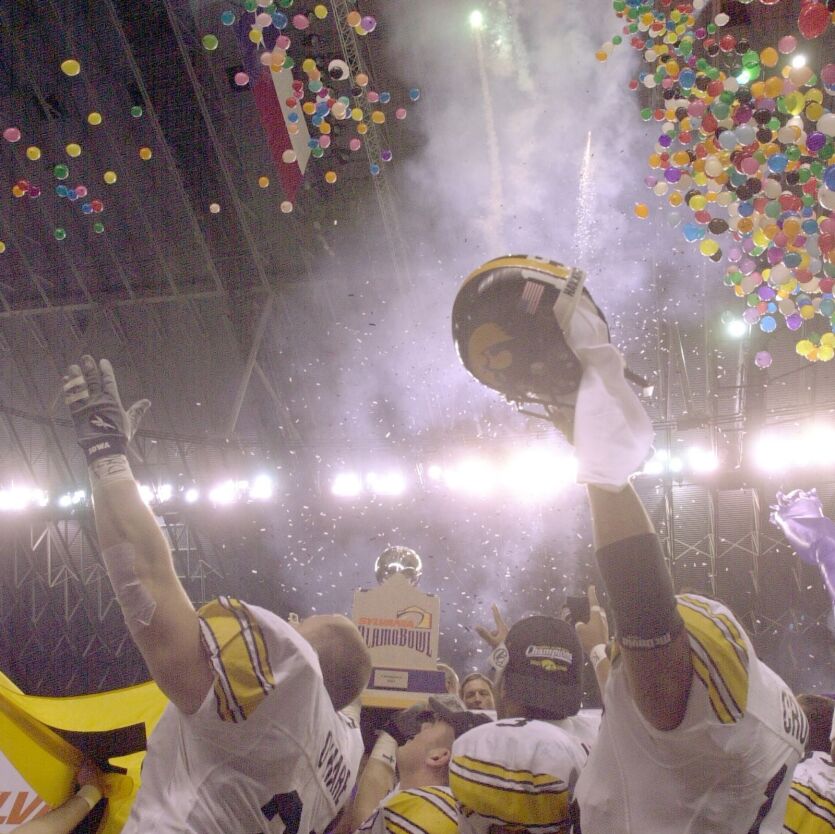 IOWA CITY — Aaron Kampman was sitting in the room, cutting tape off his body, outside the team's old bubble practice facility.
It was after a long practice. It might have been 1999. It might have been 2000.
"All I remember is just being exhausted," Kampman said.
Then Kirk Ferentz walked by and "he sat down and we just visited a little bit." Kampman doesn't remember the specific words, but that didn't matter. The message, that did matter.
"I just remember that moment because it wasn't exactly what he said or what I said, but there was a common bond of, 'Hey, we're going to get there,'" Kampman said. "We're going to get this job done. There was a belief there."
Kampman and Ferentz were right. One or two years later — and 20 years ago — they got there. They chopped the wood, broke the rock or whatever other chipping-away-at-larger-goal metaphor one fancies.
With the 2001 team, Ferentz finally had a winning season. He finally took a team to a bowl game.
"It felt like the Super Bowl to us as Hawkeyes," kicker Nate Kaeding said.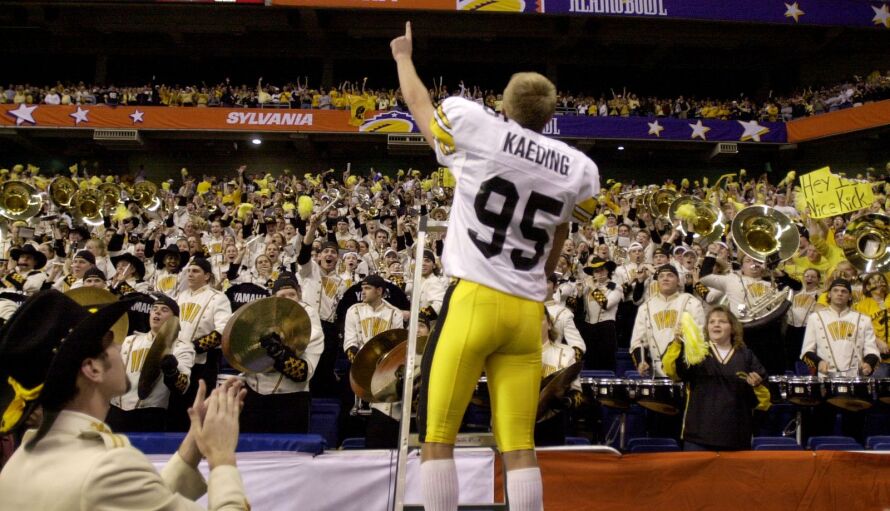 Even more importantly, it was the year the Ferentz-led Hawkeyes "started to learn how to win," running back Ladell Betts said.
"We started figuring out how to win and started figuring out how to do the little things that it took to be successful week in and week out," said Betts, now Iowa's running backs coach.
The team didn't necessarily have the highest outside expectations after winning seven games in the last there seasons.
"If I said they were high, I'd probably be lying," Kaeding said. "But I think they were certainly on the rise."
Attending high school a little more than 100 miles away from Kinnick Stadium, Kampman came to Iowa in 1998 with the "expectation" of playing in bowl games.
Expectations didn't quite meet reality in his first three seasons — one under Hayden Fry and two under Ferentz.
"We had not had a lot of success in terms of bowl games during my time at Iowa, meaning we'd never been to one," the former defensive end said with a dry laugh.
In 2000, Iowa couldn't win a nonconference game and was below .500 in Big Ten play. The 3-9 season included a 42-13 loss to Nebraska, 31-0 loss to Illinois and 38-10 loss to Ohio State.
The only sexy part of the 2000 season might've been People magazine naming Iowa defensive back Ryan Hansen as one of the sexiest athletes in America.
In 1999, the Hawks couldn't win a Big Ten game.
Despite having NFL talent on the roster like Kampman and Betts, the team had its longest bowl drought in more than 20 years.
Then came 2001.
"I played a lot of football games — I ended up with a 10-year career in the NFL — but I still count that game down in San Antonio as one of my fondest memories." — Aaron Kampman
A year after starting the 2000 season 0-5, Iowa had a much more flattering 3-0 start in 2001.
"After that, everybody really started to believe and buy in," Kaeding said. "You get that taste of victory. The fans and everybody started getting excited about everything again."
A bowl trip, all of a sudden, didn't seem so out of reach.
"That really did become the rallying cry for us once we got that 3-0 start," Kaeding said.
That start included wins against a Miami (Ohio) team quarterbacked by Ben Roethlisberger and a Joe Paterno-coached Penn State team.
That Penn State win had extra meaning for defensive back Bob Sanders as an Erie, Penn., native.
"When you're from Pennsylvania, you want to go to Penn State," Sanders said. "Whether you go there or not, everyone wants that offer from Penn State, and I never received the offer."
With the hot start, the team finally experienced the taste of sustained winning in college football.
"We won the games we should've won, which wasn't the case over the years past," Betts said.
Even the losses weren't as bad as the losses in past years. Four of the five losses in 2001 were by one possession.
"Being competitive with those other teams as the season progressed was a really, really important thing," Kaeding said.
That included three-point losses at Michigan State and at Iowa State and six-point losses to then-No. 8 Michigan and Wisconsin.
"If a few things changed here or there, we could've possibly won those games and may have gone to nine wins that season," Sanders said.
The only two-possession loss was a 23-14 defeat on the road against No. 21 Purdue.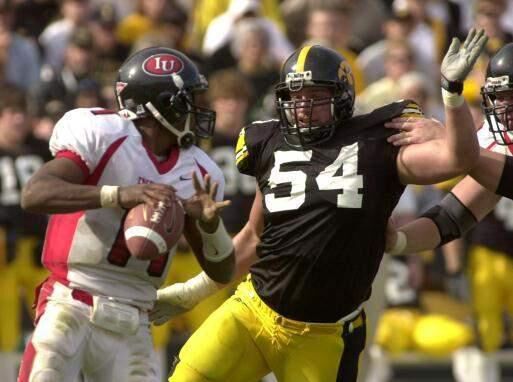 Games that hadn't gone Iowa's way in past years were finally starting to fall in the win column.
After Antwaan Randle El and Indiana got the better of Iowa in Ferentz's first two seasons — Betts still remembers "how much of a nightmare he was for our defense — Betts' 172 rushing yards helped the Hawkeyes best the Hoosiers in 2001.
After winning just two of its six matchups against Northwestern between 1995 and 2000, Iowa had a 59-16 romping of the 2001 preseason Big Ten favorite.
Bowl eligible, at last
One week after that Northwestern game, Iowa had another pesky opponent, Minnesota.
The Golden Gophers held the Floyd of Rosedale Trophy for the previous three years — Floyd's longest stay in the Twin Cities since 1978-81.
Iowa outmuscled the Gophers at the line of scrimmage with 267 rushing yards. Betts alone had 171 yards while averaging 6.1 yards per carry.
In typical Iowa fashion, the ground success set up the pass. Quarterbacks Kyle McCann and Brad Banks combined to complete 13-of-14 passes for 206 yards. A chunk of those yards came on a Betts-to-McCann-to-Dallas-Clark flea-flicker in the first offensive play of the game.
The 42-24 win was Iowa's sixth of 2001 and meant the Hawkeyes were going to be, for the first time in the Ferentz era, playing in a bowl game.
"It was like a weight had been lifted off our back," Betts said. "To get back to that in the last year and kind of return the program to where I thought it should be — and I'm sure where Iowa fans and coaches thought it should be — it just was a good feeling."
After the game, Betts noticed "a lot of renewed energy back in the program that should have always been there but had been slipping for a little bit."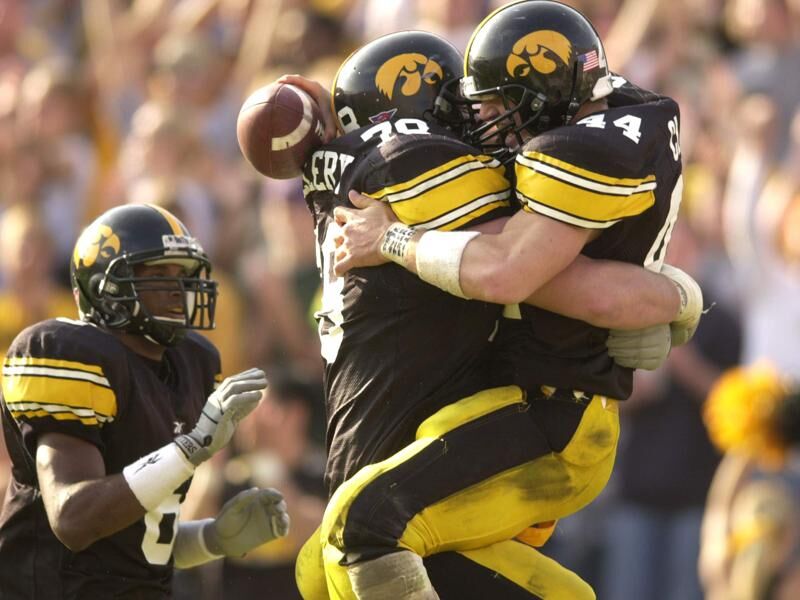 Some O'Keefe family wisdom
Growing up in a "football family" where all four of his brothers played football, Ken O'Keefe was no stranger to getting advice — solicited or unsolicited — from his family.
O'Keefe, the offensive coordinator in 2001 who now coaches Iowa's quarterbacks after a coaching stint in the NFL, vividly remembers his father's observations while "basically on his deathbed in the hospital."
"There are two things you guys got to get right," O'Keefe's father told him. "No. 1, Kirk's got to sign that contract. And then No. 2, you got to get some guys that can block for Betts."
His father died "a couple days later," O'Keefe said. Those final observations were spot on.
The summer after the 2001 season, Ferentz and then-athletics director Bob Bowlsby agreed to a contract extension.
Betts had better blocking in 2001, too.
"The offensive line especially that we threw to the wolves in '99 and in 2000 began to get bigger, stronger, faster, more physical and more experienced," O'Keefe said.
While Betts ended the year with an almost identical number of yards — 1,060 in 2001 after 1,090 in 2000 — he improved his yards per carry to a career-best 4.8. He also had a career-best 10 touchdowns.
"He can make the first guy miss in the backfield better than anybody I ever saw," O'Keefe said.
That was a observation from his father, too.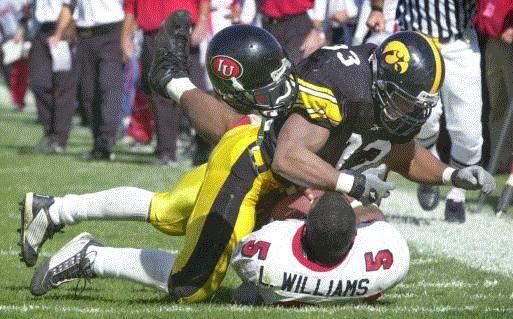 A sharp left turn
The 2001 season also saw a lot of growth, especially for Sanders, who was "not always doing the things that I was supposed to do." Things like attending all his classes. Or going to workouts.
"I didn't have my head on straight," Sanders said.
One conversation in Ferentz's office going into the season changed that.
By the time he was a sophomore in college, Sanders certainly knew being called into the head coach's office often meant "there's a problem."
The meeting seemed to have an innocuous start. Ferentz was "even-keel" and asking Sanders about "how I felt about the team and where we were going," the safety said.
"I'm kind of thinking, 'All right, it's no big deal,'" Sanders said. "Boy was I wrong."
As Sanders continued to talk about how he sees the team going, Ferentz "got really upset" and had "a few choice words."
"I remember him saying something like, 'Hey, we're going to have to start looking for another safety because I don't know if I can rely on you,'" Sanders said.
"Wait, this just turned left real fast," Sanders remembers thinking.
That sharp left turn made a big difference for Sanders.
"It really helped me mature in the world," Sanders said. "That sit-down with him straightened me out. From that point on, I kind of went the right way and tried to do the little things."
Sanders said moments like that conversation is "why I love my time at Iowa so much."
"(Ferentz) could have just said, 'OK, this guy's not going to be a starter, let it go,' but he didn't," Sanders said. "He told me the truth. … It's hurtful, but it's the honest truth, and it helped me grow fast."
He did enough of the "little things" right after that meeting to help Iowa go to three bowl games, be a second-round pick in the 2004 NFL Draft and earn NFL Defensive Player of the Year recognition after the 2007 season.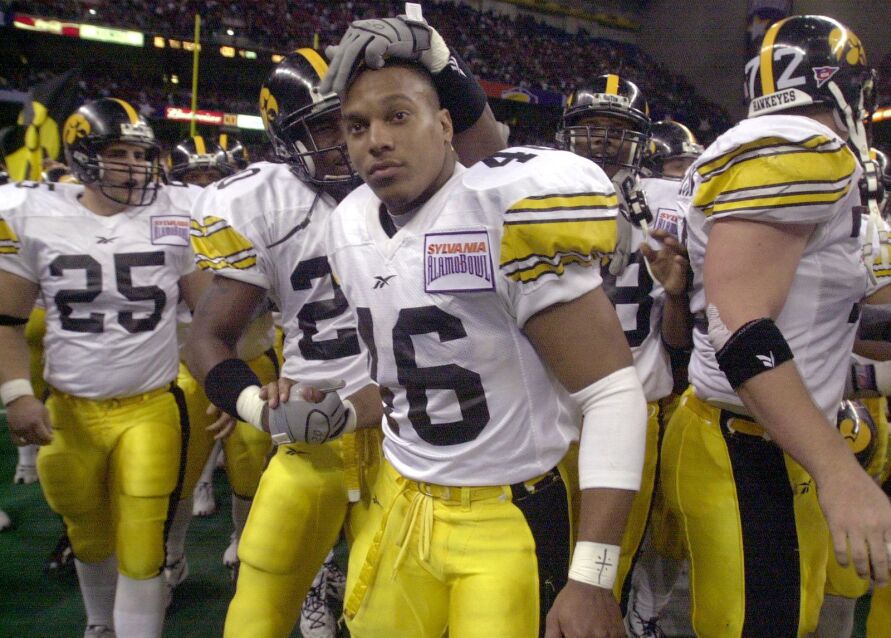 Hello, Alamo
Iowa's bowl spot — the Alamo Bowl — was far from the most prestigious bowl in college football, but the Hawkeyes embraced it.
"The fans were really thirsty for it," Kaeding said. "It's not the Rose Bowl by any stretch of the imagination. It's not a BCS playoff game. But remember, at that point in time, it was the Rose Bowl to us, coming off three or four years without making a bowl game."
Players were just as excited as the fans.
"We were so excited to exhaustion right before the game because we were so ready to play," Sanders said.
Iowa didn't have the most favorable draw geographically. The Hawkeyes played Texas Tech in the state of Texas. That didn't stop plenty of Iowa fans from showing up, though.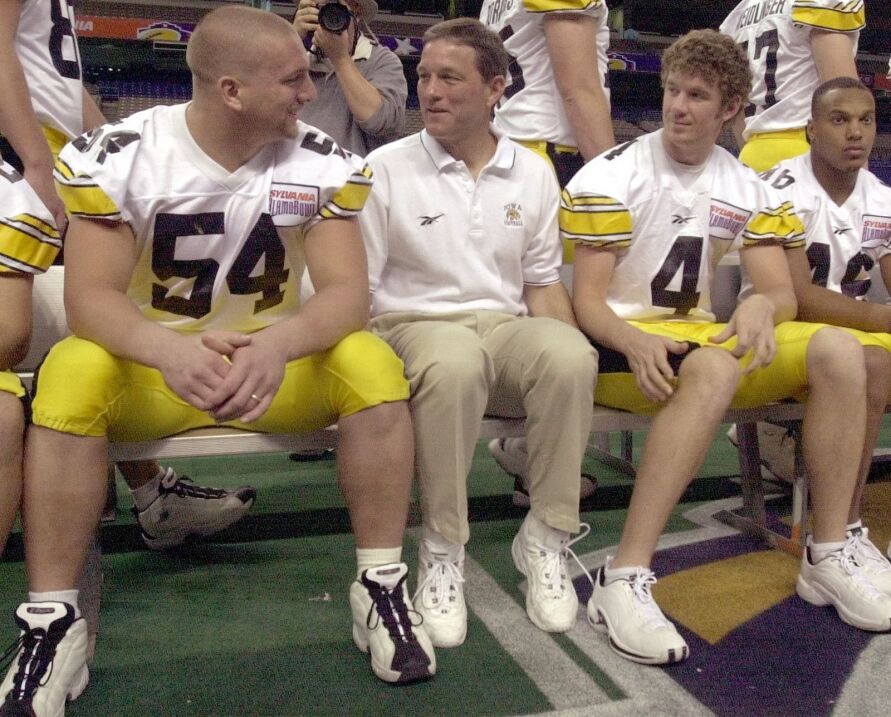 "The atmosphere there was absolutely amazing," Sanders said. "It was extremely loud. It felt like it was our team in our home."
Iowa built a 10-0 lead before Texas Tech trimmed it to 10-3 by halftime.
"We're not playing worth a damn," said Mike Leach, the head coach of Texas Tech at the time, in his halftime TV interview.
That changed in the second half. The Red Raiders tied it at 10-10 in the third quarter and then again at 16-16 in the fourth quarter.
Cue, Kaeding's heroics.
McCann, who O'Keefe recalls was a "smart, steady, consistent performer," first led the offense more than 50 yards in about a minute.
Then the kicker from Coralville — or as the announcers at one point pronounced it, "Corral-ville" with emphasis on the A — nailed a 47-yarder to break the tie.
He tucked the kick inside the right upright.
"Kicking those end-of-the-game sort of kicks are always super fun," Kaeding said.
That fun showed with Kaeding's unusual celebration. The Gazette's Marc Morehouse described it as "one of the worst back flips/somersaults/cartwheels in the history of mankind" and simply "ugly."
The result? That wasn't ugly. Iowa was one defensive stop away from its first bowl win in five years.
As Texas Tech quarterback Kliff Kingsbury, now the head coach of the Arizona Cardinals, heaved a Hail Mary, Sanders delivered that stop with a game-clinching interception.
Three words popped into Sanders' head on that play. "Get the ball."
"I said, 'I got to make this play,' Sanders said. "I kind of put the game on my shoulders."
The team had a "a sense of just tremendous satisfaction" after the win, Kampman said.
His class worked to "break the rock" in Ferentz's first two years. After "this constant, repetitive pounding," it showed with a December bowl win.
"We had won a bowl game," Kampman said. "Not a New Year's Day bowl, not a College Football Playoff — they didn't have that at that time — but for us in that moment, it was very rewarding to do it with that group of guys."
Two decades later, Kampman remembers that game as a "great moment" in his lengthy football career.
"I played a lot of football games — I ended up with a 10-year career in the NFL — but I still count that game down in San Antonio as one of my fondest memories," Kampman said. "You don't always get an opportunity to see the result when you put a lot into something, and so when you recognize those things, those are blessings."
That's saying a lot for Kampman. He played in 129 NFL games, including an NFC Conference Championship after the 2007 season.
After fielding questions about whether Iowa football "turned the corner" throughout the season, Ferentz had a definitive answer after the Alamo Bowl.
"OK, we've turned it," he said.