Home / Sports / Iowa Hawkeyes / Iowa Football
Iowa football vs. Purdue: Box score, highlights, more from Hawkeyes' 24-7 loss
No. 2 Hawkeyes suffer first loss of the season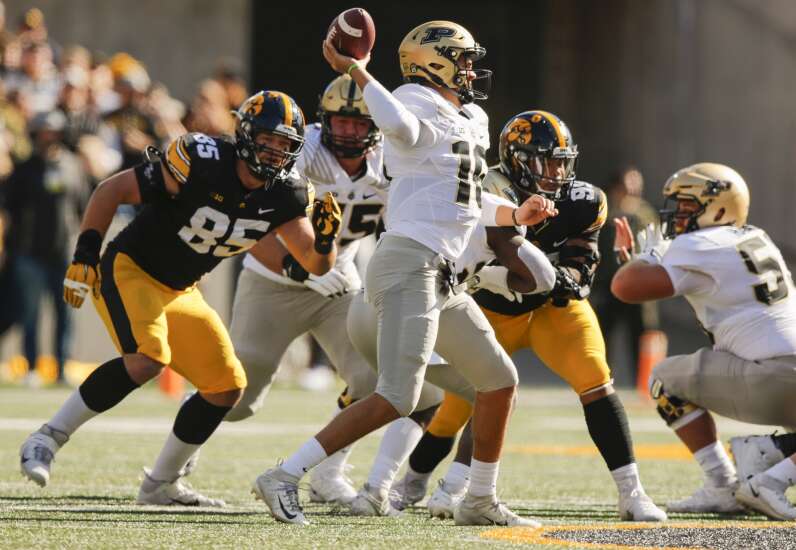 The second-ranked Iowa Hawkeyes saw their 12-game winning streak come to an end Saturday at Kinnick Stadium with a 24-7 loss to the Purdue Boilermakers.
Iowa is now 6-1 overall and 3-1 in the Big Ten West. Purdue improved to 4-2, 2-1 and has won four of its last five against Iowa.
» Box score: Purdue 24, No. 2 Iowa 7
» Recap: Purdue has, and takes, No. 2 Iowa's number in 24-7 upset
» Hlas column: Hawkeyes get their bells run by Purdue
» Game Report: Turning point, key numbers, notes and more
» Feature: Iowa football bye week, chance to 'regroup' comes at important time
» Gallery: 54 photos from Purdue's win over Iowa
4th Quarter updates
Final: Purdue 24, Iowa 7
The final play of the game was fitting, as Cam Taylor picked off Spencer Petras.
Iowa lost the turnover battle Saturday 4-1, a stat that had been so crucial to its 6-0 start.
Petras finished 17-for-32 passing for 195 yards and four interceptions. Iowa totaled 271 yards of offense.
David Bell alone had 240 yards receiving for Purdue, on 11 catches with a touchdown. Aidan O'Connell completed 30 of 40 passes for 375 yards and two scores and also rushed for a TD.
2:31 4th: Purdue 24, Iowa 7
One play after Charlie Jones returned a punt 41 yards to the Purdue 12, Spencer Petras was picked off by Dedrick Mackey at the Purdue 3.
Twitter
3:42 4th: Purdue 24, Iowa 7
Spencer Petras was picked off by Cam Allen at the Purdue 13 and that should do it.
11:13 4th: Purdue 24, Iowa 7
Ivory Kelly-Martin gave Iowa some life with a 67-yard kick return to the Purdue 19, but the Hawkeyes promptly went four-and-out.
Iowa was unable to get 2 yards on two straight quarterback sneaks and turned it over on downs.
12:29 4th: Purdue 24, Iowa 7
David Bell versus Iowa. It hasn't been close before and that didn't change this season.
Aidan O'Connell delivered a 21-yard touchdown pass to Bell and the ensuing extra point made it a three-score game, quite possibly insurmountable for this Iowa offense.
Twitter
The score brought Bell to 227 yards receiving on 10 catches in the game. Bell had 218 yards receiving in his previous two games against Iowa.
3rd Quarter updates
1:57 3rd: Purdue 17, Iowa 7
Purdue was an inch away from a touchdown and a three-score lead with time winding down in the third quarter.
Instead, it's a touchback and Iowa ball.
TJ Sheffield caught a 6-yard pass from Aidan O'Connell and, when reaching for the pylon, lost control of the ball. It hit the pylon and went out of bounds. Originally ruled a TD, it was overruled via video review and possession went to the Hawkeyes.
Twitter
11:07 3rd: Purdue 17, Iowa 7
Purdue added a 31-yard field goal from Mitchell Fineran on its first drive of the second half, and the Hawkeyes are facing a double-digit deficit for the second straight week.
Once again it was David Bell who made the difference. The Purdue receiver hauled in a 47-yard pass to the Iowa 20. Seth Benson sacked Aidan O'Connell for a loss of 12 two plays later to help keep the Boilermakers out of the end zone.
Twitter
2nd Quarter updates
0:19 2nd: Purdue 14, Iowa 7
Purdue retook the lead back just before halftime.
Aidan O'Connell rolled right and found TJ Sheffield for a 3-yard touchdown pass.
Twitter
That was a 10-play, 75-yard drive, in which O'Connell completed 6 of 7 passes for 63 yards.
O'Connell was 15 for 21 for 189 yards in the first half. David Bell caught five passes for 101 yards.
3:20 2nd: Iowa 7, Purdue 7
Ivory Kelly-Martin completed a nine-play, 80-yard Iowa drive with a 3-yard touchdown run and the ensuing Caleb Shudak extra point tied the score.
Twitter
Fellow running back Tyler Goodson played a big part in that drive. His 32-yard run brought the Hawkeyes to the Purdue 25 and he added a 7-yard run to get to the 7. That brought Goodson to 64 rushing yards on 10 carries in the game.
Spencer Petras' 22-yard pass to Sam LaPorta on the second play of the drive was the other big play.
8:31 2nd: Purdue 7, Iowa 0
Iowa escaped a possession in which it gave up a 60-yard completion to David Bell.
The Hawkeyes tackled Bell short of the marker on third down, then Mitchell Fineran missed a 32-yard field goal attempt.
Twitter
Bell's big gain came with more bad news, though: Iowa cornerback Matt Hankins was injured on the play.
Twitter
10:58 2nd: Purdue 7, Iowa 0
A promising Iowa drive ended in disaster.
Spencer Petras' third-and-4 pass from the Purdue 7 probably should have resulted in Purdue points. Jalen Graham read it perfectly but watched it bounce off his hands.
So Iowa settled for a field goal, but Caleb Shudak missed from 25 yards.
A 17-play, 68-yard drive ends with the Hawkeyes still trailing by seven.
1st Quarter updates
3:38 1st: Purdue 7, Iowa 0
Aidan O'Connell ran up the middle for a 6-yard touchdown to give the Boilermakers the lead.
It was a 10-play, 67-yard drive in which Purdue used three different quarterbacks — O'Connell, Austin Burton and Jack Plummer.
The TD was set up by a 16-yard pass from O'Connell to David Bell, the star receiver's second catch of the drive.
Twitter
13:07 1st: Iowa 0, Purdue 0
The game started with a plus for Iowa, as Spencer Petras delivered a pass to Keagan Johnson for a 38-yard gain after the freshman's work after the catch.
But after two runs for a total of minus-2 yards, Petras' next pass was tipped and intercepted by Kieren Douglas, who returned it 5 yards to the Purdue 30.
Pregame storylines
Remember 2020? It feels like years ago now, but the Hawkeyes and Boilermakers opened a COVID-shortened season against each other on Oct. 24, with Purdue getting a 24-20 win.
Iowa lost to Northwestern the next week, but hasn't lost since.
That loss hasn't been forgotten in the Iowa locker room, quarterback Spencer Petras told reporters this week.
"It's definitely kind of in the back of your mind," Petras said. "We have our work cut out for us."
The Gazette's John Steppe notes in his analysis that the Boilermakers are a pass-heavy team but it isn't clear who will lead that offense. Jack Plummer and Aidan O'Connell have both taken snaps this season.
"Purely looking at stats, Plummer has had a better season, throwing seven touchdowns and no interceptions," John writes. "O'Connell has four touchdowns and five interceptions."
They'll be throwing to David Bell, who has been a major problem for the Iowa defense in recent years.
The rushing offense, though, like Iowa's, has struggled.
Purdue's offense also faces the challenge of a hostile Kinnick environment. The Gazette's Mike Hlas wrote this week about how the north end-zone renovation made the stadium even louder, somewhat unintentionally.
Here are some Purdue-Iowa Fun Facts from Mike, plus our staff predictions.
How to watch Iowa vs. Purdue
Time: 2:35 p.m. CT
TV: ABC
Live stream: ESPN3
Radio: Hawkeye Radio Network
Listen online: The Varsity Network
Line: Iowa -11