Home / Sports / Iowa Hawkeyes / Iowa Football
Iowa Hawkeyes punt and pick Iowa State Cyclones apart
Fundamental things applied for Iowa in 6th-straight win over Iowa State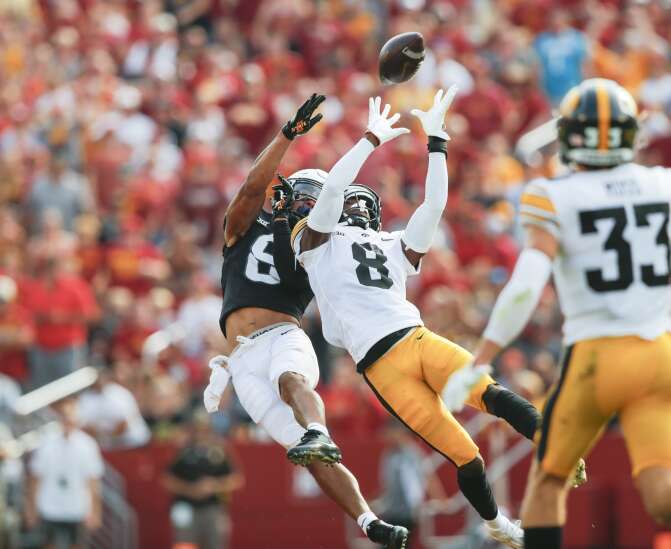 AMES — The Iowa Hawkeyes are 2-0 on their way to 4-0 on their way to who-knows-how-many-and-0.
They survived Saturday's 91-degree heat, survived going without much offense in any quarter but the second, survived a Jack Trice Stadium crowd that came to roar.
Then the Hawkeyes stuffed State in the second half with defense and punting and defense and punt-returning and defense and never turning the ball over, which they never do against ISU.
Punting the way Tory Taylor punted is winning. Picking off passes the way Iowa has in two weeks with six interceptions against two ranked teams is dominating.
Iowa still is Iowa in the Iowa-Iowa State football series. Iowa State still is Iowa State. There's no other way to cut it after the No. 10 Hawkeyes came into the Jack Trice Stadium madhouse and played their usual sound, turnover-free ball against the Cyclones in their 27-17 win.
A 91-degree day felt like Cyberia for the home folks. That play on words isn't as wretched as they feel, and many of them understandably headed for the exits well before the fourth quarter was done.
The Cyclones didn't win for the first time in their last six games against Iowa? At home, with a pedigreed senior quarterback in Brock Purdy, and three AP first-team Preseason All-Americans, and the head coach in Matt Campbell who gets mentioned for every big college job and some in the NFL whenever they open?
Then when? Before this series disappears after the Big Ten finalizes its future relationship with the ACC and Pac-12 and Iowa State is playing Big 12 games against UCF and BYU instead of Oklahoma and Texas? That clock is ticking, and loudly.
Hey, that's a back-burner issue. Living in the present, it's still a Hawkeye state. And it's a No. 10 Hawkeyes team that will be hiking up the rankings Sunday. ABC's Kirk Herbstreit said they should be No. 4 or 5 based on what they've done so far. He's right.
It took a top 5-type team to come to Trice and do what the Hawkeyes did to the Cyclones this day, and Iowa was more than up to that task.
"They made it tough," Iowa quarterback Spencer Petras said. "Their defense is really, really good."
"Heck of a team," Hawkeye linebacker Jack Campbell said about the Cyclones.
Iowa was held to 173 yards. That's its lowest output since a 66-yard debacle at Wisconsin four years ago. It didn't matter a whit.
They were 173 yards without a turnover compared to Iowa State's 339 with four giveaways.
Iowa's special teams were superior, too. They were spectacular, actually. Charlie Jones made a big impact with his punt returns. Taylor was otherworldly. It sounds absurd, but his 69-yarder wasn't even one of his best boots.
Taylor pinned ISU inside its 10 on four occasions and with an average of 51.1 yards for his eight kicks. The Aussie is off to an All-America start. Could he have been any better here?
"I can have eight inside the 20 and no touchbacks," he said. Then he credited all the players on the punt team for "hustling down the field. It makes my job easier. Massive credit to those guys."
Iowa's defense was opportunistic to the max. Three interceptions for a second-straight week against a highly-regarded quarterback on a ranked team. Terrific cornerback Matt Hankins had two.
Six picks in two weeks. Oh my.
"The standard is the standard," Hankins said. "Every day we come into practice setting the standard for four turnovers a day and that's what we strive to do.
"It's not luck. It's the work we put in during the week."
The harshest cut for the Cyclones' offense was a fumble, not an interception. Iowa linebacker Jestin Jacobs stripped the ball from ISU running back Breece Hall at the ISU 5, and fellow LB Jack Campbell scooped it up and trotted it in for a touchdown.
"I didn't even know it was a fumble," Jacobs said, "till I saw Jack running it into the end zone."
A 14-10 game was 21-10, and a result in question suddenly had its answer.
Jacobs called Campbell "a monster." Campbell said he didn't know if that was true, preferring to credit "11 different guys flying around the ball."
Hall wasn't vintage Hall. Purdy wasn't vintage Purdy. Their offensive line got whipped. One of Purdy's interceptions went through Xavier Hutchinson's hands.
Petras, starting a game in front of a road crowd for the first time in his college career like many teammates, picked a raucous place to do it. His first quarter wasn't great. Nor was his third quarter. He passed for 106 yards.
His second quarter, however, was the most-consistent, most-productive quarterback play by anyone in the game.
Petras' 21-yard pass to tight end Sam LaPorta on third-and-15 a split-second before he was about to get decked was a wow play. His 26-yard touchdown pass to Charlie Jones to finish that drive and give the Hawkeyes a 14-3 lead was perfect, lofted over ISU defensive backs Isheem Young and Datrone Young.
Purdy had a 49-yard beauty of his own to Darren Wilson late in the second quarter, and Iowa State finished that drive with a Hall touchdown to cut the gap to 14-10 at halftime.
That created a buzz at intermission. This felt like a potential fang-and-claw contest, with anything possible.
That feeling faded as the third quarter progressed. The Hawkeyes had the defense, the punting, the ball protection.
And they still have the state.
Comments: (319) 398-8440; mike.hlas@thegazette.com