Home / Sports / Iowa Hawkeyes / Iowa Football
Getting to know the 2021 Iowa offensive line
Tyler Linderbaum, Kyler Schott and Jack Plumb the leaders on the line
Leah Vann
Apr. 27, 2021 5:49 pm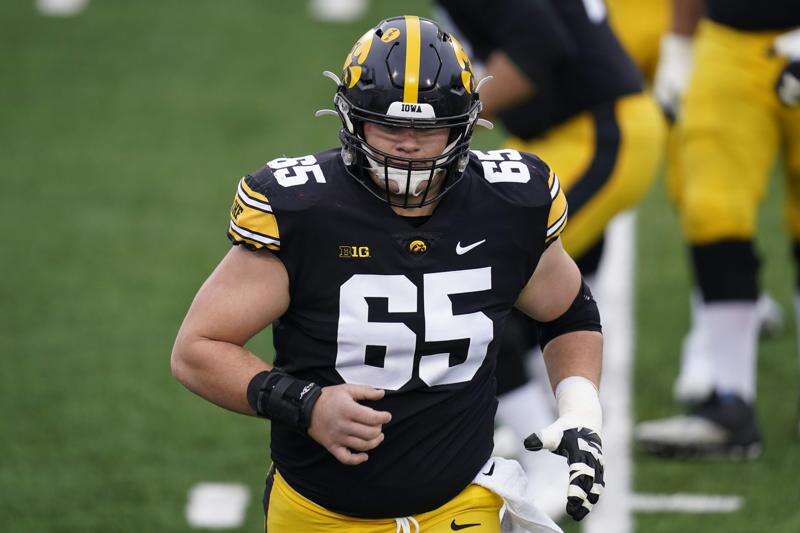 IOWA CITY — There aren't many new faces on the Iowa football offensive line in 2021, but there is new leadership.
The departures of Coy Cronk, Mark Kallenberger, Cole Banwart and Alaric Jackson doesn't leave many questions.
But some of the new leaders, from the top down, include a new offensive line coach in George Barnett and junior center Tyler Linderbaum.
The line returns letterwinners like junior right tackle Cody Ince, who is currently not practicing, sophomore right tackle Nick DeJong, sophomore right guard Justin Britt, junior left tackle Jack Plumb, senior left guard Kyler Schott and Linderbaum, who have all seen a fair amount of playing time and even some starts.
Tyler Linderbaum never thought about the NFL
Maybe the question came up too much, but how could someone who could've signed a multimillion-dollar contract this year want to play another down of college football? Especially in the modern-day college football era, where players still can't profit off of their name, image and likeness.
"I didn't apply or anything; I know we had the opportunity, but I wasn't interested," Linderbaum said. "It was just my third year, you know. I wasn't ready to leave."
It's a tough place to leave, he said. The Solon alum didn't go far for college and likes to be close to family. As a three-year letterman, he was named a Rimington Trophy finalist and first team all-Big Ten.
Linderbaum also returns after two years of starting every game for the Hawkeyes at center.
"I was still wanting to compete with my buddies," Linderbaum said.
Kyler Schott an underdog turned senior leader
Schott, a walk-on-turned-scholarship player, is settling into his leadership role on the line.
He started twice last year, at right and left guard, playing in five games after a bout with illness. He played in eight games the year before, starting in six.
The North Linn grad is listed as left guard on the roster, and is the shortest of them, standing at 6-foot-1.
"I've had some guys (the) last couple seasons talking about how short I am," Schott said. "It helps with leverage, getting under people's pads and moving them, it's something they're not used to."
While he's the shortest on the line, he said he certainly has the best hair of the team. Schott decided he didn't feel like paying for a haircut when he arrived on campus, and now sports long, brown locks, which he said surpasses linebacker Seth Benson's blond mane and fullback Monte Pottebaum's mullet and probably has the best chance of keeping that title.
"Benson was already telling me he doesn't know if he likes the long hair because it's getting hot out there," Schott said.
Jack Plumb next to continue familial football legacy
Plumb, who flanks the left side at tackle, started two games at right tackle last year and played in six of them. He arrived on campus as a 245-pound tight end out of Bay Port High School in Green Bay, Wis., and is now a 300-pound offensive lineman.
Plumb seems primed for the NFL.
He grew up in an NFL family and roomed with Super Bowl champion Tristan Wirfs during his freshman camp. His grandfather on his mother's side, Fritz Shurmur, was the defensive coordinator for the 1997 Super Bowl-winning Packers.
His paternal grandfather, an assistant coach for the Super Bowl-winning Chicago Bears in 1986, actually coached with Shurmur for the Cardinals one year, which is how Plumb's parents met. Plumb's mother's cousin, Pat Shurmur, currently serves as offensive coordinator for the Denver Broncos.
"I come from a football family, so you're a football player from day one," Plumb said. "I'm an Elementary Ed major right now and then I want to get into coaching when I'm done."
Comments: (319)-398-8387, leah.vann@thegazette.com