Home / Sports / Hawkeye Sports / Iowa Football
From Coggon to Kinnick, Iowa lineman Kyler Schott comes up big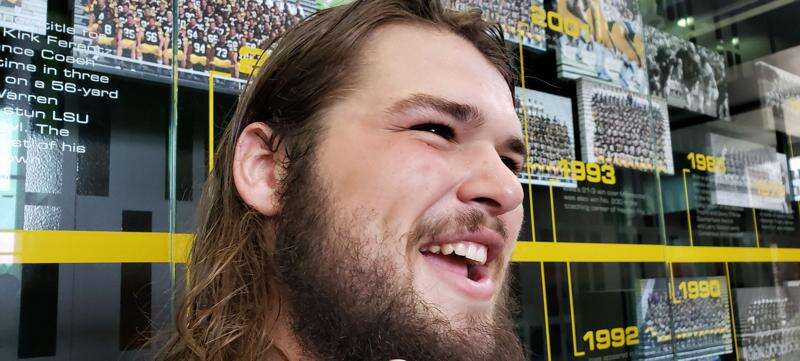 IOWA CITY — Instant Hawkeye folk hero?
A walk-on from a small Iowa high school that had never had one of its grads play in a major-college football game? An offensive lineman who stepped into a season-opener as an injury replacement and soon was pancaking defenders and helping steer Iowa's offense in the right direction last Saturday in its 38-14 Kinnick Stadium win over Miami (Ohio)?
The listed starting right guard for this Saturday's home game against Rutgers? Someone who didn't get a scholarship offer from any school at any level?
Someone shorter than the standard Big Ten offensive lineman? Someone whose nickname is 'Shooter' because Iowa offensive line coach Tim Polasek initially mispronounced his last name, someone who also has been called 'Jack Black,' because of a facial resemblance to that comic actor?
Kyler Schott. Instant Hawkeye folk hero.
'Sometimes you just have to believe what you see,' Iowa Coach Kirk Ferentz said Tuesday, 'and I think he's a good example of it.'
Representing North Linn High and his Coggon hometown, Schott rumbled onto the field last Saturday night after starting offensive tackle Alaric Jackson got hurt and was placed at right guard in the line's shuffle. He didn't just survive the experience, he brought command to it.
'It was unreal,' Schott said Tuesday. 'It's been a dream of mine to play football here. Finally, I got the opportunity to play some real time, not the three plays I got to play last year (in the season's first game). It was really fun. ... I knew I was ready to go.'
'We were going crazy,' said North Linn head football coach Jared Collum, who watched the game on television. 'He buried a couple of guys. We were grading our own lineman after every play. We only had him missing (a block) one time.
'In the fourth quarter, they ran right behind him like four or five plays in a row. It was sweet.'
Credit this recruiting find, like so many others he unearthed from small towns and high schools, to now-retired Hawkeyes assistant coach Reese Morgan.
'I didn't have a single one,' Schott said about scholarship offers. 'Iowa Central (Community College) said they'd give me some money, but not a full ride or anything. ... For the most part, (coaches thought) I was too short. Honestly, I never got a phone call. I talked to Upper Iowa once and they never talked to me again.
'Coach Morgan seemed to really like me, kept sending me letters. I loved it and I decided to walk on here.'
Jackson's injury got Schott in the Miami game, but he had been slated to play in the first half all along.
'Maybe it's a surprise to the outside world,' said Iowa quarterback Nate Stanley, 'but I saw the way he works in the weight room and conditioning, the way he pays attention, the way he practices. I'm not surprised at all.'
Nor is Collum, who said 'His sophomore year here I had an inkling he could play there. By the time he was a junior and senior he got so big and strong, there was no doubt in my mind he could go there and compete.'
With Jackson out for a couple weeks and Schott in, the Hawkeyes have five former high school wrestlers from Iowa starting on the offensive line. One is Tristan Wirfs, Schott's roommate and close friend.
Said Wirfs: 'I was like 'I'm going to be pushing you every day, you're going to be pushing me every day.' Now Week 1, he's getting some meaningful snaps. It's exciting.'
Schott was a Class 1A state wrestling runner-up in 2017, going 50-2 in his senior season.
'A true testament to great wrestlers = great football players,' tweeted Brendan Schott Sunday. He's one of Kyler's older brothers, a teacher and the head wrestling coach at North Linn.
1) I could not be a more proud "big" brother! What a night for #64!September 1, 2019
1) I could not be a more proud "big" brother! What a night for #64!pic.twitter.com/ElmxGabres
— Brendan Schott (@Mr_Schott)
2) A true testament to great wrestlers=great football players.
3) Man this group would make for a fun takedown tournament!
Walking on to a major-college team requires sacrifice and a leap of faith. There's no guarantee for walk-ons to become more than just that.
'I've got to tell myself to push myself every day and hopefully earn that scholarship in the future,' Schott said.
He is listed at 6-foot-2, 290 pounds. The weight is right. The height is a bit of a reach.
'Everyone's giving me crap about how short I am,' Schott said. 'I like to say I'm 6-2. Maybe a touch under ... on a really good day ... with the right cleats on.'
Schott has one of the shortest bios in the Hawkeyes' media guide. But 'short' clearly won't define this player.
l Comments: (319) 368-8840; mike.hlas@thegazette.com