Home / Sports / Iowa Hawkeyes / Iowa Football
5-star recruit Kadyn Proctor commits to Iowa over Alabama
For second straight year, 5-star recruit picks Hawkeyes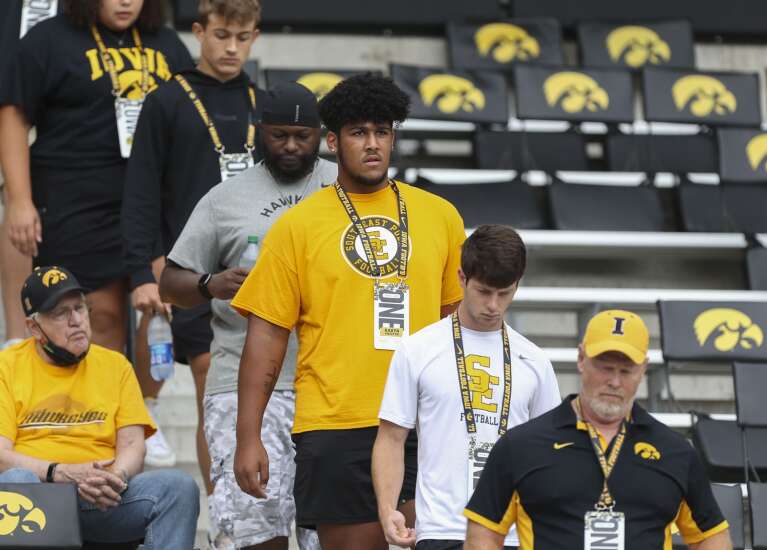 Iowa football kept another in-state star in the Hawkeye State.
Kadyn Proctor, a five-star offensive lineman from Southeast Polk High School, committed to Iowa over Alabama on Thursday.
Proctor is the 10th-best prospect nationally in 247Sports' composite rankings of the 2023 class — higher than any other prospect in the Midwest. Rivals ranks him 14th.
He is the highest-rated recruit to ever commit to the Hawkeyes based on 247Sports' ratings, barring a change to his composite rating between now and when he enrolls.
Twitter
With Alabama, Ohio State, USC, Oregon, Georgia, Oklahoma and several other juggernauts all expressing interest in the Southeast Polk prospect, Proctor essentially could've gone anywhere he wanted to play football.
With his choice of Iowa, Proctor will head to a program with a track record of producing NFL offensive linemen.
Nineteen Iowa offensive linemen have been selected in the NFL Draft in the Kirk Ferentz era, and all 19 were not as highly touted as Proctor when they arrived in Iowa City.
It's the second straight year that Iowa warded off college football's blue-bloods to land a five-star in-state recruit. Proctor's former high school teammate Xavier Nwankpa chose Iowa over Ohio State and Notre Dame in 2021.
Nwankpa immediately turned his attention after making his commitment to recruiting Proctor.
"I'll be working on him for sure," Nwankpa said minutes after his decision in Dec. 2021.
Proctor became the fourth offensive lineman in the 2023 class to commit to the Hawkeyes. With his decision, Iowa's 2023 class moved up in the recruiting rankings to 15th on both Rivals and 247Sports.
Current and future Hawkeyes quickly expressed their excitement on social media.
"Yessir we got the whole fam," running back Gavin Williams tweeted while tagging Nwankpa. Williams played at Southeast Polk from 2016-18 before transferring to West Des Moines Dowling for his senior season.
View all current Iowa recruits for 2022
Comments: (319) 398-8394; john.steppe@thegazette.com