Home / Sports / Iowa Hawkeyes / Iowa Football
Caleb Shudak's long-awaited shot as a college kicker realized at Iowa, his dad's former rival
Shudak's father, Jeff Shudak, kicked for Iowa State in the 1980s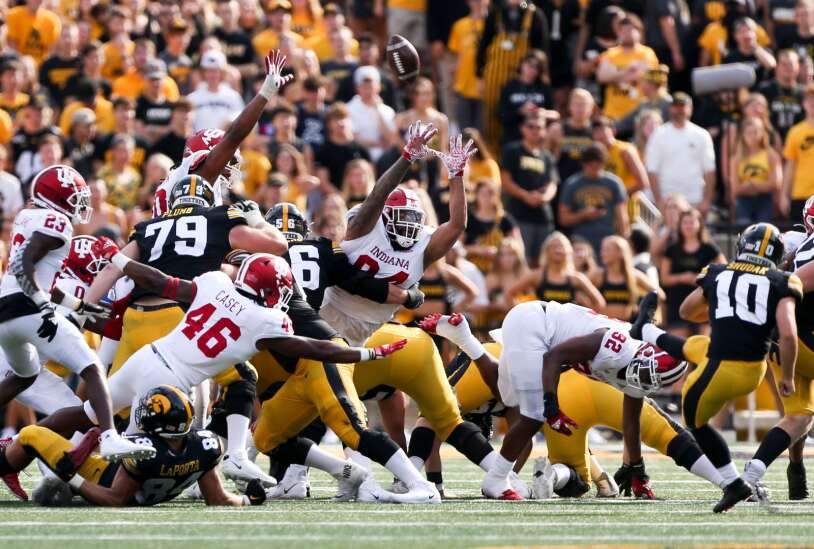 IOWA CITY — Whistles go off before the kick, but Iowa senior Caleb Shudak boots the ball in a swift, effortless motion and puts it through the uprights.
It's not his first field goal attempt of his Iowa football career, but it's the first one where he will probably make it. He's 41 yards out.
The second is slightly less powerful, a slower, still clean motion to the right center, but through the uprights.
When Indiana calls its third timeout on Shudak's attempt, it's early enough that he goes through the motion without bothering to touch the ball. He's made it twice now for practice.
This is Shudak's sixth year as a Hawkeye, and he's waited 60 games plus 29 minutes and 57 seconds (with TV timeouts and the pace of football, more like two hours) for his first collegiate career field goal.
"As soon as you hear the timeout it's, using the rep to kind of get loose and make sure my hip stays loose," Shudak said. "I hear the boos, but once they blow the whistle and timeout is over it's getting back in that focused mindset."
The snap is high, but steadily placed for Shudak's final attempt: high and over the middle, putting Iowa up 31-3 going into the half. Looking on from nine rows up behind the netting is his dad, Jeff.
"I was like, 'why are you calling timeout, icing the kicker, when your team's down 28-3 at halftime?'" Jeff said. "He said, 'Yeah I was getting a little annoyed, but after I got that third one, I knew I was going to make that last one.'"
The truth is, kicking a field goal after three timeouts at halftime against Indiana will pale in comparison to kicking at Jack Trice Stadium in what will be the most highly-anticipated rivalry in the state's history: No. 9 Iowa State vs. No. 10 Iowa at 3:30 p.m. Saturday (ABC).
Especially since Jeff's name is etched in the record books in Ames. He was a kicker for the Cyclones from 1987-1990, and kicked two game-winning field goals and one game-tying field goal in that stadium. The first, in 1987, was a 39-yarder against Kansas State with 46 seconds left. In 1990, he kicked a game-tying 53-yarder with 18 seconds left against Kansas for a final score of 34-34 and hit the 27-25 game-winner against Missouri from 36 yards out and 14 seconds left.
Jeff also held the record for the most consecutive field goals made from 1988-89 (11), which is now the second-most, and best single-season field goal percentage, making 20 out of 25 attempts for 80 percent.
Caleb garnered interest from multiple schools out of Council Bluffs Lewis Central, including Iowa State, Minnesota and Iowa, and was committed to the Cyclones under head coach Paul Rhoads. But when Matt Campbell was hired, Caleb's name fell to the bottom of the stack, and it didn't help that he was coming off an injury to his right knee. Minnesota pulled its offer, but Iowa held on.
Now it's his sixth year as a Hawkeye, but he did think about leaving, entering the transfer portal following last season. He had lost place-kicking duties to Keith Duncan in 2019 and 2020, but Iowa promised he would be put on scholarship if he stayed.
"I told him I would cry literal tears if he left, because that's how much I feel about Caleb," Iowa special teams coordinator LeVar Woods said in May. "I feel strongly about him as a person and a member of this team. It was an unfortunate time — he just wasn't getting the opportunity."
That long-awaited opportunity at Iowa is even more sweet now as he approaches the in-state rivalry he grew up watching from the other side at his grandmother's or uncle's house.
"Being a Hawkeye now, little me would laugh," Caleb said. "I would have never imagined me on the other side, but I couldn't be more happy that I am."
Iowa has not lost to Iowa State through the five years he's been in Iowa City. That was not the case for his dad, Jeff, who said he never won a game against Iowa during his five years in Ames.
The fate of the game could rest on his son's shoulders, and he knows that. Jeff always tells Caleb to visualize himself kicking that game-winning field goal the night before a game.
That helped one time when Jeff played in the snow against Colorado, kicking 46- and 48-yard field goals despite having no visibility.
"I just bent down, lined it up down the middle," Jeff said. "Use that foot correctly, get it up in the air and trust that you've done this over and over again."
Comments: (319)-398-8387, leah.vann@thegazette.com