Home / Sports / Hawkeye Sports / Iowa Football
Brody Brecht chooses Iowa over MLB, Ankeny teammate Weston Fulk embraces 4 more years of baseball with him
After being the No. 77 prospect in the draft, Brecht's name still on the board after 10 rounds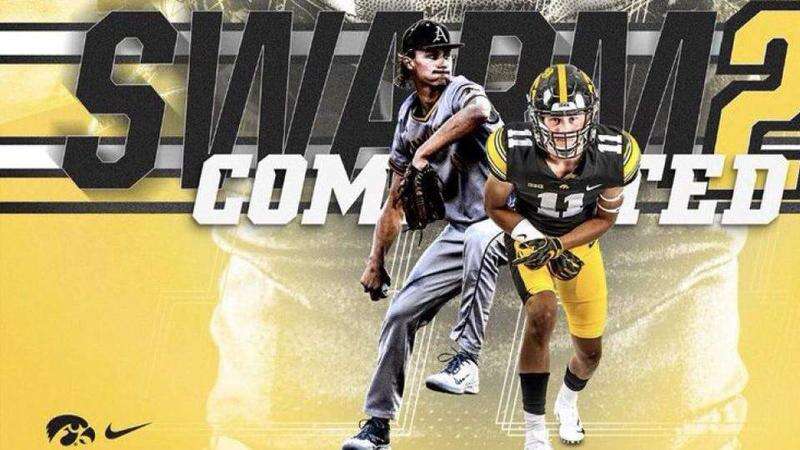 ANKENY — At the clink of a bat, Ankeny High School senior Brody Brecht shoots a foul ball with power that strikes an ear drum like the drummer of a rock and roll band being too close to the mic.
The ball goes slightly too far left, though, and a child in the stands yells, "WOW," as Brecht adjusts his stance to ready himself for the next pitch. This time it goes where he intends it will — to left center. He reaches first base easily, then takes off for second, stutters, thinking maybe he should go back, but slides in to touch the bag just in time.
He turned a single into a double on his feet.
Brecht is committed to playing football and baseball at the University of Iowa, but for months, the prospect of playing professional baseball has toyed with his mind. It's made him stutter his steps toward Iowa City. That only heightened two days ago, when the MLB Draft kicked off with him ranked as the No. 77 player available.
"For the most part, it's been a stressful time," Brecht said. "I had a price I wanted of seven figures, and if they were going to hit it, I would go. But I have a dream of playing football and that's why I set my price high."
That high price, depending on how it's analyzed, could've been a good or bad thing when it came to Brecht's draft stock. For him personally, it made the decision easier. After two days of not being selected, Brecht said he's ready to play Iowa football this fall.
"I think it helped and hurt me," Brecht said. "It helped because I was able to have a lot of leverage, but then again it did hurt me because football is my true love and it's going to take a lot to pull me away from it."
But the last two days, or even two weeks, leading up until this moment haven't been easy. From the stands on Monday evening, Brecht seems relaxed. His team is playing Des Moines Hoover in a doubleheader on a cool summer day. He's playing center field while current teammate and future Iowa baseball pitcher, Weston Fulk, tosses a perfect game.
"I think 14 days or so, it's tough to have an 18-year-old to weigh all those options," Ankeny head baseball coach Joe Balvanz said. "You got everybody in your ear constantly blowing up your phone, like, 'What are you gonna do?' I'm excited about him going to Iowa City. I think you'll see a lot of stress come back off his shoulders, but he's been playing well."
Brecht says he's tunnel vision when it comes to sports seasons, always focused on the sport he's currently in. But he attended both spring football open practices at Iowa this past May, watching his former teammate Arland Bruce IV from the stands.
"I was antsy, I wanted to get down on the field," Brecht said. "But it was cool to see Arland, I think he's going to play this fall and I'm excited for him."
Bruce was in town a few weeks ago, throwing the football around with Brecht. It was the first time Brecht had touched a football since the state championship in November.
It was a break from the weight on his shoulders.
Last week, Brecht's no-hitter against Ames tied the school record for most strikeouts in a single game, as he retired a total 17 batters, including the final 12 in a row.
"I don't even know if he got past the two-ball count," Balvanz said. "He was just throwing heaters and hammers and some just really nasty sliders out there."
Fulk, who tossed the perfect game on Monday night en route to a 10-0 mercy rule victory in the sixth inning, thinks that he and Brecht could be the pieces that push Iowa baseball to the next level alongside All-America pitcher Trenton Wallace.
The two of them make each other better, and Balvanz usually tries not to pitch them both on the same night. In practice, he'll have them pitch one at a time from the mound against two batters, trying to outdo each other.
Because of that, Balvanz said Fulk is seeing "beach balls," at the plate, and leads the state with 12 home runs. He had tied the school record in doubles with 19 a week ago, but broke it after the first game of the doubleheader on Monday.
"I played the first game when he was pitching the other night, it was insane, he's just so dominant and that's what he's been doing all year," Fulk said. "When he committed to Iowa, I was like, 'Yes, I got him four more years,' but then he got his name in the draft and I got worried. Now, I'm super excited to play with him."
Twelve seniors line up in between games with flowers in their hands and parents flanked on either side.
The voice over the loudspeaker announces Brecht's name and a soft clap mirroring that of his teammates ensues as the voice reads from the program, "Brody Brecht will attend the University of Iowa this fall, where he plans to study business and play football and baseball."
Comments: (319)-398-8387, leah.vann@thegazette.com