Home / Sports / Iowa Hawkeyes / Iowa Football
Amani Hooker rings in the era of the 'star' safety/linebacker position at Iowa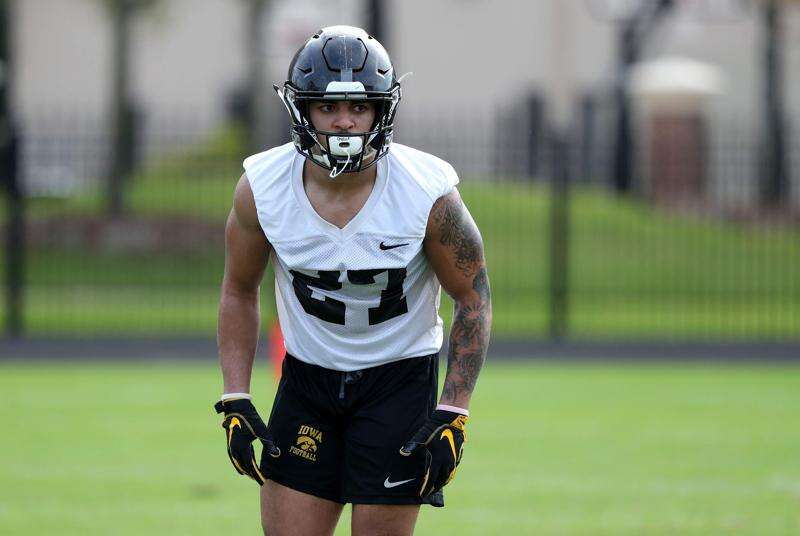 TAMPA, Fla., — No matter what happens, no matter if Amani Hooker says goodbye to Iowa and enters the NFL draft, it's been a monumental year.
Iowa defensive coordinator Phil Parker even created a position just for Hooker, a junior from Minneapolis, Minn. OK, he didn't really. Parker did install a 4-2-5 personnel group and moved Hooker from straight safety to a linebacker/safety hybrid position called 'star' or 'cash,' depending on whom you talk to.
After Iowa played Wisconsin, a traditional power offense, Parker saw spread offense after spread offense on the schedule and leaned on the 4-2-5.
Parker did this because he knew he could lean on Hooker.
'He has the skills to play in the NFL, and, in due time, I think he'll have that option,' Parker said after the Hawkeyes' Outback Bowl practice on Friday. 'He's a really good football player. He was a good player in high school, he's a good player now and I'm sure someday when he goes there, he'll be a good football player in the NFL.'
You know that the Hawkeyes (8-4) aren't addressing NFL stuff going into Tuesday's matchup with No. 18 Mississippi State (8-4), which has a handful of its own NFL early-entry possibilities.
Hooker has received his grade from the NFL draft advisory board. According to a source, Hooker's grade was positive, meaning at least second round. Still, that doesn't mean he will be drafter that high, it's just that he has that potential.
'You dream of stuff like that, to get that chance and the opportunity,' Hooker said. 'I got the information back, I talked to coach (Kirk) Ferentz, but as of now, I'm just worried about this game.
'It is humbling, it's awesome. You work all of the time to get there. My parents have always helped me out. It's a cool experience for everyone.'
Again, no definitive answers.
Let's look at what Hooker has done to put himself in this position.
— He won the Tatum-Woodson Big Ten defensive back of the year. By the way, that award has been handed out by the conference since 2011 (eight seasons). Iowa defensive backs have won it four times — Micah Hyde (2012), Desmond King (2015), Josh Jackson (2017) and Hooker this year.
'His ability to move, his footwork and his size (6-0, 210), his ability to see things and he has great hands,' Parker said. 'He could be a punt returner. He has the skill to go up and get a ball. You saw some of the picks he made. They were tough catches.'
Obviously, Hooker also earned first-team all-Big Ten.
— Hooker had four interceptions this season. The Hawkeyes are tied for fourth in the country with 18 interceptions.
— From the star position, Hooker finished second on the team with 59 tackles. He also had 3.5 tackles for loss, seven pass breakups and a safety.
You could make the argument that Hooker's biggest contribution this season was being first in line and first in consideration for the star position, which helps Iowa's defense defend teams that rely on single-back and single-tight end sets (11 personnel). Simply, every team on Iowa's schedule that isn't Wisconsin.
'That's where we are in today's football,' said Parker, who did admit Iowa was late getting to a form of the 4-2-5. 'It becomes option, run linemen downfield, throw the ball, conflict of assignment. You're going to get locked up in some man coverages from time to time.'
Parker has wired this specific position into his coaching. It's not just Hooker. Parker mentioned true freshman D.J. Johnson — 'He's been doing a really good job in there' — and cornerback Michael Ojemudia.
The traits he's looking for: 'You've got to be a great athlete, you've got to have great vision. ... Who can see pictures? When you see pictures, what does that tell you? What is your response? That's the biggest thing.'
Obviously, spread offenses aren't going anywhere. It was time for Iowa to make this adjustment. Still, a veteran coach isn't going to pass on an opportunity to rant on the new ways. This isn't just a Phil Parker thing. Northwestern head coach Pat Fitzgerald called RPOs the 'purest form of communism,' which really was an opening to chew on officials about O-linemen blocking illegally downfield.
Parker matched Fitzgerald's rant, but kept politics out of it.
'RPO thing they (offenses) do is entertaining, it's good for the fans,' Parker said, tongue in cheek, totally. 'I love RPOs. It's good advertising. It keeps people watching TV, keeps them interested.'
l Comments: (319) 398-8256; marc.morehouse@thegazette.com