Home / Sports / Iowa Hawkeyes / Iowa Football
5 Maryland players to watch against Iowa this Friday
Brother of NFL quarterback among key players for Terrapins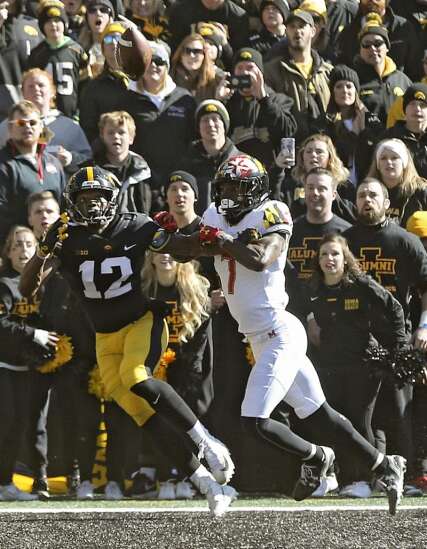 IOWA CITY — Iowa's two-week reprieve from Power Five opponents has come to an end.
Now as the Hawkeye football team (4-0) prepares for a Maryland team that also is 4-0, here are a couple Terrapins worth watching closely:
QB Taulia Tagovailoa
Tagovailoa, the brother of NFL quarterback Tua Tagovailoa, has generated more hype than any other Big Ten quarterback.
He is on the watch lists for the Maxwell Award for best player in college football and the Johnny Unitas Golden Arm Award for the best upperclassman quarterback.
There's been some Heisman Trophy chatter for the junior from Ewa Beach, Hawaii, too. Former Baylor quarterback and Heisman winner Robert Griffin III included Tagovailoa on his Heisman watch list in a Sept. 25 tweet.
The dual-threat quarterback, unlike Colorado State's Todd Centeio, doesn't need his feet to make plays. His 75.5-percent completion rate is third-best in the FBS and best in the Big Ten. His 10 passing touchdowns in 2021 is tied for the best in the conference.
Pro Football Focus, which tracks advanced stats in the NFL and college football, ranked Tagovailoa third in passer rating while under pressure last weekend.
He still can use his feet when needed, though. He had a 35-yard run against Illinois this year and a 39-yard run against Minnesota last year.
Tagovailoa started his collegiate career at Alabama, where his brother Tua starred, but only threw 12 passes in his freshman season.
He transferred to Maryland ahead of the 2020 season and started in four of the Terrapins' five games. Maryland had four games canceled because of COVID-19, so 2021 is his first full season as a starting quarterback.
WR Dontay Demus Jr.
Demus is not your average wide receiver.
At 6-foot-4, he is physically a big target for Tagovailoa to hit and at least 3 inches taller than any of Iowa's starting defensive backs. He also has the speed and route-running ability to break open easily.
Demus has at least one 40-plus-yard catch and one touchdown in three of Maryland's four games in 2021. His 446 receiving yards are the most in the Big Ten by a wide margin. The next-best receiver, Ohio State's Garrett Wilson, has 391 yards.
He's been a consistent threat, too. Tagovailoa has connected with Demus at least four times in every game they both played.
RB Tayon Fleet-Davis
Senior Fleet-Davis is in the midst of the best season in his collegiate career.
Maryland hasn't turned to Fleet-Davis as much as other Big Ten teams have turned to their primary running backs. Iowa's Tyler Goodson has almost twice as many carries as Fleet-Davis in 2021.
But when Maryland has given Fleet-Davis the ball, he's been one of the most efficient backs in the Big Ten.
Fleet-Davis has averaged 7.1 yards per carry as Maryland's primary running back and already is nearing career-highs in rushing yards and touchdowns.
The senior running back has been a formidable option for Tagovailoa in the passing game too, ranking fourth on the team in receptions.
Fleet-Davis' Maryland career hasn't been perfect, though. He was arrested for driving under the influence in 2019 and suspended for the final two games of the season. He then only appeared in one game in 2020.
DBs Nick Cross and Jakorian Bennett
Cross has enjoyed a productive first four games of the 2021 season.
The 2020 All-Big Ten honorable mention is tied for the Big Ten lead with two interceptions, has a team-high 18 tackles and one forced fumble.
Cross also had three pass breakups in Maryland's narrow 20-17 win over Illinois earlier this season.
He's not the only Maryland defensive back to have an impressive start to 2021, though.
Bennett wasn't necessarily at the top of people's radars beginning the season, but he became the first Maryland defensive back since 2018 to have interceptions in back-to-back games. Bennett's pick against West Virginia came in the end zone as the Terrapins were working to protect a two-point lead in the fourth quarter.
The strength of the secondary allowed Maryland head coach Mike Locksley to use man coverage extensively against a prolific Kent State aerial attack last week.
Comments: (319) 398-8394; john.steppe@thegazette.com