Home / Sports / Iowa Hawkeyes / Iowa Football
5 Colorado State players to watch against Iowa this Saturday
Hawkeyes conclude nonconference schedule against Mountain West's Colorado State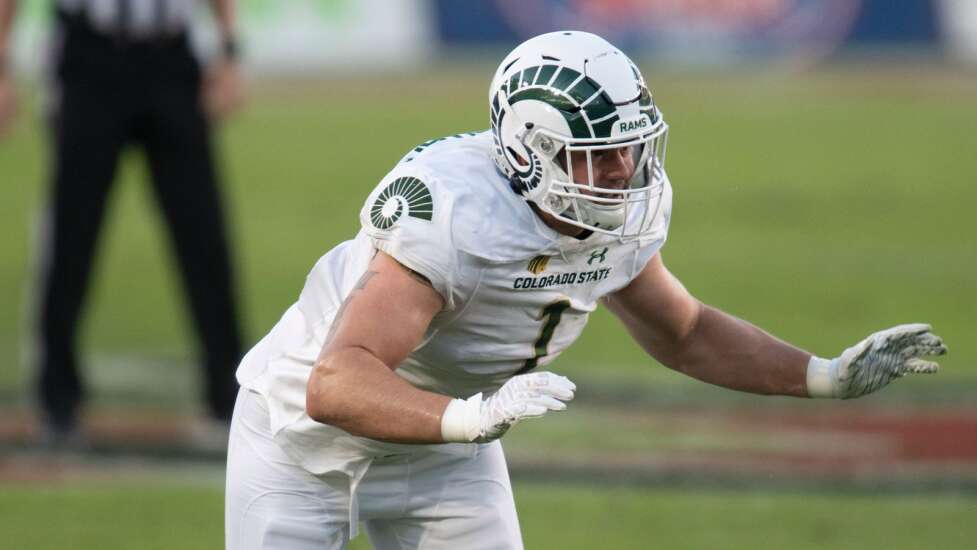 IOWA CITY — Colorado State is far from Iowa's most-hyped 2021 football opponent.
The Rams' peers in the Mountain West Conference picked them to finish fourth out of six teams in the Mountain division. They went 1-3 in 2020, and all three losses were by at least 12 points.
But Colorado State has some intriguing players who have helped the team stay competitive with Vanderbilt and upset Toledo in the last two weeks.
Here are five players worth keeping an eye on Saturday:
TE Trey McBride
McBride has quickly emerged as one of the best tight ends in college football.
Almost all of Colorado State's passing game went through McBride in its 22-6 upset of Toledo last Saturday.
Quarterback Todd Centeio had 11 completions. Nine of them were to McBride.
The senior tight end also was responsible for 109 of Centeio's 110 passing yards, leading to Senior Bowl Offensive Player of the Week honors.
At one point against Toledo, he caught the ball behind the line of scrimmage before stiff-arming multiple defenders and hurdling over another on his way to a 29-yard gain.
His 30 receptions through three games leads the FBS. No Big Ten receiver has more than 21. No Iowa receiver has more than 13.
ESPN NFL Draft guru Mel Kiper Jr. ranked McBride the fourth-best tight end prospect in his Sept. 1 rankings.
DE Scott Patchan
When Patchan started his collegiate career, "Uptown Funk!" was the Billboard No. 1 song, San Francisco 49ers tight end George Kittle was a junior at Iowa and the person writing this article was still in high school.
Patchan is a rare seventh-year defensive end, first donning a college football uniform in 2015 at Miami (Fla.).
He had no shortage of college football juggernauts recruiting him out of high school in Bradenton, Fla., including Ohio State, Notre Dame and Florida State. But he picked Miami, where he appeared in only 18 games in five years on campus.
Patchan has found more success in Fort Collins, Colo., though.
He started all four games in Colorado State's pandemic-shortened season and had at least one sack in each game. Through the first three games of 2021, he recorded 17 tackles, hurried the quarterback a team-high three times and forced one fumble.
P Ryan Stonehouse
There aren't many punters who are off to a better start to 2021 than Iowa sophomore Tory Taylor.
Stonehouse is one of them.
Stonehouse is third in the FBS with 51.9 yards per punt. (Taylor, on the other hand, is eighth with 49.7 yards per punt.)
Nine of his 16 punts have been for at least 50 yards, and seven have pinned opponents inside the 20-yard-line.
His longest punt of the year was an 81-yard bomb against Vanderbilt that could only be returned for a few yards. The punt that started in the Rams' end zone forced Vanderbilt to start its drive inside its own 20.
Twitter
He has been on the Ray Guy Award Watch List five times in his career and is the first punter to earn first-team All-Mountain West honors in three consecutive seasons.
RB David Bailey
Colorado State is not afraid to run the ball a lot, and senior Bailey is at the heart of the Rams' rushing attack.
He leads the Rams with 269 rushing yards in 2021 while averaging 4.0 yards per carry.
Bailey is no stranger to Power Five matchups either, spending his first three seasons at Boston College. His 844 rushing yards in 2019 was ninth-best in the ACC despite sitting behind future NFL running back A.J. Dillon on the depth chart.
After handing Bailey the ball 19 times against South Dakota State and 15 times against Vanderbilt, head coach Steve Addazio's offense turned to the senior running back a career-high 30 times in the win over Toledo.
QB Todd Centeio
Centeio is not exactly coming off his best performance.
He completed just 40.7 percent of his passes against Toledo and struggled to connect with his receivers not named "Trey McBride."
The senior quarterback has shown some success with relatively short passes and using his feet. He had a career-best 304 passing yards while completing 69 percent of passes in the Rams' season-opener against South Dakota State despite never completing a pass longer than 36 yards.
On the ground, Centeio's 147 rushing yards this season are second only to Bailey on the Rams, and he has averaged 4.7 yards per carry.
Comments: (319) 398-8394; john.steppe@thegazette.com