Home / Sports / Iowa Hawkeyes / Iowa Football
100 years ago today, Iowa took down mighty Notre Dame
Duke Slater led Hawkeyes to upset at Kinnick Stadium
Jim Lefebvre - correspondent
Oct. 8, 2021 12:16 pm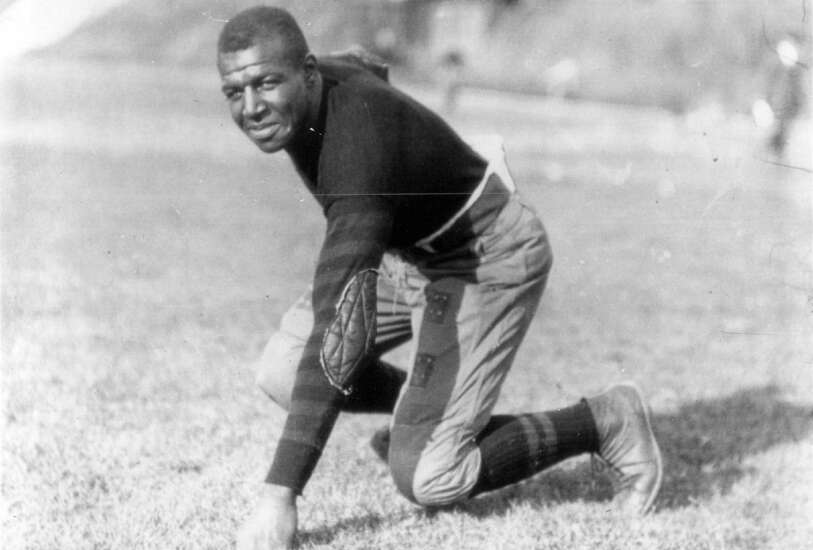 On the eve of one of the biggest games in recent Iowa football history, one of the greatest Hawkeye triumphs came 100 years ago today.
On Oct. 8, 1921, in Iowa's first meeting with Notre Dame, the Hawkeyes — in their sixth season under Howard Jones — were developing into a consistently strong club, and had finished 5-2 in 1920.
Notre Dame had gone undefeated in 1919 and 1920, and was playing without its superlative leader George Gipp, who died in December 1920. Yet Knute Rockne's squad still was talented and favored.
Jones had three outstanding players, too — veteran All-Western quarterback Aubrey Devine, whose favorite target was brother Glenn; speedy halfback Gordon Locke; and huge tackle Fred "Duke" Slater, one of the first Black players in the Western Conference and one of the last college players to compete without a helmet.
The Irish were greeted as heroes by local football fans. Youngsters wanted to know which player was quarterback John Mohardt, and which was Hunk Anderson. All of Iowa City was primed for Notre Dame's visit. One report noted, "Not even the annual games with Wisconsin and Illinois are being anticipated with more eagerness than the fray with Notre Dame."
Thousands of Notre Dame alumni throughout the Dakotas and Minnesota, who seldom had a chance of seeing the team, planned to attend. Additional bleachers were erected to handle the anticipated record crowd.
From the opening kickoff, Notre Dame knew it was in for a battle. Led by Slater's blocking, the Hawkeyes made one push after another through the Irish line, until Locke went over for a touchdown. Still in the first quarter, Aubrey Devine intercepted a pass and, after a pair of Irish penalties, Devine booted a 42-yard field goal for a 10-0 Iowa lead.
The Irish cut it to 10-7 on a long pass from Mohardt to Roger Kiley, but for the rest of the day failed on several other trips inside the Iowa 10. The fourth quarter was played almost entirely in Iowa's end, but Notre Dame was thwarted each time, with Slater simply refusing to be blocked.
Late in the game, Notre Dane's Kiley blocked a punt and had an open field ahead of him but was brought down short. Notre Dame outgained Iowa handily, but a penalty at a key moment or an interception ended each threat. A long pass from Mohardt to Paul Castner had the Irish challenging again as the final whistle blew, but Iowa's 10-7 margin held up.
The loss kept Notre Dame from a third straight unbeaten season and likely national title recognition. The Irish won their other 10 games by an average score of 37-3. Iowa, meanwhile, reigned as Western Conference champs with a 5-0 record, and an overall mark of 7-0.
Portions excerpted from Coach For A Nation: The Life and Times of Knute Rockne, by Jim Lefebvre (2013, Great Day Press).