Home / Sports / Iowa Hawkeyes / Iowa Basketball
Northwestern returns from 20-day layoff, trips Iowa women's basketball, 77-69
Veronica Burton's steal and score puts Wildcats in front for good, then they seal it from the free-throw line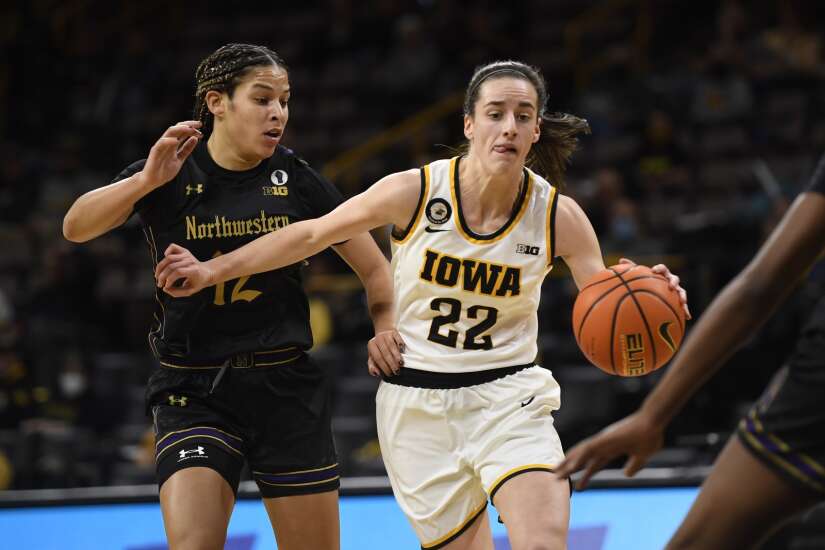 IOWA CITY — Melannie Daley was getting a little stir-crazy. More than a little.
"I was bored out of my mind," the Northwestern freshman said. "It was a little crazy being in my room for 10 straight days."
Daley, and the Wildcats, exhibited no rust Thursday night. Playing with remarkable precision, considering a 20-day layoff, they came to Carver-Hawkeye Arena and tripped 22nd-ranked Iowa, 77-69, before a crowd of 5,020 Thursday night at Carver-Hawkeye Arena.
"Obviously, this is a tough loss," Iowa Coach Lisa Bluder said. "Home court in the Big Ten, against a younger team ... we didn't perform well in the second half."
Northwestern (10-3 overall, 2-0 Big Ten) closed the game on an 11-2 run after the Hawkeyes (7-4, 1-1) had rallied to tie it at 66-66.
Iowa scored seven straight points and had possession in position to take the lead, but Veronica Burton got one of her eight steals and turned it into a basket with 2:08 left to put the Wildcats in front for good.
"If you get Veronica Burton on the bus on time, you have a chance to win," Northwestern Coach Joe McKeown said.
With the game up for grabs late, the Hawkeyes had a bad stretch with three turnovers and a missed shot in four crucial possessions. Northwestern pulled away, making 9 of 10 free throws in the final 40 seconds.
Burton led the Wildcats with 25 points, and Daley flashed a sharp midrange game, adding 22.
"Typical New York playground," McKeown said of the rookie. "She just wants to play basketball and have fun."
Northwestern hadn't played since Dec. 17, due to COVID-19 protocol. But the Wildcats showed no ill effects, and were the sharper team in the second half.
Caitlin Clark led Iowa with 30 points, including 13 of 13 from the foul line.
Monika Czinano and McKenna Warnock both were back in action after missing Sunday's win over Evansville due to COVID-19 restrictions.
Czinano scored 20 points; Warnock added 14 points and eight rebounds.
"I felt pretty good," Czinano said. "I wasn't getting too winded. But (the result) was an unfortunate first game back."
Other than Clark, Czinano and Warnock, though, the Hawkeyes got a total of five points elsewhere, none from their bench.
"We've had some good moments in practice. We had some good moments tonight," Clark said. "All you can do is keep working and stay confident in who you are.
"We had a lot of good possessions. We have to be better than we were."
Iowa held a seven-point lead on three occasions in the second quarter, and took a 36-34 advantage into intermission.
The teams went back and forth for a while in the third quarter, then Northwestern took a 66-59 lead on Daley's baseline shot with 7:00 to go.
Clark found Czinano for a basket, Warnock hit a 3-pointer and Czinano scored again to bring the Hawkeyes even at 66-66, then Burton made her steal and score to put the visitors in front for good.
Iowa's Logan Cook wore a boot on her lower right leg. Bluder didn't specify the injury, but said the senior will be "out for a while."
The Hawkeyes play at Nebraska (13-1, 2-1) at 1 p.m. Sunday.
Northwestern 77, Iowa 69
At Iowa City
NORTHWESTERN (77): Caileigh Walsh 3-6 0-0 8, Courtney Shaw 4-6 1-2 9, Jillian Brown 3-10 0-0 7, Veronica Burton 6-13 11-13 25, Melannie Daley 9-16 4-4 22, Paige Mott 2-7 0-0 4, Laya Hartman 0-2 0-0 0, Kaylah Rainey 0-3 1-2 1, Lauryn Satterwhite 0-2 1-2 1, Anna Morris 0-0 0-0 0. Totals 27-65 18-23 77.
IOWA (69): McKenna Warnock 5-8 0-0 14, Monika Czinano 8-14 4-4 20, Kate Martin 1-4 0-0 2, Caitlin Clark 8-17 13-13 30, Gabbie Marshall 1-5 0-0 3, Tomi Taiwo 0-3 0-0 0, Addison O'Grady 0-2 0-0 0, Kylie Feuerbach 0-3 0-0 0. Totals 23-56 17-17 69.
Northwestern 18 16 26 17 — 77
Iowa 20 16 20 13 — 69
3-point goals: Northwestern 5-21 (Walsh 2-5, Brown 1-6, Burton 2-6, Daley 0-1, Rainey 0-1, Satterwhite 0-2), Iowa 6-26 (Warnock 4-6, Martin 0-2, Clark 1-8, Marshall 1-5, Taiwo 0-3, Feuerbach 0-2). Team fouls: Northwestern 16, Iowa 22. Fouled out: Warnock, Martin. Technical: Northwestern bench (administrative). Rebounds: Northwestern 42 (Shaw 11), Iowa 31 (Warnock 8). Assists: Northwestern 16 (Burton 6), Iowa 15 (Clark 5). Steals: Northwestern 12 (Burton 8), Iowa 4 (Marshall 2). Turnovers: Northwestern 12, Iowa 18.
Attendance: 5,020.
Comments: jeff.linder@thegazette.com