Home / Sports / Iowa Hawkeyes / Iowa Basketball
Joe Wieskamp and North Linn Lynx shine in Cedar Rapids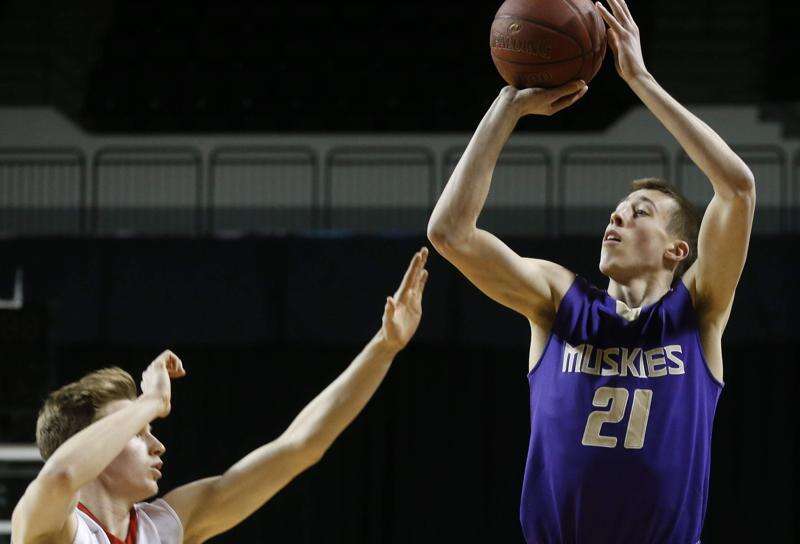 CEDAR RAPIDS — Joe Wieskamp played his first basketball game here since last February. Here's the updated scouting report on him:
He's still really good.
The 2018-19 Iowa Hawkeyes freshman-to-be and his Muscatine team with a 76-57 win over Iowa City High Saturday afternoon in the fourth game of a boys' hoops sextuple-header at the U.S. Cellular Center.
Wieskamp had 38 points despite getting double-teamed throughout the contest. He made four 3-pointers in six tries, scored in transition, scored on knifes through the paint, scored by making eight of his nine free throws ... scored, period.
'He's the best finisher in the state,' said his head coach, Gary Belger. How that is qualified is unknown, but I believe it. Wieskamp looks ready for big-college ball today. This is a fluid, athletic, skilled guy with the body and instincts of a big-time player.
Is that too much hype for a prep? Maybe. Maybe not. You see a 6-foot-6 player who drops in 34.4 points per game and collars 15 rebounds like he did Saturday, and who looks for the open man when he has the ball? You're seeing a rare bird in Iowa.
'We had other guys step up today,' Wieskamp said after his team snapped a three-game losing streak, including a 59-50 decision to Pleasant Valley the night before in which he scored 72 percent of his team's points.
The Muskies (7-5) will have to pull at least one postseason upset if they are to get Wieskamp to the state tournament for the first time. Or rather, if he is to get them there. But he doesn't complain about not having the supporting cast like the one, say, fellow blue-chip future Hawkeye Patrick McCaffery has at Iowa City West.
'Absolutely,' Wieskamp responded when asked if his team can get to state. 'That's our main goal this season.'
As to how he's a different player from last season, which ended with an 83-44 Class 4A substate loss to West in Cedar Rapids, he said 'I think I try to create my shot a lot more, create shots for teammates, and am just trying to develop for the next level.'
While Muscatine would celebrate reaching state, North Linn won't be happy unless it wins the Class 1A championship. You'll be living dangerously if you bet against the second-ranked Lynx.
They improved to 15-0 a few hours before Muscatine's game, drubbing Maquoketa Valley, 88-20.
That's been the story of North Linn's season. It hasn't had a close contest. Perhaps it will get one before the state tourney. Perhaps not.
Using full-court pressure, the Lynx ran to a 24-0 lead in the first five minutes. They took off the press after the first quarter, but their feet don't know how to leave the gas pedal. It's go-go-go.
They led 61-11 at halftime. The starters, led by terrific guards Ryan Miller and Jake Hilmer, were pulled early in the third quarter. Miller had 24 points. Hilmer had 12 assists and 6 steals. No team in the state has more assists or steals.
Some of the scores North Linn has won by this season are 105-8, 115-31, 102-26 and 111-28. The Lynx score 93.3 points per game, allow 36.
'We prepare every game expecting it to be competitive,' North Linn Co-Coach Mike Hilmer said. 'Our goal is to get the game to our tempo and let the chips fall where they may.'
The Lynx were 27-1 last season. They lost to Gladbrook-Reinbeck in the 1A semifinals. Every player is back from that team, and all have unfinished business.
Maquoketa Valley Coach Creig Dunlap said North Linn 'has great kids and great coaches. It's a great group.'
As for his own team, 'We have great kids. I wouldn't be coaching if we didn't. We have a great bunch of seniors. I've been working with them since they were eighth-graders.
'Sometimes, other teams are just better. I always think we could do better, but right now we're down three point guards (to injuries) and our post player tore his ACL before Christmas.
'After the game we talked about starting over after this one. We can do a better job executing the things we work on. Not just plays and defenses, but the little things.'
You work with what you have and do the best you can. The rest of it is just statistics.