Home / Sports / Iowa Hawkeyes / Iowa Basketball
Iowa's Big Ten regular-season, tournament titles came despite 'all kinds of obstacles'
Amid adversity, Hawkeyes 'continued to battle no matter what.' Now they have a couple trophies to show for it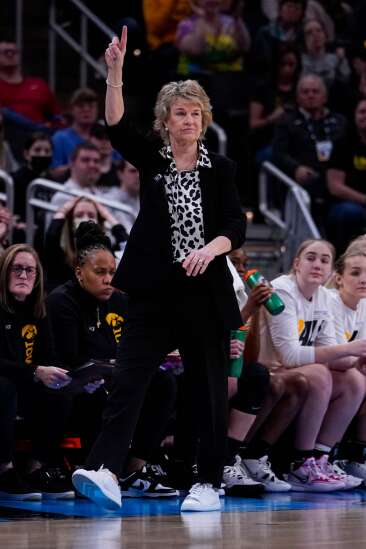 INDIANAPOLIS — An overjoyed Lisa Bluder stood on Gainbridge Fieldhouse's confetti-covered floor. She soaked in the euphoric scene around her as the team, one clip at a time, cut down the second net.
Already donning a Big Ten champions hat, Bluder put the net she hoisted moments earlier from the first hoop around her neck, like a necklace, and was still wearing it in her news conference.
"Every time you cut down the nets, it's fun," the 22nd-year Iowa women's basketball coach said. "It's special because it's a different group of people."
Bluder's new fashion accessory — and the joy that came with it — wasn't exactly the most probable scenario a couple months ago.
"Your season progresses and you have different highs and different lows," Bluder said Sunday. "You have different battles that you have to fight and work through."
The 2021-22 season was no exception.
Seven weeks before the confetti fell at Gainbridge Fieldhouse, the Hawkeyes weren't ranked in the AP Top 25.
In early January, a Northwestern team that hadn't played a game in 20 days because of COVID-19 came into Carver-Hawkeye Arena and knocked off then-No. 22 Iowa, 77-69.
"We went on the road to Nebraska right after that, and our season could have gone two ways," guard Caitlin Clark said. "Could have went in there and hung our heads. But I think the biggest thing was we continued to battle no matter what. We got a huge road win there."
Injuries also added to the challenges of the 2021-22 season. Starter McKenna Warnock, for example, missed four games in February with a hand injury.
"We had all kinds of obstacles," Bluder said. "And a lesser team could have just said, 'Oh, just not our year. We've got next year. We've got everybody coming back.' This group never did that."
The team had its share of November woes, too. A COVID-19 outbreak inside the program canceled three games. When the Hawkeyes retook the floor, they lost three of their next five games.
"We needed some consistency at the beginning of the season," center Monika Czinano said. "We battled a lot of adversity right on, getting COVID, having a lot of games moved."
One of those losses was on the road against an Iowa State team that has since risen into the Top 10 of the AP Poll. But another one of those losses came to IUPUI at Carver-Hawkeye Arena.
"Obviously, we've got work to do," Bluder said after the IUPUI loss. "We've got to figure it out."
They certainly got that work done.
The Hawkeyes have won their last six games, four of which came against top-15 opponents.
"Right now we're hitting our peak at the right time," Czinano said. "We've gotten that consistency back. This whole team is fully bought in."
Looking ahead at the NCAA tournament, Czinano and Clark made it clear Sunday evening they envision the 2021-22 Hawkeyes cutting more nets.
"I'm really proud of us, and I think we're just getting started," Czinano said.
Comments: (319) 398-8394; john.steppe@thegazette.com