Home / Sports / Iowa Hawkeyes / Iowa Basketball
Iowa men's basketball vs. Michigan in Big Ten tournament: Final score, stats, highlights
The Gazette
Mar. 15, 2019 8:00 pm, Updated: Mar. 16, 2019 3:05 pm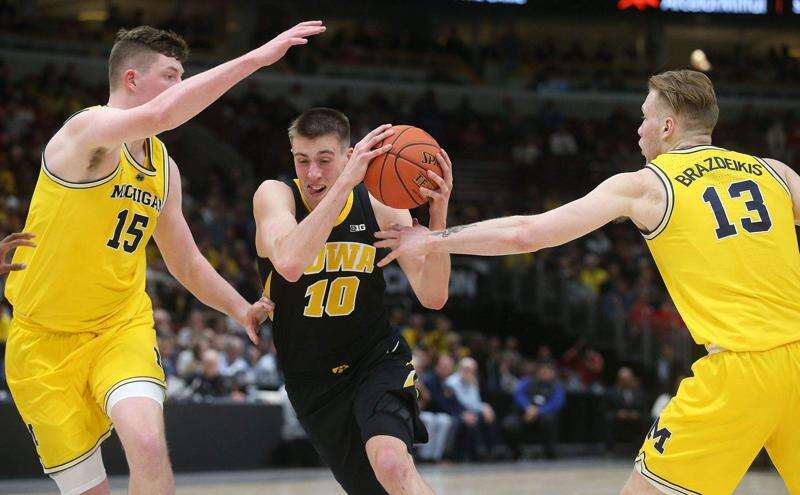 No. 11 Michigan cruised to a 74-53 Big Ten men's basketball tournament quarterfinal win over Iowa Friday night at the United Center in Chicago.
The Wolverines (27-5), who are now 7-0 all-time against the Hawkeyes (22-11) in Big Ten tournament games, advance to face Minnesota in the semifinals at 2:30 p.m. Saturday.
Coverage from Chicago:
» Hlas column: Iowa limps into NCAA tournament, but will be there
» Game recap: Michigan hammers Iowa in Big Ten quarterfinals
Turning point: Iowa scored four points in the final five minutes of the half, while Michigan's Isaiah Livers poured in nine. A 27-23 Wolverine advantage turned into 40-27. Michigan's lead only grew after the break.
MVP: Michigan point guard Zavier Simpson was nearly perfect Friday night. He made all four of his shots, including his famous hook and a pair of 3-pointers for 10 points. More impressive, he totaled 11 assists to just one turnover while also grabbing four rebounds and two steals.
Key stat: 1-15. Iowa made a single 3-pointer Friday night on 15 attempts, and it was a banked-in shot from walk-on Nicolas Hobbs in the final minutes. This, a night after the Hawkeyes were 12 of 23 from deep in a second-round win over Illinois. Michigan shot 10 for 27 from 3-point range, including 7 for 16 in the first half.
Stat leaders:
Points: Tyler Cook, Luka Garza, Iowa (14); Ignas Brazdeikis, Michigan (15)
Rebounds: Tyler Cook, Iowa (6); Jon Teske, Michigan (10)
Assists: Jordan Bohannon, Iowa (3); Zavier Simpson, Michigan (11)
Steals: Nicholas Baer, Iowa (2); Jordan Poole, Zavier Simpson, Michigan (2)
Blocks: Nicholas Baer, Iowa (2); Jon Teske, Michigan (2)
3-Pointers: Nicolas Hobbs, Iowa (1-1); Zavier Simpson (2-2), Jordan Poole (2-4), Ignas Brazdeikis, Michigan (2-5)
Up next: Iowa awaits its NCAA Tournament destination. The selection show is at 5 p.m. Sunday (CBS). Most bracketologists had the Hawkeyes as a No. 8 or No. 9-seed as of Friday morning.