Home / Sports / Iowa Hawkeyes / Hawkeye Basketball
Iowa men's basketball back in AP poll top 10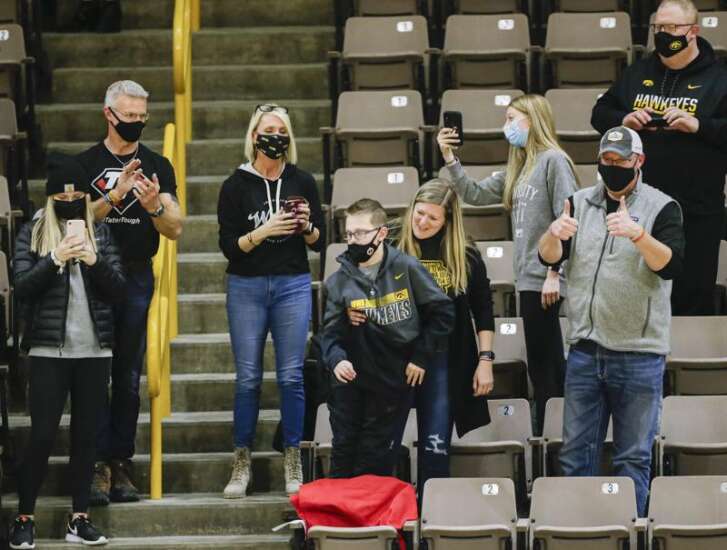 Iowa will be in a pair of top-10 men's basketball matchups between now and Sunday.
The Hawkeyes moved up two spots to No. 9 in Monday's new Associated Press rankings. It is a return to the top 10 after a two-week absence.
Iowa had been in the top 10 all season before dipping to 15th two weeks ago. The Hawkeyes (17-6) then began a four-game winning streak, including Sunday's 74-68 win over Penn State.
Iowa plays at No. 3 Michigan Thursday at 6 p.m., then is at No. 4 Ohio State Sunday at 3 p.m.
Illinois is ranked No. 5 and Wisconsin is No. 23.
Iowa center Luka Garza was named the Big Ten Co-Player of the Week and Naismith Trophy Player of the Week Monday for helping the Hawkeyes to wins over Wisconsin and Penn State. He averaged 26.5 points, 9.5 rebounds, two assists, and one block in the two contests.
Garza shared the Big Ten honor with Ohio State guard Duane Washington Jr. It is the fifth time Garza has gotten that award in his career and third time this season.
AP men's basketball Top 25 (Feb. 22, 2021)
1. Gonzaga (22-0)
2. Baylor (17-0)
3. Michigan (16-1)
4. Ohio State (18-5)
5. Illinois (16-5)
6. Alabama (18-5)
7. Oklahoma (14-5)
8. Villanova (14-3)
9. Iowa (17-6)
10. West Virginia (15-6)
11. Florida State (13-3)
12. Houston (18-3)
13. Creighton (16-5)
14. Texas (13-6)
15. Virginia (15-5)
16. Virginia Tech (14-4)
17. Kansas (17-7)
18. Texas Tech (14-7)
19. USC (18-4)
20. Arkansas (17-5)
21. Loyola Chicago (19-4)
22. San Diego State (17-4)
23. Wisconsin (16-8)
24. Missouri (14-6)
25. Tennessee (15-6)