Home / Sports / Iowa Hawkeyes / Iowa Basketball
Iowa men's basketball success has been in the (turnover) margins
Hawkeyes' calling cards have been stealing the ball and not turning it over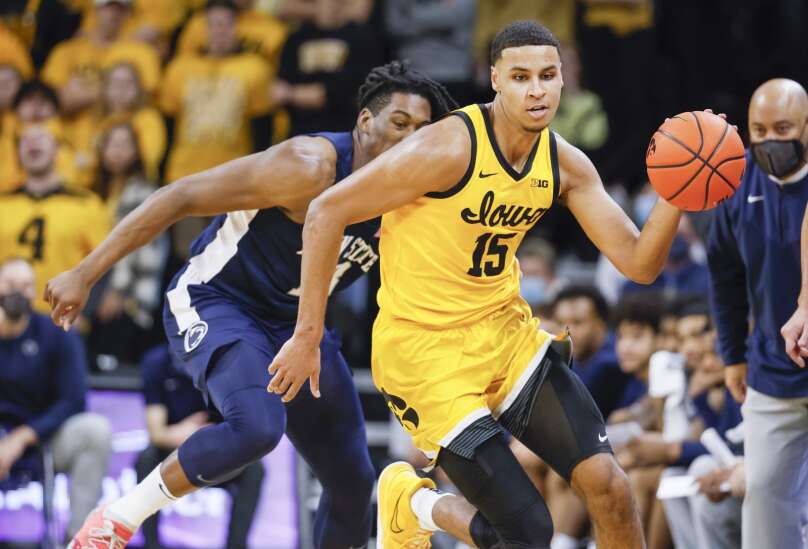 IOWA CITY — The newsiest item out of the Iowa men's basketball camp Tuesday afternoon?
The No. 6 team in the country — the highest-ranked of any Big Ten club — is coming to Carver-Hawkeye Arena Thursday night, and about 3,500 tickets remain.
Iowa had a sellout last Saturday afternoon for run-of-the-mill Penn State. But for No. 6 Purdue, which has spent time this season ranked No. 1, the 8 p.m. Thursday time slot is a bridge too far for many Hawkeye fans.
For the 11,500 or so who have committed to attend the game, the basketball may transcend the convenience of the contest's date and time. So let's talk hoops.
Iowa (14-5 overall, 4-4 Big Ten) isn't in the AP Top 25, but on Tuesday it was 20th in a more-important ranking, the NET rankings. That's the NCAA tournament selection committee's primary sorting tool for evaluating teams.
The Hawkeyes can better that number in a hurry if they beat the Boilermakers. That will require many things, starting with better rebounding than they did in their 77-70 loss at Purdue on Dec. 3. The Boilermakers had a 42-30 advantage on the boards.
As importantly if not more, however, is for Iowa to continue to do what it's been doing extremely well. Which is taking care of the ball while frequently stealing it from the opposition.
Iowa had just nine turnovers at Purdue compared to the Boilermakers' 17, a big reason the Hawkeyes cut a 19-point second-half deficit to two before succumbing in the final minute. That turnover margin has been reflective of Iowa's play this season.
The Hawkeyes are third in the nation in fewest turnovers per game (8.9) and turnover margin (+6.1). In Big Ten play, Iowa easily is first in steals per game (8.4).
Iowa has one of the fastest offensive paces in the conference, yet hasn't given the ball away more than 12 times in any Big Ten game.
"It starts with you have to want to be good at that," Iowa Coach Fran McCaffery said Tuesday. "You have to understand how the game is played and how everybody fits and accept that. I don't think when you watch our team that you see any selfishness.
"We have a guy who was leading the nation in scoring most of the year. I don't think anybody would look at Keegan Murray and say 'There is a selfish guy.' He kind of gets his points in a variety of ways. He doesn't hunt shots. Nobody does."
What it comes down to, primarily, is decision-making.
"We work on and stress taking care of the ball and making good decisions," said McCaffery, "which sometimes is hard when you are playing fast. A lot of coaches won't play fast for that reason because the higher-possession games and playing fast and flying up and down the floor, you tend to turn the ball over more.
"We don't believe that. We feel like it just gives you more room to operate and find people and recognize what are the particular talents of your teammates that you can enhance by making a play for them."
Each of Iowa's last four foes, three of whom the Hawkeyes defeated, had at least 14 turnovers. The Hawkeyes are averaging 10.5 steals in that stretch.
"We press a fair amount compared to a lot of teams," McCaffery said. "Our activity level is good. We try to encourage our guys to anticipate rather than react. I think they've done a good job of that."
Can they do it against the nation's No. 6 team? About 11,500 have paid for the chance to find out in person.
Comments: (319) 398-8440; mike.hlas@thegazette.com