Home / Sports / Hawkeye Sports / Iowa Basketball
Iowa men's basketball players play to their strengths, NIL-wise
McCaffery and Murray brothers and Austin Ash work a Cedar Rapids camp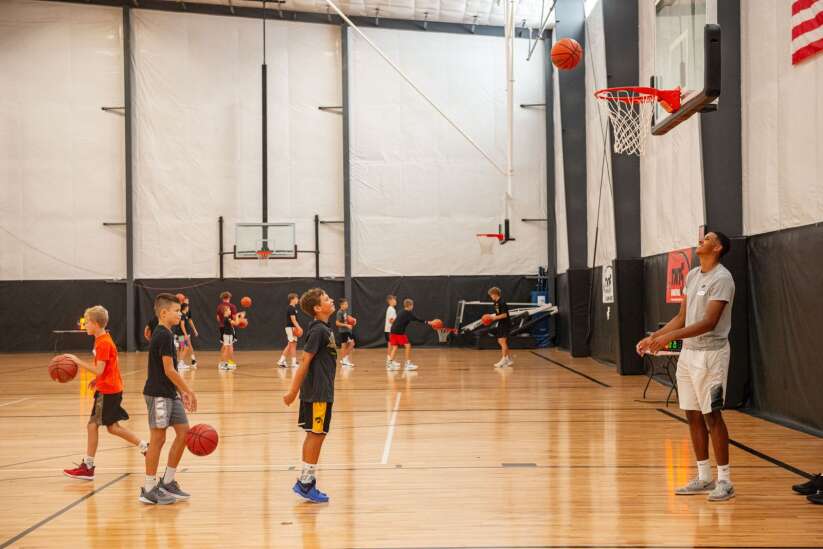 CEDAR RAPIDS — The strange, new world of name, image and likeness compensation for college athletes went to a comfortable place for five Iowa men's basketball players this weekend.
Austin Ash, Connor and Patrick McCaffery, and Keegan and Kris Murray were employed instructors Saturday and Sunday at a basketball camp for kids from grades 4 through 8. About 50 kids, including a few girls, were present Saturday and seemed pretty serious about learning from accomplished experts.
The "Back to School Camp" was held at the Game On 380 Sports complex in northeast Cedar Rapids. For $160, campers were taught by the players. The camp was under the supervision of Sam Elgin, a Cedar Rapids-based basketball trainer who played at Upper Iowa University. He who worked with Ash and Connor McCaffery several years ago.
"This is more on a friendship level," Connor McCaffery said about his involvement in the camp. "Sam does good stuff.
"We had the idea and we knew he was the one to match up with. We thought together we could do something fun like this, and I'm glad it worked out."
McCaffery said he could spend all day in a gym anyway, so why not do this? His aim was to show kids "just anything you can do to really get better.
"I started trying to do a little footwork tutorial with some of these kids, show them things you can do in a one-on-one situation with jab steps and pivots and shot-fakes, and things of that nature."
Since the NCAA lifted NIL restrictions on college athletes July 1, opportunities quickly opened. Some players have opened limited liability companies (LLCs). Keegan Murray of Cedar Rapids, who will be a focal point of the 2021-22 Hawkeyes and is getting NBA buzz, has received numerous offers but has been judicious about biting on them.
Connor McCaffery joined several other UI athletes in a burrito-eating contest promotion at an Iowa City restaurant this month. No, no one ate their way out of their primary competitive pursuits.
"I haven't been too proactive about it," Connor McCaffery said about NIL options. "I've been more hanging back. Maybe I'll start. It's all so new to everyone, so nobody really knows what to expect."
After surgeries on both hips in the offseason, McCaffery is almost ready to participate in 5-on-5 workouts.
"I just think I'll be in a better place this season," the senior guard said. "I'll be moving better. Not that I was moving poorly, but I'll just feel better.
"I was OK to play last year. You can play when you're hurt. You can't play when you're injured. There's a difference."
Another McCaffery helped at the camp. Jack McCaffery, brother of Connor and sophomore forward Patrick, has entered ninth grade at Iowa City West. He is 6-foot-7. He has a guard's skills and a good outside shot.
"I'm really looking forward to seeing him play for West," Connor said.
Comments: (319) 398-8440; mike.hlas@thegazette.com