Home / Sports / Iowa Hawkeyes / Hawkeye Basketball
Cordell Pemsl comes back, has Iowa teammates' backs vs. Iowa State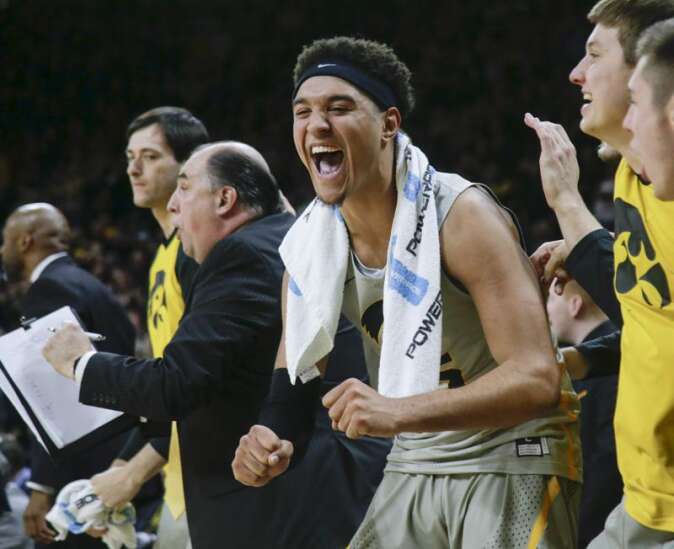 IOWA CITY — This would have been a loss Iowa couldn't have lived with, and it played like it.
Thursday night's game being the Hawkeyes' annual men's basketball meeting with Iowa State was meaningful enough, as flare-ups between the combatants showed. But Iowa might have spun off into obscurity for the rest of 2018 had it suffered its third loss in seven nights, compounded by the indignity of falling at home to the Cyclones.
'It was a game where we needed energy,' said Iowa junior forward Cordell Pemsl, whose surprise appearance was an emotional and physical boon to his team.
The Hawkeyes summoned all sorts of energy, and passion, and defeated ISU 98-84 at Carver-Hawkeye Arena. Their fear of playing without Joe Wieskamp due to an ankle problem turned out to be unwarranted, but it was someone supposedly out of the picture for the rest of this season who gave them a lot of their mojo.
Pemsl's season was supposed to be over. This was the month he was to have surgery to 'remove hardware from his knee,' Iowa Coach Fran McCaffery said last week.
He was going to apply for a waiver for a medical redshirt, and the Hawkeyes would have one less component this season in their quest to return to relevancy.
Instead, Pemsl played Thursday for the first time since Iowa's Nov. 8 season-opener. He played like the guy who had 21 points and 13 rebounds over his first two games against Iowa State.
Pemsl played 16 minutes. He had eight points, six rebounds and a blocked shot, and he came rushing in to trade shoves with ISU's Michael Jacobson in the first half after the Cyclone had shared unkind words and proximity with Iowa's Connor McCaffery.
'I didn't see initially what happened,' Pemsl said, 'but I guess (Jacobson) pushed Isaiah (Moss) and Connor tried to defend Isaiah, and he pushed Connor. That's the one I saw.
'I don't care, that's my teammate. I'm not going for that. I probably could have done it in a smarter way, but I just wanted everyone to know that through everything, I've got my teammate's back.'
The Hawkeyes were chew toys in a 90-68 loss at Michigan State Monday night. Perhaps inspired by the on-floor presence of their popular teammate, they had bite and bark this night.
They out-rebounded the Cyclones by the whopping total of 44-24. When ISU cut an Iowa lead that was as large as 21 points to eight with 6:05 left, they aggressively scored the next six points.
Tyler Cook was hyper-aggressive, with 26 points and four dunks of rebounds. Moss was aggressive, firing 3-pointers with confidence in piling up 18 first-half points.
Nicholas Baer was his frenetic self, and had an 11-point second half. Freshman McCaffery scored all 12 of his points after halftime, and was involved in another skirmish in the game's final seconds when he held the ball with a bit of attitude and Jacobson poked it away from him at the horn. Fortunately, both were immediately restrained by teammates from making more out of it.
Fran McCaffery called the play of his son 'tremendous.' He said Baer was 'absolutely spectacular.' Pemsl? 'Phenomenal.'
So what did that make the play of his bench as a whole?
'Thirty-six points,' the coach said.
It was 34, actually, but 34 is tremendous and more.
Pemsl said he started feeling like a return to playing was possible last week. He said the knee problem is with the hardware near his knee from a surgery in high school, not a structural issue.
He said there's no guarantee he'll be able to proceed with the season, repeatedly calling it 'day to day.' He still hasn't played enough this season to lose out on a medical redshirt if he needs one.
But his teammates clearly were glad to have him back, and he had their backs.
'Incredibly popular, friendly, talkative,' McCaffery described Pemsl. 'He's a likable guy. He's the kind of guy you root for.'
Nobody on either team said the on-court hostilities were anything to worry about. Prohm apologized for his team's end of it. McCaffery called it 'a spirited game from the beginning, and that's what you expect.'
'It was a bit chippy,' Baer said. 'So that's a lot of fun, too.'
Iowa State looked like a good team without its most integral piece, sophomore guard Lindell Wigginton, that was playing its first true road game and in a most-unfriendly place. There's talent on that squad, for sure.
'We needed this game to see where we're at,' Prohm said.
You could tell this wasn't just another nonconference game by the intensity of the players. Their Twitter feeds after the game reflected it.
'That's a W we already know whose state it is,' Connor McCaffery tweeted.
'They weak for that! HAWKEYE STATE!!!' wrote Iowa's Jordan Bohannon.
Cook simply tweeted this: 'W'
So the Hawkeyes got to flex and gloat a little. But at 0-2 in the Big Ten and a lot of hostility awaiting them on the road come 2019, they need to bring some of what they showed Thursday night to their league brothers. Otherwise, this win will eventually be a footnote.