Home / Sports / Iowa Hawkeyes / Iowa Basketball
A few words from Iowa basketball player Tony Perkins
Hawkeye sophomore-to-be looks forward to Carver crowds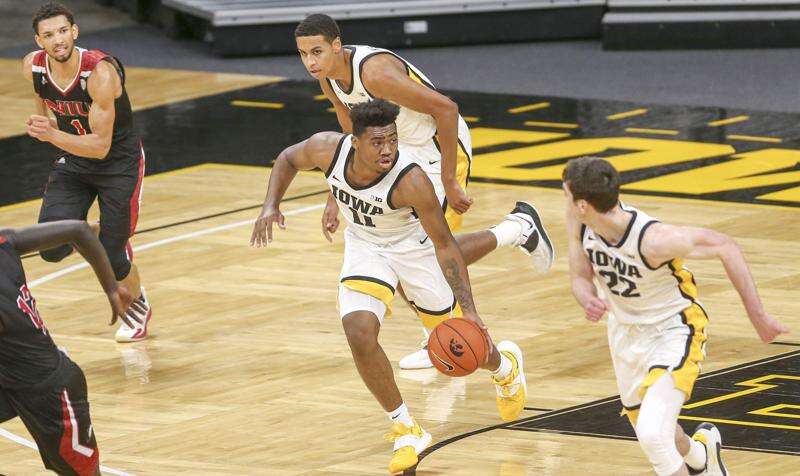 IOWA CITY — Iowa had five men's basketball players available for interviews Tuesday, which was newsworthy mainly because it was the first time you could ask questions in person since before the pandemic.
It makes a difference. Zoom press conferences were better than none at all, but you can't have conversations with players, ask a series of questions on a subject, go off on tangents that are more interesting than what you may looking to learn in the first place.
Sophomore-to-be guard Tony Perkins was a spot player last season, but Iowa Coach Fran McCaffery clearly wasn't afraid to insert Perkins in games and the player didn't seem intimidated by the moments. His role is bound to increase in the season ahead.
I had a brief interview with Perkins Tuesday, and here's some of what he had to say:
"During this offseason I've just been focusing, sitting down, reading more, meditating more, and just focusing on my mental health."
He said he wants to be "A great defender, a great leader, of course, a player who can score all-around, get people open, get stops on defense, get rebounds, just help us win. That's the biggest focus, help us win."
Iowa didn't play before anything more than a handful of fans until the Big Ten and NCAA tournaments in Indianapolis, which is Perkins' hometown.
"Playing-wise," he said, "it really boosted my confidence hearing the crowd, seeing the crowd cheering, making noise. Because when I play basketball, I like to hear crowds.
"In high school, I was used to playing with a big crowd. So it was kind of weird playing with no crowd here. Once it got loud, I'm like 'OK, I'm back in my zone.'
"Growing up, middle school, high school, when we played there was always a big crowd, a lot of noise. You barely could hear a basketball bounce."
Last season was trying for everyone, of course, but imagine being a freshman new to college and starting out with a lot of isolation.
"Waking up every morning, getting COVID testing, all that stuff that just was not normal to athletes," Perkins said. "It's like 'Dang, how do I adjust to this?' But now that it's over, I'm just hoping this year's better."
Comments: (319) 398-8440; mike.hlas@thegazette.com