Home / Opinion / Guest Columnists
Private school scholarships will diminish public education
Kurt Rogahn
Jan. 22, 2023 6:00 am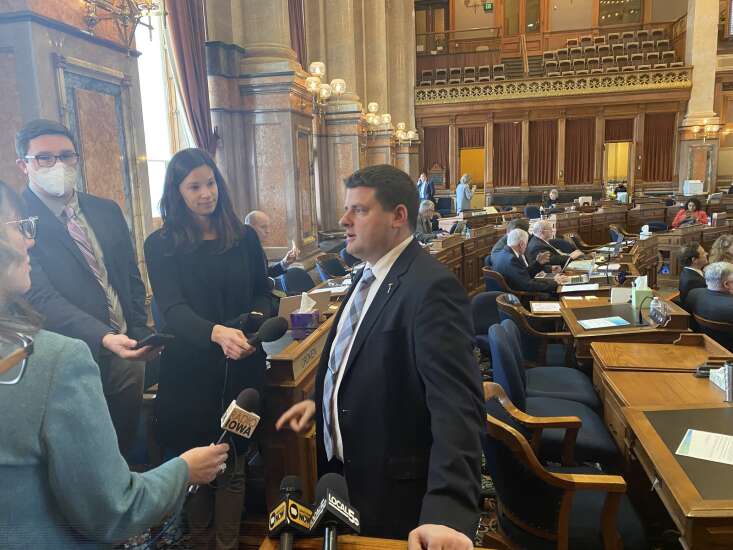 My stomach turns at hearing bloviation about "failing public schools." It worsens as I read Gov. Kim Reynolds' desire to divert public tax dollars to private schools. This legislative steamroller must stop. Success for "Education Savings Accounts" ultimately could rout Iowa's economic development.
Granted, in her Condition of the State message, Reynolds tried sounding sympathetic to children. "Some kids may have ambitions and abilities that require a unique educational setting; others may experience bullying or have special needs." However, shifting $7,598 per student to Education Savings Accounts — no matter the family's wealth — will bleed Iowa public schools, financially, educationally, and socially, diminishing so many more kids' opportunities.
Financially, stripping this near-$7,600 sum from a public school still leaves it with fixed costs. A teacher's salary won't fall proportionately per student lost (nor should it). The school still is on the hook for heat and lights and bus fuel. Nor can you trust, in the long run, stated promises to compensate. Moreover, Education Savings Accounts help no one in wide swaths of Iowa: 40 percent of Iowa counties have no private schools.
Though Reynolds acknowledges most Iowa schools have no problem providing a strong foundation in reading, writing, and math, "there are some schools that consistently test in the bottom 5 percent — that, for whatever reason, need more help." Aha, as if such scores were a mystery.
One thing I learned in 10 years as Gazette education writer: Standardized tests can show you year-to-year progress, when talking individuals or within a group. Compare school against school, however, and test scores say more about parents' income than school quality. Don't just take my word. As education historian and analyst Diane Ravitch, a former U.S. Assistant Secretary of Education, blogged several years ago, "Scores on standardized tests are highly correlated with family income, over which teachers have no control." Ravitch has written whole, worthwhile books about this.
In Cedar Rapids, test scores are particularly high in a northeast-side elementary school where children of well-paid avionics engineers go. Take that school's staff, however, and swap it with that of an inner-city southwest side school where low family income qualifies nearly every student for free lunch: Would next year's test scores in either school change?
That's not to say high expectations, competent instruction, and strong curriculum make no difference. Yet it's a challenge to compensate within the classroom for what takes place outside it. Middle- and upper-income homes more likely have books in them (so reading comes easier there). Parents of means take their children on summer vacations, some of which involve museums or historic sites. By contrast, some (not all) low-income children never venture outside their city of birth (limiting their outlook), their family life is more likely unstable, they can grow up unused to regular mealtimes and bedtimes (yielding an altered sense of time), and they more likely endure moving from house to house as unpaid rent comes due. Children in poverty live a hard life. Their schools need more resources — not punishment.
Yet politicians tout "school choice" as fostering "competition," as if a school were like a factory or a grocery store. Factories and groceries can control inputs. Public schools cannot. Follow through on Reynolds' plan, and families leaving public schools will be the ones whose parents show up for conferences and concerts and sports events, who contribute to the performing arts and sports booster clubs, who help maintain Iowa stability, educational performance, and values. Though Reynolds cites "special needs" in shifting dollars to private schools, don't kid yourself, with private schools less likely to provide for special needs. Meanwhile, as public schools' scores and co-curricular activities wither, those who wrongly use test results as a cudgel will get to say, "See?"
Only they don't see. Nor do a lot of other folks to whom I've tried to explain this stuff for years.
Althea Cole's excellent Jan. 14 column exploring today's impurity in public spending — namely, public dollars already fund church-run Head Start programs and support Pell grants awarded those attending church-affiliated colleges and universities — made me rethink this issue, particularly when Cole warns, "Be careful what you wish for."
Still, I turn that right back at Reynolds and her wealthy out-of-state supporters. Public dollars for private K-12 schools increases race- and class-based separation. Always has. Always will. Resulting conditions in public schools cannot enhance Iowa economic development. Be careful what you wish for.
Kurt Rogahn of Cedar Rapids retired in 2017 from a 42-year career as a writer and editor, including nearly 27 years with The Gazette (1978 to 2005). He is now a volunteer with multiple boards and organizations.
Opinion content represents the viewpoint of the author or The Gazette editorial board. You can join the conversation by submitting a letter to the editor or guest column or by suggesting a topic for an editorial to editorial@thegazette.com