Home / Opinion / Guest Columnists
Iowa social institutions may not recover from the COVID-19
Paul Lasley, Maynard Hogberg and Mark Rasmussen
Oct. 25, 2020 7:00 am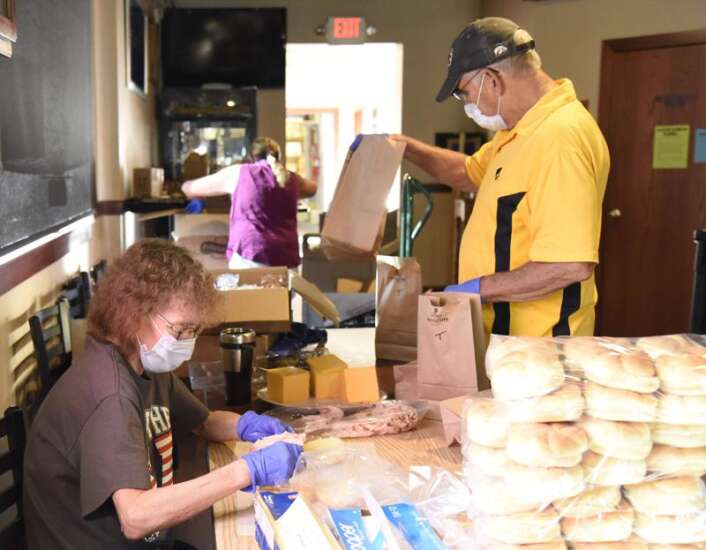 As the COVID-19 pandemic continues to drag on, there will be significant structural changes in all social institutions. Social institutions are those agencies, organizations, service clubs and voluntary associations that bring people together, including churches, libraries, cultural centers, sporting events and county fairs.
The question is how social institutions that rely upon interaction and engagement of people can persist when this is not possible or too risky for some members. Alexis de Tocqueville's (1835) 'Democracy in America" was one of the first to call attention to the vital role that social clubs and voluntary associations played in democracy.
Behavioral change experts claim that one must practice a new behavior for at least six weeks for it to become ingrained as a new behavior.
Many social behaviors and activities already have been disrupted for nearly six months, and it may be several more months before activities can resume, and the new patterns that have emerged in the last seven months might have diminished among many a sense of belonging and community. For example, many churches have suspended worship services, many voluntary social clubs have not met in months, many libraries have suspended or curtailed service, other events such as county fairs were canceled.
Each of these changes represents consequences of social distancing that have altered how people relate to each other. Given what is known about the prospects of an effective COVID-19 vaccine being available and the lack of government-sponsored testing, tracing and enforced quarantine, an important question is whether people ever will resume pre-pandemic activities.
It is likely that during the COVID-19 pandemic, many routines, traditions and behaviors have been permanently altered. It might be some time before evidence is available, but based upon our intuition, many social institutions will not recover from the COVID-19 experience. It is likely that some members have become accustomed to the new routines and realities of the pandemic and will continue to rely upon electronic media rather than face-to-face engagement. Some who have dropped out of weekly or monthly meetings might not rejoin or return to their pre-COVID-19 routines, but during this long pause, organizational costs go on.
Some social institutions such as churches and voluntary associations that have been teetering on insolvency may find closure is the best option. Others may struggle to stay open, but the challenge will be convincing members that it is safe to return. Changing human behavior is difficult, but once it has changed it may take years for people to resume previous levels of activities. For some at-risk populations, all uncertainty and risk will have to be eliminated for them to feel comfortable in fellowship and social events.
It is possible that COVID-19 will trigger another round of consolidation among membership organizations and other social institutions. The longer the pandemic lasts, the more profound the impacts.
Social institutions that have adopted new methods to reach their members might be able to continue to substitute electronic media for face-to-face interaction, but there are many questions about how long members might stay connected with watching a computer monitor. While electronic communication such as Zoom can supplement social interaction, it never was intended to replace the intimacy of face-to-face communication. Online audiovisual capabilities are unable to capture clues such as body language, gestures and eye movements that we rely upon in face-to-face communication. Relying upon electronic communication to maintain membership involvement and commitment is problematic in the long run.
Science might provide a pathway to return to pre-existing social norms and patterns. For example, smallpox has been eradicated from the world and polio has been eliminated from most countries. Vaccines played an important role in each of these plagues. Scientific progress is being advanced quickly regarding vaccine development for COVID-19, but it will take high efficacy, safety and global acceptance and utilization before a return to social normalcy.
Until an effective vaccine is available, a more immediate path for social institutions could be the widespread and proper implementation of epidemiologic isolation and tracing with COVID-19 testing (results available in a few hours). There is growing evidence that previously infected individuals with the novel coronavirus are immune to re-infection. One could imagine social interactions emerging among both vaccinated and immune (because of previous exposure to the virus) individuals.
When social institutions no longer can be social because of social distancing requirements to curtail the virus from spreading, consequences are significant and long- lasting. The loss of membership and attendance in social institutions and activities is troubling because it represents the loss of a pillar of self-governing democracy that Tocqueville first identified as unique to American democracy.
Paul Lasley is a professor of sociology, Maynard Hogberg is an emeritus professor of animal science and Mark Rasmussen is director of the Leopold Center for Sustainable Agriculture at Iowa State University.