Home / Opinion / Guest Columnists
Horizons meeting needs, but more help is needed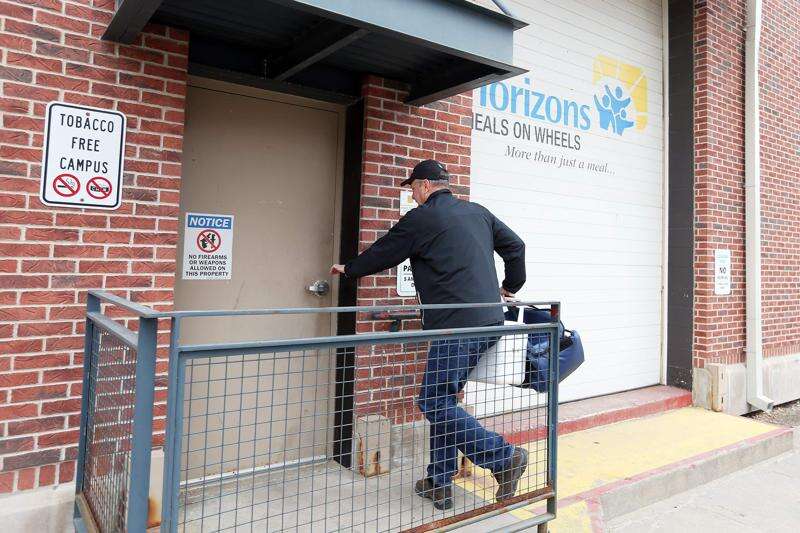 On March 16, Horizons, A Family Service Alliance was scheduled to implement a waitlist for our Meals on Wheels' clients in Linn County. This was necessary due to federal funding constraints with our Home Delivered Meals. We met as a team, as COVID-19 was beginning to spread in the Corridor, and decided to rescind the waitlist. We asked ourselves, 'What now? How can we start a waitlist that would impact the very people who are the most vulnerable to the virus?"
We changed course that morning and began signing up more clients and delivering more meals. We wanted to ensure that the clients we serve could stay safe in their homes and not worry about having sufficient food. We took that leap of faith with a belief that the community would see the importance of what we were doing and support us. Since that Monday in March, we have delivered over 20,000 meals to homebound seniors and added 50 older adult clients.
A few days later, we converted from daily hot meal delivery to delivering seven frozen meals once a week. We also added delivery of a food box with enough shelf stable food for seven days. This change was necessary for three reasons. By delivering once per week, we reduce the chance of transmitting COVID-19 to our meal recipients. Second, many of our volunteers are retired and vulnerable themselves. We assumed that eventually we would face a shortage of volunteers and by not delivering hot meals, we would have more flexibility. Third, we wanted to get food into older adults' homes in the event of aninterruption of deliveries.
An important piece of the Meals on Wheels program is a well check done with our typical service of one hot meal, five days a week. During delivery, our volunteers are able to observe anything out of the ordinary that may require some type of intervention. Changing to one delivery per week, although needed, meant fewer well checks. We filled that void by switching to well checks by phone. We now call clients twice per week to check on them and see if they have additional needs.
Another Horizons program, Neighborhood Transportation Service (NTS), has been busy filling in for Cedar Rapids Transit. When we initially spoke to city officials, we agreed to provide rides to employees working at essential services, defined as grocery stores, care facilities, hospitals, and convenience stores/ gas stations. After the announcement was made that Cedar Rapids Transit would suspend service, our NTS phone line has been ringing nonstop with ride requests. We have been able to fulfill our commitment for the essential service rides and a few additional rides on a first-come, first-served basis. We are unable to fulfill all requests as our capacity can't match city bus service.
Our NTS drivers are working in stressful conditions. They are being called to provide rides to and from several businesses impacted by COVID-19. We have incorporated extra safety precautions, with plastic separating the driver and passengers and separating seat rows to maintain social distancing. All passengers are required to use hand sanitizer before boarding, and vehicles are disinfected several times during each shift.
All NTS drivers and passengers are now required to wear a mask. We're fortunate to have volunteers sewing masks for us, allowing us to provide masks to passengers that don't have one. The more people with masks the better. Please, if you see an NTS bus out and about, give them a wave and a thumbs up.
We know the economic impact of this crisis will be devastating. Our Financial Health and Wellness team is providing emergency financial advice now, and will be poised to assist families as the crisis continues. Currently, housing stability is protected through a moratorium on evictions and foreclosures. When the crisis is over and payments restart, families will face barriers to maintain stability. Our financial counselors are working to proactively support these families and bridge the gap between federal support and a family's means. As a HUD certified housing counseling agency, we are working tirelessly to inform individuals of their rights, address concerns and prepare our community for the arduous road to recovery. As overwhelming as this crisis may become, I believe we are all fortunate to be in the Cedar Rapids area. This community has shown its resilience in the past, and it will do so again.
Our leap of faith and confidence in the community is yielding results. Generous donations have started to come in. Emergency funds we should be able to access are being set up by private, governmental and nonprofit organizations. In addition, many volunteers are showing up to perform a variety of tasks, delivering meals, loading vehicles, and packaging food.
Despite that support, we still have a large void in our fundraising efforts. Unfortunately, we have had to cancel our annual Spring Lunchbox Fundraiser which typically generates about $50,000 for Meals on Wheels. Please consider supporting Horizons by going to www.horizonsfamily.org
We are also accepting donations of non-perishable food and personal care items between 8 a.m. and 5 p.m. at our office located at 819 5th SE.
Mike Barnhart is CEO of Horizons, A Family Service Alliance.