Home / Opinion / Guest Columnists
Doom and gloom for Democrats in 2022
Norman Sherman
May. 16, 2022 6:30 am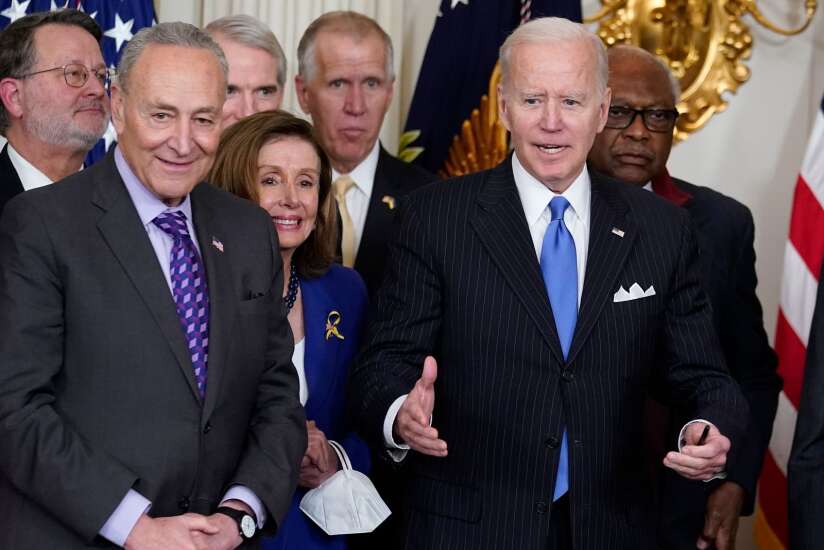 'Are you calling to ask me about our impending doom?" one Democratic strategist quipped at the outset of a recent phone call."
It hardly qualifies as a quip, as far as I'm concerned, but is deadly serious and threatening. It is real. Democratic election prospects for a reasonably liberal America are in the pits. That "quip" was recorded by a New York Times reporter who interviewed Democratic campaign managers, strategists, and wisemen about Democratic chances in the 2022 election. They all saw doomsday ahead. Most thought loss of the House was almost certain, the Senate likely, and the 2024 presidential race the final step to near political irrelevance.
I understand my Democratic Party's prospects, even as I don't understand why they are so bleak. I wake up to doom. I can't escape the facts that are out there. Denial is certain doom; reality may be worse.
President Joe Biden's low approval rating is fact. House and Senate Democrats are left with little to brag about. House conservatives are riding higher than high. They have the power to thwart, or at least delay and dilute anything reasonable, bipartisan or just needed. A Senate, with a couple pseudo-Democrats is rarely capable of overcoming Republican obstructionism. But the Republicans in the minority are simply precursors of what would come if they were to gain full power. Democratic doom is then a national one as well.
Pre-doom, before full power, Republicans have made voting more difficult for all, Black Americans more marginalized and maybe shot more frequently. Economic disparity will become more ingrained than it is today. Climate change will be heard as rarely as a curse in church. Reasonable Republicans are marginalized.
In power, Congressman Kevin McCarthy will be considered a man of integrity despite being all over the place on the insurrection. Sens. Ted Cruz and, Josh Hawley, Governors Ron DeSantis and Gregg Abbot, on their way to the White House in heir dreams. Their excesses may be the main Democratic hope. They have already driven off some normally Republican voters, particularly with their attack in Roe v. Wade.
The ugly messing with the Supreme Court decision on it, thus seeking to undo established law of almost 50 years, is cruel, irresponsible and political ploy. In the past 10 years, there have been about 6 million abortions in the United States. Some have been white Republicans and know it's benefits. Captives of their own, often religious, rhetoric, the anti-abortion-at-any-time zealots charge the Democratic candidate for Senate as a "killer of babies." That hasn't changed from the day of Roe's passage and comes from those who care about the fetus until it is born.
Our hope, and maybe the only one, is that more thoughtful Republicans may join us, enough to hold on. Pregnancy is a nonpartisan condition, and so is the need for abortion. No woman I have ever known approaches that procedure lightly. They need understanding, not fear.
Some backlash has begun. Some women who would have voted Republican may well not. They may be able to lift my gloom as they give me hope.
Norman Sherman of Coralville has worked extensively in politics, including as Vice President Hubert Humphrey's press secretary.